Pro Surfing Allows Transgender Athletes to Compete. Cue the Backlash.
New rules have thrust Australian longboarder Sasha Jane Lowerson to the center of a global sports debate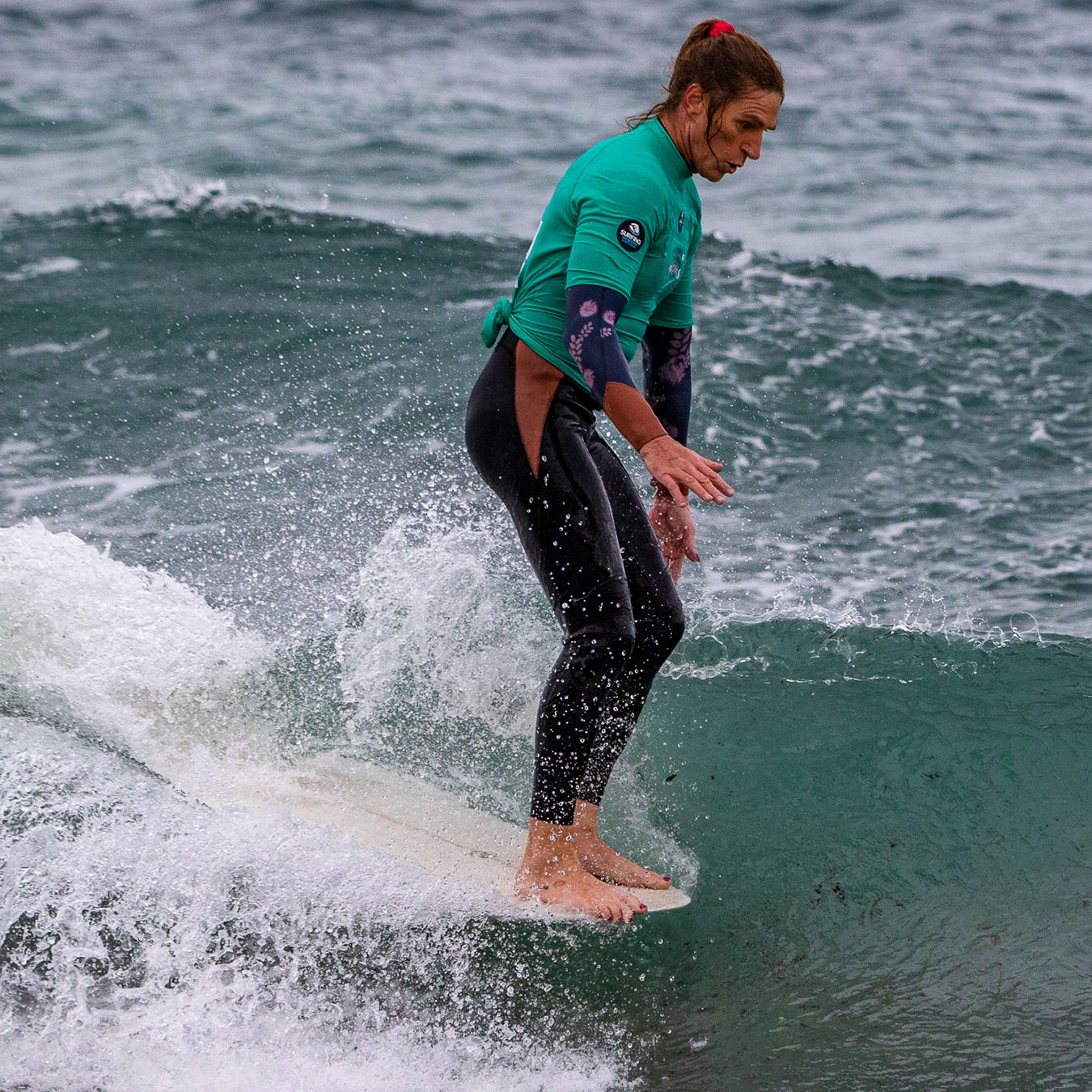 Surfing Western Australia
Heading out the door? Read this article on the new Outside+ app available now on iOS devices for members! Download the app.
Over the past year, competitive surfing has become more inclusive of transgender athletes—a move that has placed Australian surfer Sasha Jane Lowerson's right to compete  at the center of a global debate.
In December 2021, Surfing Australia—the national governing body for competitions and surf clubs—allowed transgender athletes to compete in the category that corresponds with their gender identity, as long as they follow a comprehensive set of rules. The move sparked a response from the two international bodies that oversee Olympic surfing qualifications: The International Surfing Association (ISA) and World Surf League (WSL). In November 2022, the ISA published its own rules for transgender inclusion, and in February, the WSL adopted similar criteria. Both rulebooks follow guidance from the International Olympic Committee, which says transgender athletes can compete in the women's category as long as they adhere to testosterone requirements.
The new rules had a profound impact on Lowerson, who is believed to be the first and only out trans woman to compete in WSL events. Lowerson, 44, competes in longboard competitions.
"What it changed was, before I didn't feel safe," Lowerson told Outside. "I didn't feel like there was a support network. And then to see that there actually were influential people that were supportive and there was a network of safety being created. For me, that was, subconsciously, the thing that made me say, yes, I would compete."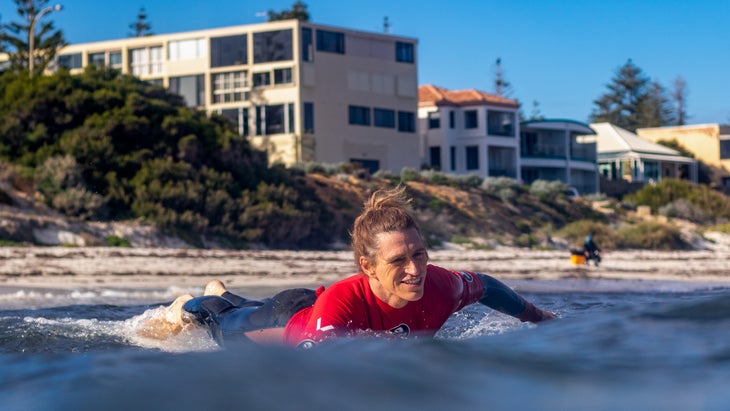 Lowerson has participated in a handful of competitive events since the ruling, most recently the WSL's Manly Beach Classic longboard event, which will conclude on Friday, May 5.
The ISA's rule change was spearheaded by Dr. Lee Rice, a San Diego-based family practice physician who specializes in wellness and sports science. Rice is the chairperson for the ISA's medical commission, and told Outside that he was aware of how other Olympic sports had created rules for including transgender athletes. While attending a 2022 panel discussion on the topic at the IOC headquarters, Rice decided to begin his own research into the topic, which eventually led to the new policy.
"We knew that we had to have some criteria developed because other nations now are starting to have competitions that will qualify people, theoretically, for [the 2024 summer Olympics], and they'll want to know what our standard was," Rice said. "We had to be fair to those countries so they were properly educated about what's legitimate and what's not available."
According to the ISA, a transgender woman can compete in a women's event by maintaining a testosterone level less than 5 nanomoles per liter of blood for 12 months, which requires therapy to suppress the hormone. Rice said the new rule was born from conversations he had with a wide swath of scientists, sociologists, and athletes. The rules represent the ISA's commitment to safety, fairness, and inclusion, he said. Built into the legislation is a mandate to reevaluate the decision as more data on transgender athletes becomes available.
The announcement, however, generated vocal opposition from some prominent surfers. Global surfing icon Kelly Slater reportedly posted in an Instagram comments section that the governing bodies should simply create a different division for transgender athletes. And surfer Bethany Hamilton, who over the past few years has competed in several elite-level WSL contests and was the subject of two films about her surviving a shark attack as a teenager, posted an Instagram video saying she would boycott WSL events if the rules remained.
"I personally think that the best solution would be to create a different division so that all can have a fair opportunity to showcase their passion and talent," Hamilton said. "But we are seeing instances of male-bodied dominance in women's sports like running, swimming and others."
Hamilton did not respond to Outside's request for comment. Her Instagram posts were picked up by dozens of media outlets, and sparked nearly 26,000 comments both in support of and against the rules from professional surfers, members of the surf industry, and fans. Her comments also came at a time when the rights of transgender citizens and their access to related medical care have increasingly become political and cultural flashpoints across the United States. And the pushback from Hamilton, Slater, and others has placed surfing within the ongoing global argument around transgender inclusion in elite sports.
In 2021 the IOC released a general framework for transgender inclusivity, but allowed various sports' governing bodies to create the actual rules. This has led to a patchwork of legislation. World Athletics, the governing body for track and field, prohibits transgender women who underwent male puberty from participating. Cycling's governing body, the UCI, requires transgender women to maintain a testosterone level of less than 2.5 nanomoles per liter of blood for 24 months in order to compete. Both sports have grappled with public pushback to their respective rulebooks for either being too lax or too restrictive.
Rice is well aware of the cultural and political context in which he and the ISA are working. But he's also confident in the thoroughness of their research and discussion, which along with science experts also included athlete representatives.
"We want to be as inclusive as we can and we want to be as fair as we can," said Rice. "Sometimes you can't be 100 percent inclusive and also 100 percent fair. So you have to say, 'Okay, what's the most reasonable thing to do, all things considered?'"
For Lowerson, being thrust to the center of the debate has produced a wide range of emotions. While she said comments like Hamilton's are disappointing, she also frequently gets messages from trans and nonbinary surfers who have been inspired by her story to continue with the sport.
"Growing up, not having an ambassador as such—a role model—that had led the way was a big reason for me not to take that first step [and transition] for so many years," she said.
Lowerson says that she struggled with mental and physical health problems before deciding to transition at age 40. As a teenager, she began to feel that her body didn't match her identity.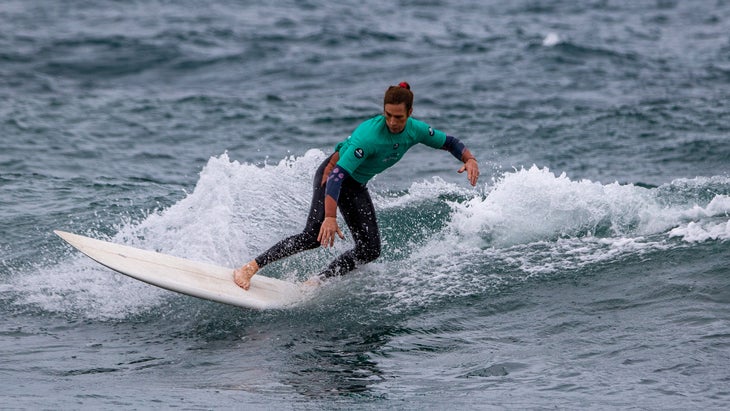 "I knew I was meant to be a girl," she said. "'Why is my body deceiving me?' was the thing I used to say all the time."
Over the years, she tried to transition a handful of times. At each juncture, she was stymied by psychologists, medical policies, and legal hurdles. Most of all, she feared losing the thing she loved most: competitive surfing. She'd started competing as a child, testing her mettle at the junior level before moving on to the WSL longboard tour, where she continued to compete as an adult.
Yet, contests also forced her to confront her struggle with identity. Of those early events, she said, "You're going out to a heat and they're calling the names out. I always hated my name because it reflected a male persona."
"It would reflect in how I would compete," she continued. "I would either go out and be mind-numb and not even catch waves. Or put really good scores on the board because I would have blocked it out. That was quite hard."
But in 2020, she reached a breaking point, and says she tried to kill herself. "That was the catalyst for me to go, You either be you or you die. And I don't want to die," Lowerson said.
That year, she began a medical and social transition. In early 2021, Lowerson called Surfing Australia to inform them of her new name and offer to help teach them about trans issues. She didn't plan to compete again, but hoped she could create a safe space for the next generation, for the type of woman that she could have been.
The organization, it turned out, was more than a few steps ahead. Months prior, officials had engaged an advocacy group called Pride in Sport to help guide them on how to be more informed about and inclusive of gender-diverse athletes. By the time Lowerson called, internal education had already begun.
"They were leaps and bounds ahead of where I thought they would have been," Lowerson said. "To already have had training in how to use pronouns properly was really refreshing. Especially in light of how misogynistic the surf industry can be. It was amazing."
For now, as the sole known trans competitor in professional surfing, Lowerson is a central figure in the coverage and discussion of trans inclusion in the sport. For some, like Hamilton, her presence presents a threat. For those advocating in favor of transgender rights, her presence reflects respect.
"We look at these attacks that are attempting to restrict the participation of transgender girls and women in sports as really an attack on trans girls' and women's humanity," said Joanna Hoffman, the director of communications for Athlete Ally, an organization working to end homophobia and transphobia in athletics. "Everyone deserves to be who they are in all parts of their life and that should include sports."
Hoffman thinks that testosterone levels are not the only determinant of athletic ability—a belief also held by some who oppose trans inclusion in women's sports. But she sees training, access to coaching and gear, skill, and tactics as even more important.
"There are so many things that make someone a good athlete, and to reduce it to testosterone is also an insult to athletes who work really hard," she said.
Lowerson, meanwhile, is savoring her unexpected return to the surf lineup. In March, she competed in the WSL's Noosa Longboard Pro, where her run ended in the quarterfinals. Outside of competition, she's also been enjoying her role in expanding trans inclusion in surf. In March, she joined forces with other  likeminded surfers and allies to create @gndrsurf, a collective to support trans athletes.
As for the WSL and other surf organizations' policies, Lowerson sees good intent—and works in progress. "I believe they've done a good job so far. Trans athletes are here and here to stay."
Lead Photo: Surfing Western Australia