These Surfers Are Taking on U.S. Steel
Surfers on Lake Michigan are getting sick, and they think they know why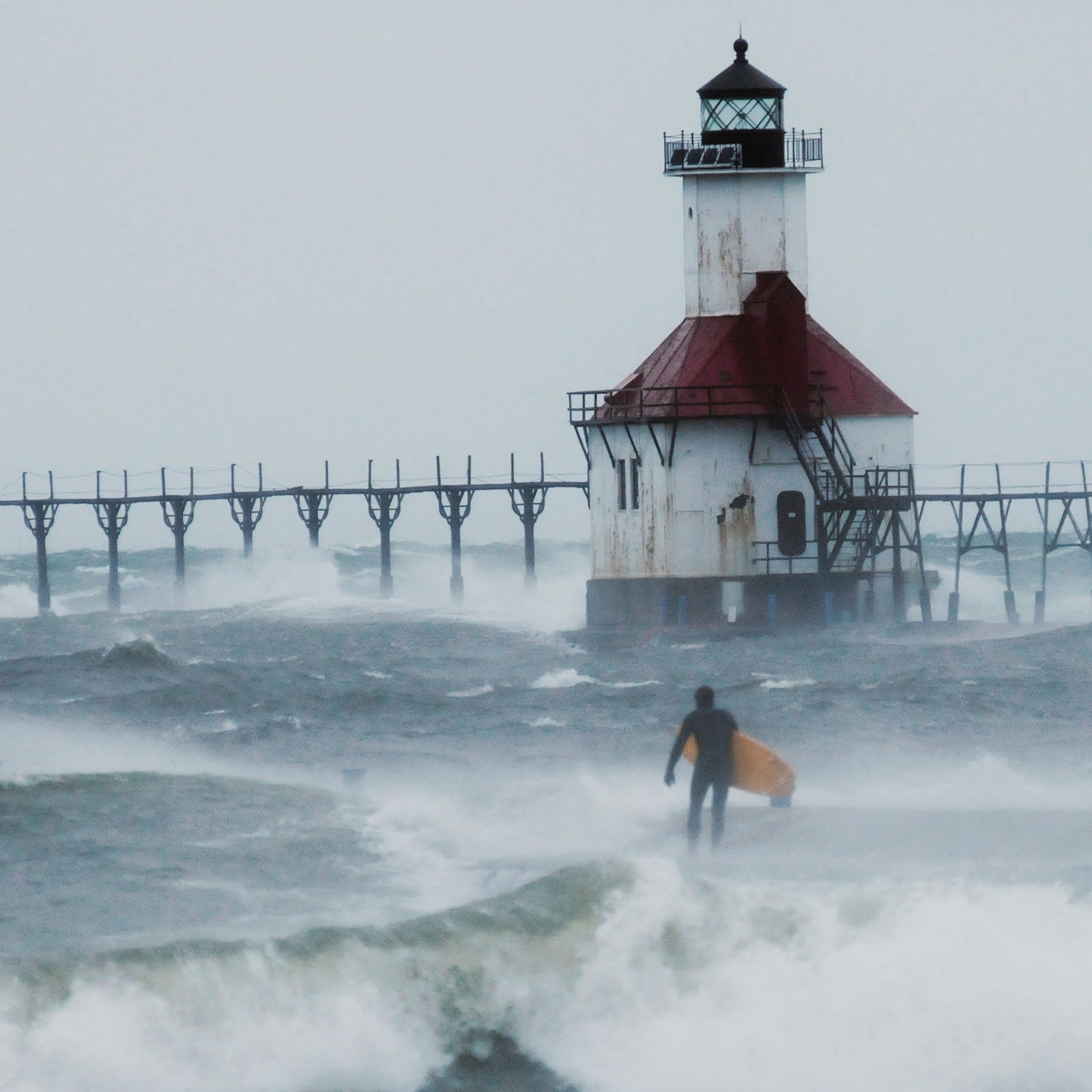 Don Campbell/The Herald-Palladiu(Photo)
Heading out the door? Read this article on the new Outside+ app available now on iOS devices for members! Download the app.
On a late-summer morning, two surfers pull off their wetsuits in a parking lot in Portage, Indiana, a massive U.S. Steel finishing facility as their backdrop. The beach, managed by Indiana Dunes National Lakeshore, is home to one of the best surf spots on Lake Michigan's south end.
Peter Matushek and Steve Haluska, Indiana natives who both took up surfing a decade ago, have just come in from the water and lean against Matushek's black Mazda, a South End Surf Club bumper sticker on the tailgate. They're part of a small but dedicated band of Lake Michigan surfers who endure freezing winter temperatures, unpredictable conditions, and the occasional illness.
Roughly three years ago, Matushek got a kidney infection that kept him in the hospital for weeks. His medical history also includes multiple urinary tract infections. "It only started when I started surfing," he says. Still, he tries to get out on the water whenever his schedule as a high school math teacher allows.
Other local surfers have also seen an uptick in ailments. Mike Calabro had a rash that took weeks to heal, as well as eye, ear, and throat infections. Timothy Driscoll had skin rashes and eye infections. Many of them think they know where their health problems are coming from.
In April 2017, the U.S. Steel plant released nearly 300 pounds of hexavalent chromium, a chemical coating used to make stainless steel last longer. The chemical, which is the same carcinogen famously brought to light by Erin Brockovich, can cause stomach cancer and skin irritations. After the spill, a blue plume spread from Burns Ditch, a narrow waterway next to the Portage beach, into Lake Michigan. Beaches closed. Regulators shut down one of the lake's drinking water intakes 20 miles away as a precaution. The spill wasn't the company's first or last. U.S. Steel released another 56 pounds the following October, this time asking state regulators to keep the incident quiet.
Matushek and Haluska, as well as a number of other Lake Michigan surfers, are now part of a lawsuit against U.S. Steel for violating the Clean Water Act. Under its pollution discharge permit, the company can release only 0.51 pounds of hexavalent chromium a day. "They just take advantage of the region," Matushek says. "I hope it makes them change. We want them to fix what they're doing wrong." (U.S. Steel did not respond to requests for comment.)
When U.S. Steel spilled the dangerous pollutant in April 2017, the Chicago chapter of the Surfrider Foundation was already mapping pollution sources in the lake, an effort prompted by Judith Miller, a surfer and a law professor at the University of Chicago. Miller, who was considering having a baby at the time, wanted to know what she might be exposed to when she went surfing. "I'm not against business or industry by any means, but the idea that I'm getting in the water right next to these various facilities, and I didn't know what the water quality was and whether they were polluting, that made me feel unsafe," she says. Miller approached Mitch McNeil, chair of Surfrider's Chicago chapter, one day after surfing and connected him with her co-workers.
Surfrider, represented by the AELC, filed its suit last November. The city of Chicago signed on a week after. The Department of Justice fined U.S. Steel just $900,000, a pittance compared to what it could have levied on the company, says Rob Weinstock, the lawyer at the AELC representing Surfrider.
The Justice Department also got to work on a consent decree, a legal agreement between the federal government and U.S. Steel that would require the company to improve its facility and monitoring systems in order to detect a potential spill earlier and comply with the Clean Water Act. In April, the agency published a draft and received more than 2,700 letters during the comment period. But the information U.S. Steel provided on how it would prevent future spills was inadequate, the EPA and the Indiana Department of Environmental Management said. The Justice Department is reviewing the public comments and hasn't published a revised agreement.
Meanwhile, a judge put Surfrider's and Chicago's lawsuit on hold until the consent decree is finalized. Even if the federal government and U.S. Steel reach an agreement, however, it won't address all the issues at the plant, the lawyers say. On September 13, clinic attorneys Mark Templeton and Rob Weinstock asked a judge to impose stricter financial penalties, and Surfrider is prepared to resume its lawsuit.
"Big, old-school environmental problems of big companies dumping poison into public waterways, that's not over," Weinstock says. "If we allow our regulatory agencies to be underfunded, captured by industry, or made into political pawns, we are jeopardizing our public health and safety."
And even though some surfers take a chance on the water, others won't. Miller hasn't been back to the Portage beach since she found out she was pregnant nearly two years ago. She seeks out other places on the lake to surf but is still disappointed by the lack of information on what she could be exposed to. "It's kind of devastating," Miller says. "When you put it all together, how dangerous is it? How much of a risk would I be taking?"
Lead Photo: Don Campbell/The Herald-Palladiu