Total Immersion
One family's 18-month (and counting) Hawaiian Hiatus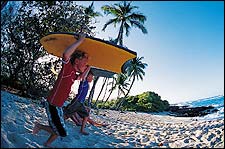 Heading out the door? Read this article on the new Outside+ app available now on iOS devices for members! Download the app.
FOUR SNORKELS ABREAST, we flutter-kicked into the steely deep Pacific. A few hundred yards off Hawaii's lava shoreline we had just seen a family of humpback whales and hoped for a closer encounter. My wife, Cindy, our kids, Clyde, 11, and Mason, eight, and I swam seaward, and as the reef dropped away, bubbly giggles broke the underwater silence. Our boys pointed excitedly at a leviathan silhouette in the depths, its cryptic singing echoing like a Moog synthesizer from outer space. Giddy from our brush with megafauna, we all bristled with what Hawaiians call "chicken skin."

Big Dippers: The author and his sons snorkeling the Big Island's Kohala Coast

Clyde and Mason on a backyard snorkeling expedition near Puako

Hiking Kekaha Kai State Park

Parents holding vigil while the kids hit the surf on Mahai'ulu beach

School's out!

You could say that collecting memories like this has become our family's quest, and that's why 18 months ago we mothballed our perfectly good Montana lives and headed to Hawaii for an extended vacation. Since no amount of time off seems to satisfy our unquenchable thirst for travel and adventure, we took a one-year sabbatical (which morphed into a second year), anticipating that each day could hold the opportunity for a "vacation moment." Our swim with the largest animals on earth, for instance, occurred on an otherwise normal weekday afternoon—after work, school, and homework were done.


It was my parents who instilled this spirit in me some 34 years ago. I was nine years old in 1967 when we deplaned in the islands to the aromatic seduction of plumeria and yellow ginger blossoms and a two-year stint on Oahu. Captain Dad—a doctor in the Army—and miniskirted Mom were also bold enough to cart me and my two towheaded brothers to Hawaii Volcanoes National Park on the Big Island for a week, and something about seeing a steaming volcano changed me forever.


Back on the Big Island again to focus on my own family before our kids become distracted, omigod teenagers, Cindy and I are eager to mix the soup of our cultural experience and to relive a little childhood ourselves. The kids have embraced the tropics like Polynesian transplants, and I've been surfing my middle-aged brains out.
Perhaps we're just maniacal haoles, but many of our local friends say that we've done more on this island in one year than they've done here in their entire lives. Maybe they're right, because we have already explored jungly trails, snorkeled animated reefs, scrambled to 1,000-foot waterfalls, lounged on white-, black-, and green-sand beaches, mountain biked singletrack through sugarcane, hiked to thin-aired volcano summits, bathed in nippy queen's baths (pooled cold springs in the lava fields), and surfed a few secret spots. The list goes on, and it's clear we've been motivated by life on Hawaii in a compressed time frame, knowing that someday we'll return to reality.


The Big Island seems to us to be a tropical Montana, with its rural, ranging, big-sky feel. We also love the biological diversity—11 of the world's 13 climate zones. Because the trade winds and curvaceous topography form a rain shadow, the Eden-like eastern side is deluged with rain; the western side is perennially sunny. We're drawn to the beaches as much as the 13,796-foot, snow-covered summit of Mauna Kea. In the Puna District, on the east side, there's even a spot where Pele, the Hawaiian goddess of the volcano, oozes orange lava into the sea. The Pu'u 'O'o volcanic vent, which has been erupting since 1983, has birthed more than 544 acres of new land.


On our first trip to the area we saw this river of lava gushing into the sea. We'd hit the road right after school, and it was late afternoon when we arrived at the village of Kalapana, which was mostly demolished by lava in the 1980s. We parked where the road disappeared under a massive mound of shiny black pahoehoe lava and ditched our flip-flops for hiking boots. It was creepy to hike on the crusted lava, magma flowing just below the surface and heat radiating up through our soles. Our evening arrival allowed us to see the glowing red lava pulsing in the twilight. It was like staring into the center of God's campfire, and we stood transfixed by the power of Pele. The next day, across from the head of the Kilauea Iki Trail, which takes you into the crater and spurs off Crater Rim Drive, we ducked into Thurston Lava Tube, a 450-foot tunnel. The boys and I pretended to surf the humongous black wave, and for a scare we explored the Thurston "extension." Turning off our headlamps in a pitch-black cave was good for a little chicken skin.
A trip to see the lava may require a drive and some preparation, but outings to the beach should require nothing but impulse. That is why we've been quasi- camping in an 800-square-foot bungalow across the street from the Pacific. In fact, as I write this, a pounding winter swell shakes my chair. There isn't a day when the kids don't explore the tide pools across the street, go dinghy sailing, paddle our sea kayaks, or surf.


After hundreds of hours logged in the ocean, Clyde paddles out with an arched back and a gleam in his eyes. Whether stroking into overhead Hapuna Beach wedges on his bodyboard or paddling a longboard through the breakers at the Kawaihae Breakwall, four miles from home, the kid has developed style. On weekends we lash our boards atop our tattered Isuzu Trooper and head to Kohanaiki, a few miles north of Kailua. A spot where surfing families gather, Kohanaiki even sees grandmas paddle out. On our best days we've scored a family wave or two, harmonic convergences where all four of us ride the same wave, weaving around one another and grinning like fiends.


Experiences like these have woven Hawaii into our bones, but no one has embraced our time here more than Mason. He isn't at all shy about wearing his malo (Hawaiian-style loincloth) in public and has even taken to planting wauke in our backyard so he can make his own kapa cloth. He bellows Hawaiian chants and pounds his own poi from taro root, which he's growing on our lanai. It was at Puukohola Heiau, a nearby stone temple built by King Kamehameha, that Mason first became fascinated with the old Hawaiian ways. Once a year, the community hosts a festival, and something about making a traditional nose flute and polishing it with kukui nut oil resonated with him. He's a walking cultural exhibit, and we love it.


After a year and a half on the Big Island, Cindy and I have found life to be generally simpler than it was on the mainland. There's less planning, less stuff, fewer commitments, and more time to laugh with each other. We've also been game for more bonding adventures. One morning we decided to sea kayak the Kealakekua Bay crossing from Napoopoo Beach Park to Captain Cook's Monument—an easy, two-mile round-trip paddle. Mason and my brother Pete, who was visiting from Telluride, Colorado, were raring to go and pushed off first in the tandem. Cindy, looking for a moment of peace, slipped offshore while Clyde, a master at knots, tied his inner tube to the back of my boat and perched himself comfortably with his feet in the air. He commenced to give orders, guava juice in hand: "Get with it, Dad! Start paddling!"


Before climbing in, I stood surveying the scene, the sweet scent of plumeria flowers on the trade winds. Cindy and I made eye contact and shared an affirming smile. It was clear to us that our boys will never be the same, nor will we. I saw myself in those free-spirited little guys and was bowled over by a tsunami of déjà vu.