A Longtime Surf Competition Went Virtual During the Pandemic. Organizers Kept It That Way.
The Vans Triple Crown of Surfing event asks surfers to submit video clips of their best waves. Is the new format a success or a wipeout?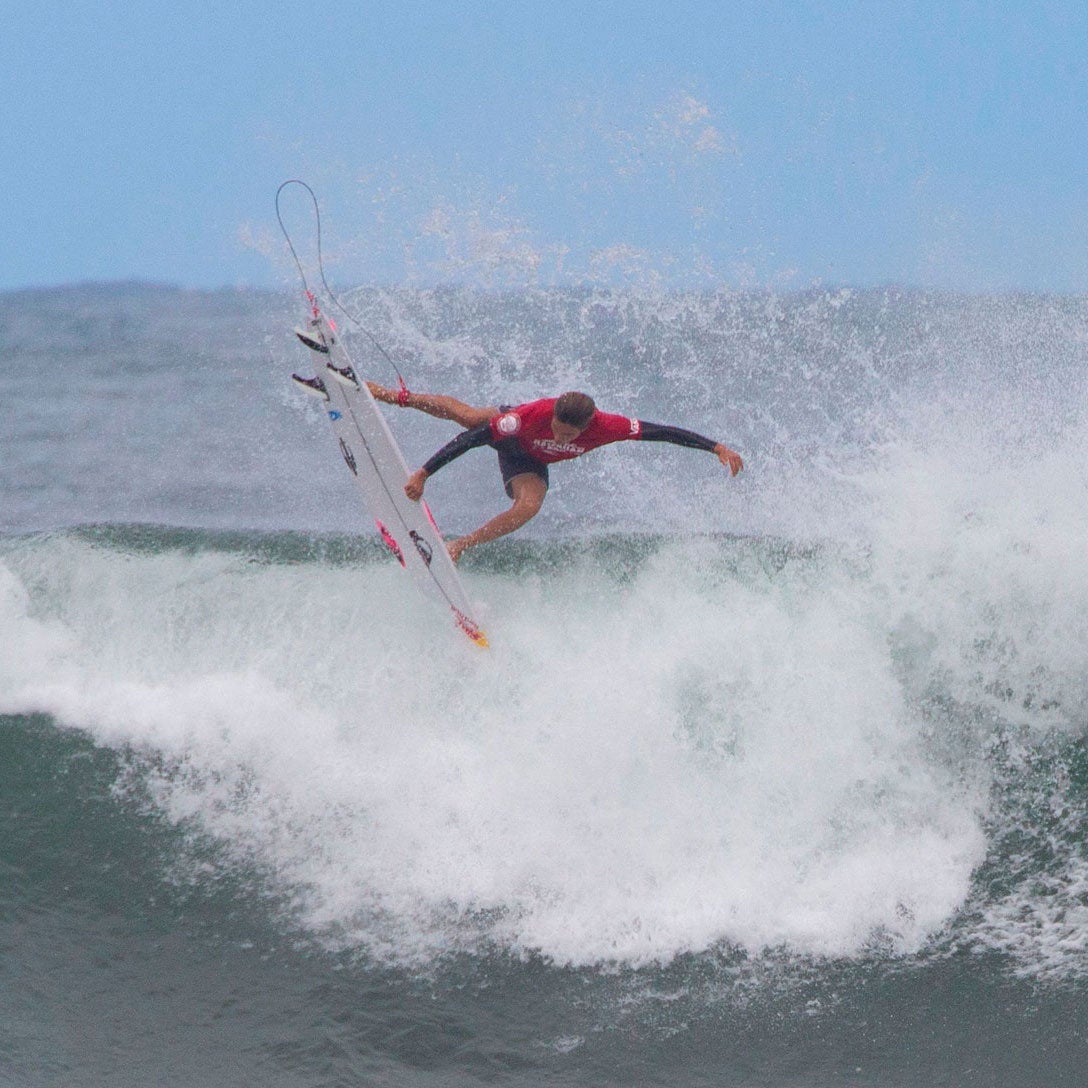 BRIAN BIELMANN / Getty Images
Heading out the door? Read this article on the new Outside+ app available now on iOS devices for members! Download the app.
Last winter, Hawaiian surfer Kuiookalani Young spent more time riding his bicycle than his surfboard. Young, 23, pedaled across Oahu's North Shore on a borrowed bike, desperately trying to obtain video clips taken by local photographers of him surfing the thumping waves. He needed to submit footage of his best rides to convince a panel of judges that he was among the best surfers in the world. But with no budget for a film crew, he had to get scrappy, and that meant trying to get footage from people who had filmed him surfing by chance.
"On a day I knew I got a good wave, I'd search geotags on Instagram to see if anyone posted a video of me then I'd DM them to ask if I could get the clip," Young told Outside. Young would then ride to meet the photographer, and try to negotiate to get the clip for free.
Young was participating in the Vans Triple Crown of Surfing, a 40-year-old competition in Hawaii that showcases the Oahu's famed surf breaks Pipeline, Haleiwa, and Sunset. In 2020, amid the pandemic, the event adopted a new format: rather than have surfers compete on the same wave in traditional heats, organizers asked them to submit videos clips of themselves surfing during a four-week period. Judges then analyzed the footage—two video submissions per wave were allowed—and scored the surfers based on their best clips. Organizers liked the new model so much that they kept it going, even as COVID began to subside. Now, the event plans to continue the video-based format for the foreseeable future.
Organizers call the new format a "digital competition" and say it creates a more level playing field for the lower-ranked pro surfers. Under the previous format, surfers had to qualify by accruing points on the World Surf League's global series. Under the digital format, anyone can submit a highlight reel. Under the competition rules, any male or female surfer over 16 years can register. There are 125 total spots available between both genders, with at least 50 percent of total spots dedicated to Hawaiians. The $125 entry fee is matched by Vans and donated to local, non-profits and the $100,000 prize purse is split between the overall men's and women's title winners. The victors also gain entry to the Vans Pipe Masters event, scheduled to take place December 8 through 20, 2023.
But critics say the video-based format has turned surfing into little more than TikTok fodder, and widened the divide between athletes who can afford to pay film crews, and riders like Young, who can't afford to pay videographers to film their surf sessions. Young finished in 11th place in the 2022 edition. Surfing legend John John Florence—one of the sport's top earners—won.
This year, the 40th edition of the event began on January 3, and it runs through January 23. While the COVID pandemic was the catalyst for the Triple Crown going virtual, Scott Sisamis, Director of Global Sports Marketing at Vans, says discussions about changing the event format had been in the works for five years. The company wanted the competition to be more inclusive of women and local Hawaiian surfers, he said. The company felt that a digital edition accomplished these goals because it allowed more surfers to participate.
"There are so many top surfers around the world that have this skill set to do well at these three locations," Sisamis told The Orange County Register. "It's somewhat of a hybrid. It's new territory, I think for everybody."
Young was one surfer who benefited from the new model. He had competed in the World Surf League's international qualifying series from the age of 17 to 20, but he eventually quit after he was unable to land a major cash sponsor to fund the travel and living expenses. These days he operates a plant nursery on Kauai. "I realized surfing wasn't going to pay my bills, so I quit competing," he says. The new virtual format at the Vans Triple Crown allowed him to participate in a pro competition for the first time in three years.
There are some hurdles that competitors must navigate with the video-based format. In a traditional surf competition, the participants have the waves to themselves during the 20-minute heats. Under the digital format, they must battle with recreational surfers to catch an award-winning wave on video. Puamakamae DeSoto, a 17-year-old phenom from Oahu says that crowds, particularly at a high-consequence wave like Pipeline, can create dangers for competitors. "Being out at Pipe with 200 people and watching them burn each other to get clips was terrifying," she told Outside after the 2022 edition. DeSoto said her strategy for 2023 is to avoid the crowds and to instead catch waves on the shoulder.
Pro surfer Nathan Florence told Outside that he and his brothers Ivan and John John logged six-hour surf sessions during the 2022 edition in an effort to score winning footage. The frenzy turned the lineup into a dogfight, he said, causing some local surfers to complain. To appease grievances, organizers tightened the competition window by one week for 2023.
But local Hawaiian surfers are cautiously optimistic that the new format can provide motivation for local up-and-comers to get noticed. DeSoto says the cost of traditional competitions presents hurdles for Hawaiian youngsters who are talented surfers. "I see so many native Hawaiian kids who are unmotivated to surf because they know the effort it takes to get to the top requires resources they don't have," she says. Young was one such Hawaiian. "I had given up on competitions and really went into this with on expectations and feel lucky my talent got recognized," he says. Clips of him surfing were circulated online after the competition, and he was featured in the sizzle reel for the 2023 edition.
Young also says the digital format made him feel more connected to the North Shore surfing community, as he also relied on friends and acquaintances to help him get to the waves and then film himself. "Video guys gave me free footage, people lent me boards, friends gave me rides to the beach," he says.
For 2023, Young arrived to the North Shore with a new strategy. He teamed up with his friend and fellow competitor Imaikalani Devault to share the cost of hiring a videographer. The new method appears to be paying off: after one week of video clips, Young is ranked number one in the standings.
Lead Photo: BRIAN BIELMANN / Getty Images
Trending on Outside Online