Water Tested
Quadruple amputee Philippe Croizon takes on some of the boldest open-water crossings of all time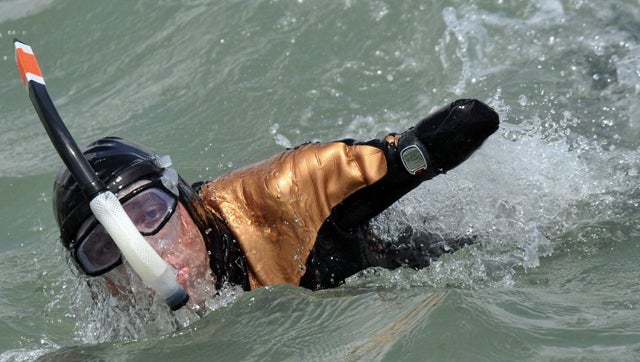 Heading out the door? Read this article on the new Outside+ app available now on iOS devices for members! Download the app.
What do you call a guy with no arms and no legs swimming across the English Channel? Philippe Croizon. That's what the 44-year-old quadruple amputee did in 2010. By the end of this month, the Frenchman will have added the Strait of Gibralter, the Red Sea, the Bering Strait, and the Papua New Guinea-Australia Gap to his list of watery accomplishments.
"What Philippe is doing is much larger than even the longest of all open-water swims in the world," said Marcos Diaz, an elite open-water swimmer who completed this same feat two years ago. "He brings a message that's bigger than life with every meter he moves forward in the water. It's not only going to be a big accomplishment for a disabled person, but to all of us who have arms and legs."
Croizon, who used to be an electrician, lost his arms and legs in 1994 after being shocked by 20,000 volts while changing a TV antenna on his roof. "I decided to make my handicap the beginning of a new life," he says. He bought a pair of carbon-titanium prosthesis for his legs and, because he can't generate the torque needed to lift his head out of the water, a snorkel. Croizon spent the next two years swimming 35 hours per week to prepare for the Channel crossing, which he completed in 13 hours in August 2010.
This May, he and his expedition partner, fellow Frenchman Arnaud Chassery, swam the 11-mile Papua New Guinea-Australia Gap, and have ticked off one crossing a month since. Among the challenges faced: 37-degree water, shipping lanes choked with 900 vessels off Morroco, and unexpected storms in Jordan. None of which Croizon is all that worried about.
"I'm through the hard part," says Croizon, who nearly drowned three times the first time he attempted to swim. "Whatever happens can't be worse than what I've already gone through."
Croizon will complete the last leg of his journey across the Bering Strait next week.