Wave Prophet: World Surfari's David Scard
Australian surfer David Scard, 37, runs Kirra-based World Surfaris' Stealth Travel Club, which whisks surfers to the biggest waves at a moment's notice. His success rate: 100 percent.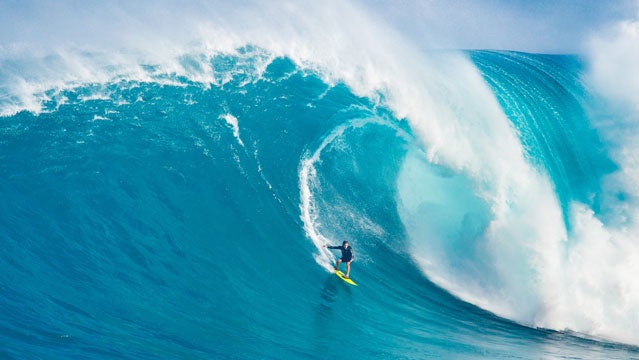 Heading out the door? Read this article on the new Outside+ app available now on iOS devices for members! Download the app.
OUTSIDE: One hundred percent—how do you do it?
SCARD: I look at the synoptics on various public meteorological websites. Synoptics show surface-pressure gradients, which can tell you a lot about how intense the wind and storms are, how quickly they're moving, and in which direction. A stronger wind over a longer period of time will create a longer-period swell, which creates bigger waves.
How far out do you pull the trigger on a trip?
About a week. You can say a storm is going to develop in a certain quadrant of the South Pacific, but until it actually does you can't really organize too much. In Pohnpei, Micronesia, for example, that window is about three days. For many of the places we send people, like Pohnpei and Papua New Guinea, I have a really good idea of what those spots need—swell direction, size, tide, wind. You've got to have some experience with each spot. But you also need to know if you can feasibly get there in time: Do you need a car, a boat, a guide, a visa?
And that's why the pros come to you.
Most of these guys have a good idea of what they're looking at, too. But the marketing budgets are getting squeezed. Sponsors can't afford to send their guys to go and sit in Fiji for two weeks and wait for a swell. They need to nail it and come home.
You chase swells yourself. In 2010, you earned a nomination for an XXL Ride of the Year on a barreling 20-footer at Fiji's Cloudbreak.
That was pretty mind-bending. We looked at it a week out, and we made the call to go about four days before. We knew we were walking into some big waves, but it was even bigger than we anticipated.
So how can amateur surfers find the best waves?
Learn about what drives the forecasting websites. It's not just a graph: it's a real storm out there, an amazing thing. Learn why it's going to be that big, why that direction. You'll enjoy a swell that much more.