Which car rack can handle bikes, skis, and surfboards?
I need a racking system for snowboards and skis that will also work for surfboards and bikes. I'm open to a trailer hitch system for the bikes, because I'm not sure I can lift my bike onto the car. I have a 2002 BMW 530. What do you recommend? Ann Culver City, California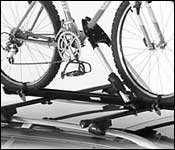 Heading out the door? Read this article on the new Outside+ app available now on iOS devices for members! Download the app.
Hey, cool car. In a nice bit of symmetry, I once had a BMW 2002, but you have a 2002 BMW. Get it?
Thule Big Mouth Upright Bike Rack

Big Mouth Upright Bike Rack
Oh, boy. One of those days. Anyway, it would be great if you could get away with a single rack system. Ideal would be something from Thule (www.thule.com) or Yakima (www.yakima.com), a cross-bar system for the top of the car, with attachments for skis, boards, bike, etc. For instance, you could purchase a pair of Thule AeroFoots, LB50 bars, and a fit kit for your car. Add to that a Big Mouth Upright Bike Rack, 724 Flat Top ski/board carrier, and a Hang Two Surfboard Carrier. With locks for the rack, that would come to about $550. A regular cable lock can be used to tie the bike to the roof, although any determined crook can quickly separate the two.
I appreciate the fact you don't see yourself hefting a bike to the roof of the car, but don't dismiss the idea entirely. Depending on the bike it might be very do-able, particularly if you give yourself an assist with a small footstool or something. It's mostly a matter of leverage and balance, not brute strength. If you can grab your bike's frame and lift it to eye level, then you can get it up onto the roof of your Bimmer.
Otherwise, it's a hitch or trunk mount for you. And you actually could fit everything onto a hitch…except the surfboard. Figure $200 for an auto welding shop to attach a Class 2 hitch to your BMW. The Xport Free Loader bike rack, sold at Performance bike shops and on their web site (www.performancebike.com), goes for $100 and holds up to four bikes. Yakima's Little Horn 4 holds four bikes and is $160.
You've got your winter gear, now get outside and use it. Away.com's ski and snowboard guide makes it easy to find nearby slopes just begging for fresh tracks.