Writing Giants
Surfing's superstars dish on waves, winning, and women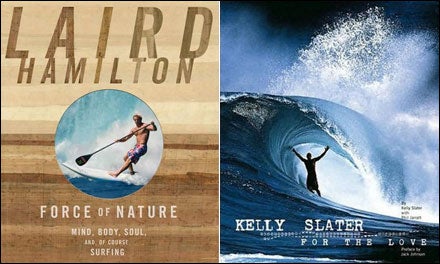 Heading out the door? Read this article on the new Outside+ app available now on iOS devices for members! Download the app.
LAIRD HAMILTON

The Book: Force of Nature: Mind, Body, Soul, and, of Course, Surfing (Rodale, $28)
The Concept: Laird Hamilton shares his secrets on diet, fitness, and surfing, with help from friends like celebrity chef Giada De Laurentiis and trainer T. R. Goodman
Winning Attitudes: "Mental discipline is key … Quitting: easy. Daring to triumph: hard."
Notable Non-Surfing Injury: 66 stitches in his thigh after a run-in with a Skilsaw
Not-So-Secret Vice: Espresso. Says Hamilton: "On an average day, I'll drink between four and eight shots over the course of the morning."
Unexpected Influences: Bill Romanowski, former pro football player and one-time steroid user. (Hamilton takes Neuro 1, the brain supplement Romanowski developed, every day.)
Prized Possession: Two pet razorback pigs, Ginger and Marianne
The Ladies Speak: "We only have girls around here: Izabela, 13; Reece, 5; and Brody, 1. We're balancing out the testosterone." —pro volleyball player Gabrielle Reece, Hamilton's wife
Me and Eddie Vedder? We're Like This… : "My friend Eddie Vedder (from Pearl Jam) told me that he sometimes feels that letdown after a big show."
KELLY SLATER

The Book: Kelly Slater: For the Love (Chronicle, $35)
The Concept: A lifelong scrapbook of more than 200 photos with extended captions—most by Slater (as told to co-writer Phil Jarratt), some by pals like musician Jack Johnson and surfer Shane Dorian
Winning Attitudes: "My best results have come when I'm simply inspired to go ride the wave … enjoying the act for its own sake."
Notable Non-Surfing Injury: Scar on his nose from a tossed cymbal
Not-So-Secret Vice: The fast lane. Says fellow surfer Mark Richards: "You lost the [2003] Quiksilver Pro because you went off to hang out with big-titted blondes at the MTV Awards."
Unexpected Influences: Ben Hogan, golfing great. (Slater applied tips he found in the 1957 book Ben Hogan's Five Lessons: The Modern Fundamentals of Golf to surfing.)
Prized Possession: Ukulele
The Ladies Speak: "Girls are so drawn to him because he's kind of mysterious, and they want to know what he's about. And, I don't know, he just attracts these train wrecks!" —pro surfer Lisa Andersen, Slater's close friend
Me and Eddie Vedder? We're Like This… : "Back in 2005, when I won my seventh world title, Eddie Vedder wanted to celebrate with me and do a gig of some sort, maybe a stripped-down acoustic set.