Weekend Reading: Bigfoot Will See You Now
In this weekly roundup, we scour the Web for our favorite long-form articles, collecting them here and on Longreads and Twitter. This installment focuses on the cryptids, immortal jellyfish, and digging.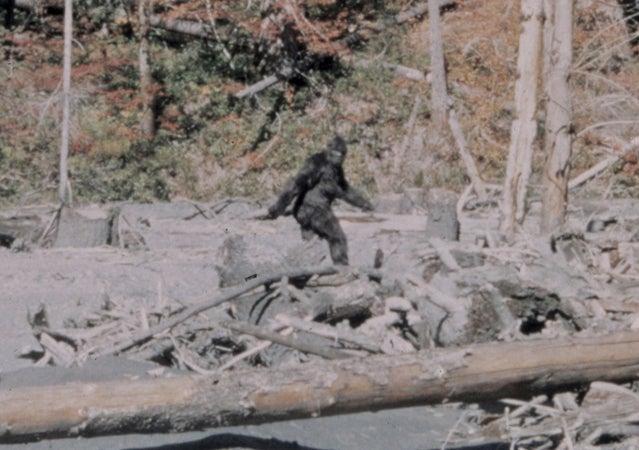 Heading out the door? Read this article on the new Outside+ app available now on iOS devices for members! Download the app.
On February 18, 1996, Fox aired the 144th episode of The Simpsons, "Lisa the Iconoclast." The episode follows Lisa as she attempts to debunk the myth of Springfield's founder and folk hero, Jebediah Springfield, on the eve of the town's bicentennial. After finding out that Jebediah was actually a murderous, diphtheria-infected ex-pirate on the run from the law, she's faced with a choice: tell the truth, or let the legend live on.
This week, we published a similar story, in which writer Colleen O'Neil sets out into the Ohio wilderness with a group of Bigfoot hunters hell-bent on proving the existence of the mythological creature. Like Lisa, she is tempted at one point to trash their ideals and debunk their mysterious ape-man, but stops short of pulling the trigger when she sees that even a myth, no matter how fantastical, still has the power to heal, inspire, and bring joy. In their pursuit of Bigfoot, some of these hunters have conquered alcoholism, secured new jobs, and discovered love and happiness along the way. Why stop looking when you've already found so much?
As a professional person who works in an office of other professionals, it's hard to openly express one's radical views on cryptids and any unusual powers they may or may not very likely have. I can only say that I certainly support the idea of Bigfoot, if only because I think the world could use a little more magic and mystery in it, even if that magic exists entirely in our minds. I should probably stop there.
Anyway, without further speculation into a race of mysterious beings with the power to keep their existence a secret from us via the magical arts, here's your Weekend Reading!
Venture into the Ohio wilderness with some very strange, but wonderful, individuals in search of the legendary Bigfoot. Colleen O'Neil, Outside.
"Everything Bernie says is true—because it happened. Bernie and the rest of the Bigfooters seem like genuinely nice people. More than that—they're genuinely people, just people who happen to spend their free time chasing after a mythological forest-beast. Are they delusional? Sure. The statistics—zero documented sightings, ever—might suggest so. But they also care deeply about what they do. When I asked questions about their research, they bubbled over with enthusiasm, offering me documents and photographs and DVDs of their findings. They invited me to their meetings and let me borrow flashlights and camp chairs. And they seriously wanted for me to have an 'experience' of my own to report to the world. Whether or not they've actually seen anything or had their own 'experiences,' doesn't really seem to matter."
The key to immortality may have been discovered in a deep-sea jellyfish that can reverse its lifecycle and begin life again, but no one seems to care. Nathaniel Rich, New York Times Magazine.
"You might expect that, having learned of the existence of immortal life, man would dedicate colossal resources to learning how the immortal jellyfish performs its trick. You might expect that biotech multinationals would vie to copyright its genome; that a vast coalition of research scientists would seek to determine the mechanisms by which its cells aged in reverse; that pharmaceutical firms would try to appropriate its lessons for the purposes of human medicine; that governments would broker international accords to govern the future use of rejuvenating technology. But none of this happened."
In 1861, a megastorm caused by an "atmostpheric river" hit California and lasted 43 days. It turned the Central Valley into an inland sea and bankrupted the state. Could it happen again? Michael D. Dettinger, Scientific American.
"A comparable episode today would be incredibly more devastating. The Central Valley is home to more than six million people, 1.4 million of them in Sacramento. The land produces about $20 billion in crops annually, including 70 percent of the world's almonds—and portions of it have dropped 30 feet in elevation because of extensive groundwater pumping, making those areas even more prone to flooding. Scientists who recently modeled a similarly relentless storm that lasted only 23 days concluded that this smaller visitation would cause $400 billion in property damage and agricultural losses. Thousands of people could die unless preparations and evacuations worked very well indeed."
The plot of Evan Almighty is unfolding in rural Kentucky, where two men are attempting to construct a real-life Noah's Ark, exactly the way God intended. Amanda Petrusich, The Atlantic.
"It turns out that erecting a massive ark based on a few lines of ancient verse raises some practical quandaries. Gopher wood, for example, is not a kind of wood recognized by modern arborists. Likewise, a cubit, the unit of measurement employed by God in Genesis, is not a standardized metric, although many people believe it refers to the length of a man's forearm, from his elbow to the tip of his middle finger. Then there are the countless mysteries (scatological, sociological) about the interior, where Noah, his seven family members, and his herd of animals ('Of every living thing of all flesh, two of every sort') are said to have spent a year and six days."
The tunnels under the Gaza Strip are a death trap where hundreds of young men have lost their lives, but residents must continue to dig if Gaza is to survive.  James Verini, National Geographic.
"After Israel introduced the blockade, smuggling became Gaza's alternative. Through the tunnels under Rafah came everything from building materials and food to medicine and clothing, from fuel and computers to livestock and cars. Hamas smuggled in weapons. New tunnels were dug by the day—by the hour, it seemed—and new fortunes minted. Families sold their possessions to buy in. Some 15,000 people worked in and around the tunnels at their peak, and they provided ancillary work for tens of thousands more, from engineers and truck drivers to shopkeepers. Today Gaza's underground economy accounts for two-thirds of consumer goods, and the tunnels are so common that Rafah features them in official brochures."
Trending on Outside Online