Weekend Reading: It's OK to Be a Jerk Sometimes
In this weekly roundup, we scour the Web for our favorite long-form magazine and newspaper articles, collecting them here and on Longreads and Twitter. This installment focuses on bicycle etiquette, the art of body building, and the religious nature of ivory.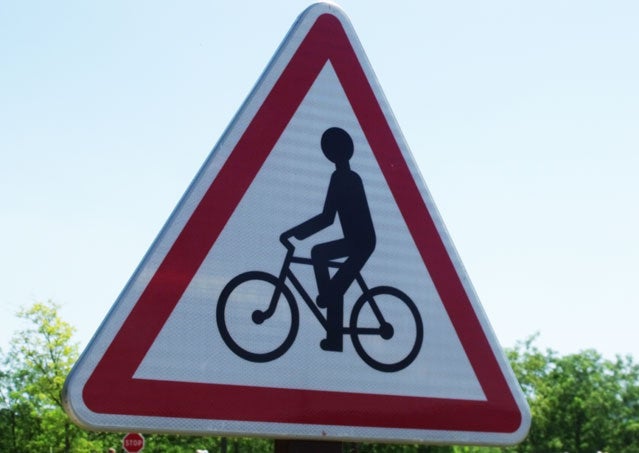 Heading out the door? Read this article on the new Outside+ app available now on iOS devices for members! Download the app.
This week, Slate posted an article by Jim Saska suggesting that all cyclists are not assholes. It's merely the one or two reckless ones you've encountered that stand out in your mind, as opposed to the hundreds who pass you by without incident, that fuel your prejudice. This may well be the case, but in my personal experience, it helps to be a bit of an asshole when you're on a bike.
Back when I lived in New York I used to be a delivery boy for a lobster restaraunt. This involved zipping at high speed through New York City traffic, squirming between city buses and avoiding the dreaded suddenly-open-car-door. I did it for about four months before I was unceremoniously released from my duties. I've still never had a lobster roll.
Of course, my employers were completely justified. I was terrible at it, and when your job consists of pretty much one thing—getting food from point A to point B in a reasonable amount of time—you can't suck at it. I wasn't terrible because I was slow (despite working primarily on the Internet, I'm in reasonable human condition), but because I was too polite.
I obeyed traffic laws, waited patiently for pedestrians to clear the way, never jumped out in front of cars; I was a model citizen. The one time I came close to clipping someone on the sidewalk, I stopped, turned around, and went back to make sure they were OK. That's not how you deliver food in New York in a timely fashion. You have to be willing to go the wrong way, cut people off, and generally be an unapologetic, cosmically-charged delivery comet, dead set on getting the probably-very-stoned occupants of the East Village their food before they turn on each other or their neighbors. That generally means being an asshole.
Anyway, without further ado, here's what you should take the time to read this weekend:
You may be surprised to learn that your hatred of cyclists is based on a deep emotional bias. Jim Saska, Slate.
"If you are a city driver, you have undoubtedly been scared half to death by some maniac cutting across traffic like Frogger on a fixie. Such emotionally charged events stand out in our associative memory far more than mundane events, like a cyclist riding peacefully alongside your vehicle. The affect heuristic is compounded by the idea of negativity dominance—bad events stand out more than good ones. This causes you to overestimate both the amount and the severity of upsetting events, like almost getting some dirty hipster's blood on your windshield."
Since the 1970s, Alaska has been more reliant on oil than it cares to admit. What happens when the oil rush runs out? Charles Homans, The Atlantic.

"But it is the pipeline's uncertain future that poses Alaska's greatest existential dilemma. For a third of a century, the energy industry has underwritten not only Alaska's finances but also its rugged, individualist self-image. Oil revenues have allowed the state's residents to live the libertarian dream of Alaska's past—Alaskans pay no state sales or income taxes—while enjoying all the benefits of life in a prosperous welfare state. As an energy lawyer I met in Anchorage drily observed, Alaskans may talk like Texans, but they live like Norwegians."
The fascinating story of bodybuilder Steve Reeves, the man who made fitness into an art form and set the stage for future muscle-bound icons like Schwarzenegger and Stallone. Bill Simmons, Grantland.
"He was phenomenally good at it. He was naturally gifted in a way that still makes other bodybuilders very sincerely freak out. During his first four months of training, he put on 30 pounds of muscle, which is obviously ludicrous. There are stories about crowds sort of helplessly following him around as he walked on Muscle Beach—he had that kind of charisma."
Visit Sweden's Cape Bjare, a land that has come to be ruled by the lowly potato. Abby Aguirre, New York Times. 
"Indeed, in Cape Bjare, a potato is not just a potato; a potato is also something like a grape. Ever since the Cape's farmers began harvesting their potatoes early, a few generations ago, a viticulture of sorts has been blossoming here. Locals speak of terroirs and tasting notes and trace flavor to sand levels in the soil or a particular farm's proximity to the sea. Certain varieties, like the Old Swedish Red, can go for as much as $100 per pound. When the year's first new potato is picked, in May, the event is televised live across Sweden. In early June, the Cape's restaurant week is kicked off with 'Parans Dag,' 'Potatoes Day' in the local dialect."
The ivory trade is still going strong. But it's not just about money, religion plays a large role in the slaughter. Can true believers be turned away from the grisly practice? Bryan Christy, National Geographic.
"Although the world has found substitutes for every one of ivory's practical uses—billiard balls, piano keys, brush handles—its religious use is frozen in amber, and its role as a political symbol persists. Last year Lebanon's President Michel Sleiman gave Pope Benedict XVI an ivory-and-gold thurible. In 2007 Philippine President Gloria Macapagal-Arroyo gave an ivory Santo Niño to Pope Benedict XVI. For Christmas in 1987 President Ronald Reagan and Nancy Reagan bought an ivory Madonna originally presented to them as a state gift by Pope John Paul II. All these gifts made international headlines. Even Kenya's President Daniel arap Moi, father of the global ivory ban, once gave Pope John Paul II an elephant tusk. Moi would later make a bigger symbolic gesture, setting fire to 13 tons of Kenyan ivory, perhaps the most iconic act in conservation history."
Trending on Outside Online