Wet Zeppelin
Windbags on a mission! Fighting fires with new super-soaker blimps!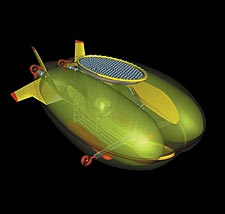 Wetzone Technologies
Heading out the door? Read this article on the new Outside+ app available now on iOS devices for members! Download the app.
DIRIGIBLES HAVEN'T BEEN hot since the Hindenburg blew up in 1937. But if scientists at WetZone Technologies have their way, blimps will be back in the limelight, this time as workhorses in the battle against wildfires. Launched by an entrepreneurial band of nine physicists and engineers who cut their teeth in aerospace, the Carlsbad, California, startup has patented designs for giant airships—up to 1,000 feet long and 300 feet high—that could shower hundreds of acres of flaming forest with 20,000 gallons of water per hour. Each craft would be kept aloft by a bellyful of nonflammable helium, enabling it to float as low as 75 feet above a blaze without endangering its eight-person crew, and its 250,000-gallon water tank could be refilled in the air, allowing it to keep working round the clock.

Water balloon: Wetzone's Fire Blimp

That's a lot of juice—current air tankers hold just 3,000 gallons—but will anybody go for this? "We have several manufacturers that can build our airships," says Thomas Gagliano, 30, WetZone's CEO and chief scientist. "Now we need to get politicians excited about the need for this technology." He also has to come up with $2.25 million to get the idea, currently hovering in computer-model limbo, off the ground. Gagliano hopes to have two prototypes floating above the California-Nevada state line by 2006. If the Forest Service buys the concept, he envisions a fleet of 50 fire zeppelins throughout the country.


Who knows? With more than six million acres of forest lost to fire last summer, it might not hurt to send up a trial balloon.