Whale & Testament
The shocking last wishes of a Hollywood heavy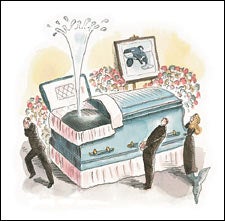 Illustration by Barry Blitt
Heading out the door? Read this article on the new Outside+ app available now on iOS devices for members! Download the app.
ON DECEMBER 12, 2003, Keiko the killer whale, star of the film Free Willy and international bon vivant, died of pneumonia in Norway's Taknes Bay. He was 27. The five-ton celeb, who was incarcerated in Mexico during his youth but repatriated to Scandinavia by loving fans, was buried in a pasture in a secret nighttime ceremony (so as to avoid a "media circus," close friends said). Keiko's final wishes—discovered April 2 at the orca's lavish Neversea Ranch—were leaked to Outside by a disinherited crustacean. They are reprinted here for the first time.
Keiko's Last Wishes


I, JORGAN VON FINSLAYER (note: Keiko is my stage name; Von Finslayer is my birth name, but friends just call me "Biggy"), being of sound mind and buoyancy, make this my last will and testament, hereby revoking all earlier wills and codicils.


The nation of Iceland—including the Westman Islands and pop sensation Bjö—which was awarded to me in reparation for my 1979 capture, I bequeath to Jason James Richter, my co-star in Free Willy. Son, you were the calf I never had. Keep your dorsal fin straight, your flukes high, and your blowhole clean!


All future royalties from my films, merchandise, plush toys, and squid-porn empire (Inkstain Inc.) I bequeath in equal proportion to Cetaceans Against Nuclear Weapons, the Anti-Flensing League, and the It Takes a Pod to Raise a Calf Foundation.


Royalties from my punk band, K-Ko and the Melvilles (a chart-topper in England—until I made the unfortunate "We're more popular than cod" comment to the BBC), I transfer to Squad 23, the killer whale community from which I was stolen in my calfhood. The master recordings of our classic album Bento Boxes and our unreleased compilation of B-sides, Probing Cousteau, I bequeath to the Rock and Roll Hall of Fame.


My extensive collection of Hummel figurines goes to Ellen DeGeneres. Girl, Finding Nemo really cracked me up. And to Gary Busey (Juárez! Who can forget that incredible road trip?) I leave the gold belt buckle I won at the Cuervofest Mechanical Bull Riding Classic.


Finally, I leave my chain of seafood buffets, Krill 'n' Swill—including the trademarked phrases "Cup o' Seal" and "Eat Till You Blow!"—to my good buddy Richard Simmons. A word of advice, though, Rich—straight up: Go easy on the tartar sauce.



Trending on Outside Online