Wha's so Funny?
Actually . . . global warming, solar power, baby seals, carbon dioxide—and that's just for starters. Thanks to the cheeky enviro-news site Grist.org, greens finally have a funny bone. Now these upstarts want to lead the movement into the mainstream. Seriously.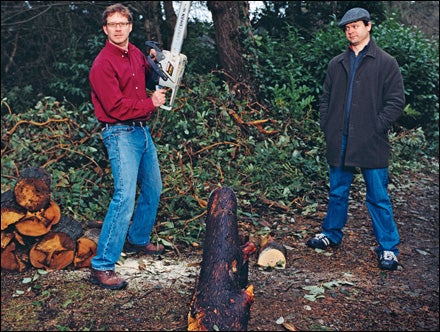 Heading out the door? Read this article on the new Outside+ app available now on iOS devices for members! Download the app.
IMAGINE THAT WRITERS for The Daily Show staged a hostile takeover of Sierra magazine. Earnest reports on climate change and organic foods would get repackaged with devilish irreverence. There would be jokes about Superfund sites, tree huggers, and the plight of endangered species. Al Gore would be a huge fan and a favorite whipping boy. People under 40 might actually read it.
grist.org

We're trying to focus on the environment as it relates to normal people's lives, says Giller.
grist.org

Roberts's salary came courtesy of the Grist Grapefruit Challenge, a pledge drive during which staffers ate nothing but grapefruit.
Which is to say, you'd probably end up with something a lot like Grist.
An online magazine published out of a 1920s high-rise in downtown Seattle, Grist.org is reshaping green journalism by luring a younger and wider audience with an approach that's not so much dumbed down as smart-alecked up. The site's offerings include feature stories, interviews, an advice column, and a blog, though it's best known for the Daily Grist, which summarizes the top environmental news from the mainstream and alternative press in snackable blurbs.
Each is slugged with a trademark punny headline, which range from goofy ("Hey, Poacher, Leave Those Squids Alone") to painful ("It Takes a Pillage to Raze the Wild"). When Yao Ming, the seven-foot-six-inch NBA star from China, took a stand against his country's shark-fin harvesters last August, Grist declared, "No Soup for Yao!" In June, UPS's announcement that it was testing hybrid delivery trucks inspired "Nice Package."
The point behind the gags, says Chip Giller, Grist's tousled 36-year-old founder and president, is to get past the "crust of cynicism" that often surrounds environmental problems. Grist doesn't aim to make light of the issues indeed, Giller seems personally weighted by them but to make their details (and solutions) more palatable. As Giller puts it, "Humor is an effective way to get people to engage."
Adam Werbach, the former wunderkind president of the Sierra Club who now runs a nonprofit promoting sustainable living, agrees, likening Grist to "a gateway drug." Readers hooked by the Onion-y headlines find themselves reading serious reports on such unfunny subjects as biofuels and environmental justice stories that would seem right at home in the pages of The Ecologist or Mother Jones.
In the current frenzied era of Wal-Mart organics, hybrid Chevy roadsters, and a million DVD copies of An Inconvenient Truth, Grist has also embraced green consumerism while renouncing what Giller calls the "historic hippie aspects" of environmentalism.
"We're trying to focus on the environment as it relates to normal peoples' lives," he says. "What they purchase, where they live, what they drive. Not something out there that they go visit occasionally." Which, Giller says, is why Grist provides "less worshipful language about the caribou in ANWR" and more answers to everyday questions, like the one recently posed to Grist's lifestyle-advice column, Ask Umbra: "Can I recycle a beer bottle if there's a lime wedge in it?" (Yep. Just drop it in the bin.)
While the snark attracts a youthful crowd more than half of Grist's 750,000 regular readers are in their twenties and thirties the underlying substance draws praise from veteran reporters and activists.
"As far as I know, every working environmental journalist in the country reads Grist as their tip sheet," says Bill McKibben, author of The End of Nature and a Grist board member.The Washington Post's Juliet Eilperin, who covers Capitol Hill and the environment, credits the Daily Grist with giving her a useful "lay of the land," while New York Times science writer Andrew Revkin calls Grist's original stories "serious" and "substantive." Sierra Club executive director Carl Pope says the site has "raised the bar" for other green publications.
Grist has also become a unique forum for debate, a space where "people talk to each other across the walls of the movement," says McKibben. In 2005, Grist republished Michael Shellenberger and Ted Nordhaus's bombshell polemic, "The Death of Environmentalism," which argued that greens were fading into irrelevance by failing to adequately confront global crises like climate change, thensolicited point-by-point rebuttals from the heads of the Sierra Club, the Natural Resources Defense Council, and the National Environmental Trust. More recently, on the Gristmill blog, staff writer David Roberts argued that a Revkin piece in the Times lent credence to industry "shills" who were downplaying the threat of global warming. Revkin fought back in the comments section and even mixed it up with Grist readers.
Revkin and Eilperin both point out that Grist doesn't often produce groundbreaking news. But the site's reputation as a comedic lesser light can prove effective at disarming tight-lipped officials. In a January interview with Grist, Representative John Dingell a powerful, gruff Michigan Democrat and staunch defender of the U.S. auto industry who chairs the House committee in charge of federal fuel-economy standards flatly admitted that his district's parochial concerns aren't trumped bythe national interest.
"I'm an American. And I gotta help my country," he said. "But in a like fashion, I've gotta help my own constituents."
Grist's strange brew of wonkery and wit can also cause plain old confusion. On April Fools' Day 2000, USA Today's Cesar G. Soriano reported items from Grist's special lineup of fake news which included pieces on Pamela Anderson hosting an Earth Day event and Ford's new "Mastodon" SUV as if they were fact. Soriano didn't laugh when he figured it out.
"I don't care if Jesus Christ himself shows up to clean a river for [Grist]," he later wrote to Giller. "It won't be published in my column."
"Sometimes we run into problems with people who are too literal," Giller grins. "But that's not our audience."
IT'S 10 a.m. on a cloudless, frigid October Monday, and sunlight is pouring into Grist's modern eighth-floor offices, which are a mismatch with the classically ornate Dexter Horton Building. Grist's staff of 20 moved into the airy, 5,000-square-foot space four months ago, and it still has that barely-lived-in look. The unadorned walls are splashed with shades of mango, cornflower, and cream. The beige carpet is spotless. The furniture is IKEA. Like everything in the nonprofit's $2.5 million annual budget, it's paid for by foundation grants, along with a dollop of reader donations and advertising.
Over in the large editorial wing, a windowed space with views of Mount Rainier, Roberts and senior editor Lisa Hymas, both in their early thirties, are supposed to be finalizing headlines for the Daily Grist, which is due to be posted on the home page and sent out in an e-mail newsletter in 15minutes. Roberts, artistically unkempt, wears a T-shirt emblazoned with a clenched fist and the sunburst slogan SOLAR POWER TO THE PEOPLE! The petite Hymas is braced against the chill in a heavy turtleneck sweater. They procrastinate by giving me a primer on Daily Grist headline history, delivered with the kind of freakish conversational coordination found in seven-year-old twins.
"It was a spur-of-the-moment idea," Roberts says, "but it's since become the calling card of the entire Grist operation."
"It was kind of a fluke," says Hymas.
"A fateful decision "
"Which haunts us to this day."
"It seemed like a good idea five years ago," sighs Roberts. "But 5,000 e-mails later . . ."
"There are only so many whale puns " says Hymas.
"Or Canada puns "
"Or forest puns. We just keep hoping for a new global calamity that we haven't punned out. Climate change is getting a little tough."
"Somebody needs to screw up something else."
Roberts and Hymas, one-fourth of Grist's eight-person in-house editorial team, typify the talent Giller has cultivated since founding the site in 1999. Roberts was hired as an assistant editor in 2003, his salary provided in part by $35,000 in reader donations from the Grist Grapefruit Challenge, a pledge drive during which staffers ate nothing but grapefruit for two weeks. He quickly became a force behind the Gristmill blog and is now one of the site's big guns: In 2006, he interviewed both Al Gore, who talked about An Inconvenient Truth, and Barack Obama, who discussed fuel-economy standards.
Hymas, who's been with Grist off and on since the beginning, focuses on the site's original content, which includes Muckraker, a political dispatch by Nashville-based Amanda Griscom Little (who also pens Outside's Code Green column); Victual Reality, a weekly column about organic edibles; the Grist List, which celebrates green celebrities; and Ask Umbra.
Giller, meanwhile, spends much of his time selling donors on his ambitious expansion plans, which he refers to as Grist 2.0. His goal is to triple the site's current readership by ramping up its lifestyle offerings adding a broad range of product reviews, along with personal ads and classifieds in a bid to appeal to the growing legion of sustainability-minded shoppers who support America's $30 billion green market.
The buildup, which Giller says will require $10 million in new funding, will put Grist in competition for readers and ad dollars with for-profit sites like TreeHugger and Ideal Bite, which have developed robust followings by blogging about eco-friendly products. (Grist has collaborated with both sites on cross-promotions and content development.) Giller also wants to pump up Grist's news resources. He envisions Grist as a one-stop portal that attracts and serves consumers, then uses serious journalism to convert them into activists.
At the moment, though, Roberts and Hymas still have to finish their headlines. Roberts is sprawled on a swivel chair behind Hymas, who's seated at her Dell. First up is a promotional blurb seeking free labor for a Grist reader party next month in San Francisco. After several attempts to splice "volunteer" into the title of the Showtime hit Queer as Folk, inspiration strikes.
Sort of. They come up with: "We're Here. Volunteer. Get Used to It."
"Do it," Roberts says, before telling me that part of his job is "to force Lisa to accept sub-optimal headlines in the service of getting the e-mail out."
The struggle to save a rare Japanese wildcat gets slugged "Goodbye Kitty," and advice on greening Halloween becomes "Boo-ty Call." But there's one title that won't yield: a Grist interview with a woman named Billie Karel, who's working to reduce schoolkids' exposure to pesticides in North Carolina.
"Spray," Hymas suggests. "You could play on the spray."
"Don't Save a Sprayer for Me Now," Roberts says. Then he bursts into a falsetto version of Duran Duran's 1982 hit "Save a Prayer."
They sputter onward for a few minutes before settling on "Say It: Don't Spray It." But, clearly, no one is satisfied. And so, three days later, the second installment of the story is posted under the soap-opera sparkler "The Young and the Pestless."
YOU EXPECT Chip Giller to be hilarious. He's not, and maybe that's for the best.
I've been invited to break bread and dip hummus with Giller at his 1908 farmhouse, perched above Quartermaster Harbor on Vashon Island, a rural bedroom community a half-hour ferry ride from downtown Seattle. This afternoon there's a full table: Giller, his wife, Jenny, their infant daughter, Ellis (swaddled, naturally, in Seventh Generation chlorine-free diapers), and Ellis's godmothers, Abbie and Ilene, who drove up from Portland for a surprise visit. The conversation skips lightly from only-in-Seattle concerns everyone at the Gates Foundation, where Jenny works, is stressed about giving away enough money to meet fourth-quarter goals to embarrassing tales of Giller's childhood. Like how he used to write "Property of Future Senator Charles M. Giller" on his lunch bag, or the time in seventh grade when he dressed for Halloween as his idol, then Massachusetts governor Michael Dukakis.
The stories make sense. For a guy trying to cast himself as a new type of enviro, Giller with his moss-hued Dieter glasses, flannel shirts, Ecco shoes, and winsome smile is surprisingly, conventionally crunchy.
Raised in brainy Lexington, Massachusetts, he grew up reading Bloom County and his father's copies of the Columbia Journalism Review. (Both his parents are serious news junkies.) By his freshman year at Brown, in 1989, his precocious wonkiness had taken on a deep-green hue. He grew his hair into a voluminous mane and embarked on quixotic crusades: scolding a housemate for wasting energy by plugging in his answering machine, lobbying the geology department to illuminate its prize moon-rock display with fluorescent bulbs, and carrying around all the weekly trash generated by a typical student in a clear plastic bag in order to shame his classmates into consuming less. "It wasn't very persuasive," he admits.
After graduating in 1993, he worked for eight months as a reporter at High Country News the Paonia, Colorado based biweekly that's emerged as the environmental newspaper of the West then moved to Washington, D.C., to take a job at Greenwire, a technocratic policy newsletter. Giller and his cohorts would scour the dailies for stories, synthesize them, then fax bulletins to congressmen and agency bureaucrats. In short order, he became Greenwire's editor, but after three years of bone-dry policy coverage, he decided he wanted to start something "more accessible to the average Jane or Joe."
The year was 1998, the Internet had exploded, and Giller convinced Denis Hayes an organizer of the original Earth Day in 1970 and one of Giller's reporting sources to buy into his vision. Hayes raised several hundred thousand dollars to incubate what would become Grist at the Seattle offices of the nonprofit Earth Day Network. On April 17, 1999, Giller sent the first Grist e-mail digest out to 100 of his and Hayes's closest friends, who just happened to include Bill McKibben, Phil Shabecoff a former New York Times environmental writer who published Greenwire and many other green bigwigs.
The list grew to 1,000 that September, then 10,000 the following June. In 2003, a $600,000 grant from the V. Kann Rasmussen Foundation allowed Grist to spin off as an independent nonprofit. The site has since scaled its readership by a factor of ten and now reaches millions more through weekly online syndication partnerships with MSNBC and Salon. Meanwhile, Giller has convinced a dozen foundations, including Ford, Geraldine R. Dodge, and the Schumann Center for Media and Democracy, to underwrite roughly 85 percent of Grist's operating costs.
In short, a serious operation founded by a serious guy. So where did the humor come from? From Giller, though that wasn't the original plan. He wrote the goofy headlines for the first e-mail in the middle of a rainy night, when he was exhausted. "I was just slap-happy," he says.
GILLER AND I are seated inside the Starbucks in Seattle's Pioneer Square, having just missed the five o'clock ferry to Vashon. It's a fitting venue, since Starbucks will soon carry a quote from Giller on its recycled cups, as part of the company's "The Way I See It" campaign.Giller spent the past three days weighing two alternatives, ultimately choosing this one:
So-called "global warming" is just a secret plot by wacko tree huggersto make America energy independent, clean our air and water, improve the fuel efficiency of ourvehicles, kick-start 21st-century industries, and make our cities safer and more livable. Don't let them get away with it!
"With the other quote, we were trying too hard to figure out what would appeal to the Starbucks user," Giller says, quickly adding, "I can't believe I just called Starbucks customers users."
Yet such marketing-speak rolls off Giller's tongue with ease, and it illustrates his willingness to break from the environmental movement's historical opposition to the commercial mainstream. "I had the opportunity to speak before the Sierra Club board a couple months ago," Giller says between sips of hot cocoa. "I said, OK, there's all this new energy around the environment. Look at what Wal-Mart is doing, and G.E. These companies aren't perfect. And, yes, some of it is just greenwashing. But some of it is actual progress on these issues.'
"I don't want to say I was the Antichrist," he says, recalling some of the angry rebuttals his comments provoked. "But to some of the old guard, it's anathema to be working with any corporation."
The Sierra Club's Carl Pope, who was present for Giller's talk, describes this rift in theological terms. "Our movement has a great many people who would like to be Isaiah they'd like to stand on the outside and denounce evil." He likens Grist to the Jesuits, who didn't so much care whether their converts had mastered the ins and outs of Deuteronomy, as long as they were "facing the right god."
"One of the interesting things that my generation screwed up," Pope says, "is failing to understand that the future has never belonged to anything that called itself the counterculture.' If environmentalists are ever going to get this right, it's going to have to be by viewing our ideas as the ideas of the future."
In Giller's hopeful future, Grist will attract more and more "light greens" his label for interested but uncommitted environmentalists "and make them darker green over time."
A generation after the stunning successes of the Endangered Species, Clean Air, and Clean Water acts, the big environmental groups have been stuck fighting defensive battles over regulatory arcana that, Giller says, have sent them "down a path of such wonkdom that they have started to lose their movement." At the same time, millions of Americans are paying premium prices for organic tomatoes and thousands are filling their tanks with Willie Nelson branded biodiesel.
With Grist 2.0, Giller believes he can "bridge the gap" between this ascendent commercial culture of sustainability and old-school environmental policy. Readers will come for reviews of organic-cotton tank tops; they'll hang around to read a critique of the McCain-Lieberman Climate Stewardship Act. Giller says he's positioning Grist "to convene and mobilize the next generation of environmental activists."
One big question in all this is how long the current wave of green cool will last. Environmentalists have had their pop-culture moments before you may remember rockin' for the rainforest at a late-eighties Sting concert and even Giller concedes that "some of the glamour may depart." But he wants Grist to lead the way to a moment when "green won't be thought of as a segment' but simply part of what's expected."
That's a lot to ask from a Web site, but the pitch is working with funders. Giller has raised half of the $10 million he needs for Grist 2.0. The additional cash will allow him to hire beat writers to cover sustainable business, design, and celebrity culture, as well as launch product reviews of everything from clothing and appliances to cars and computers. In the meantime, Grist will soon roll out personals and green job listings.
Though he has no illusions about making the site profitable, Giller says diversifying revenue sources is essential if Grist is going to last. He believes advertisers could eventually cover40 percent of his budget right now it's more like 10 percent with increased donations from a potential readership of two million also filling the bank.
In his fearless futurism, Giller is a classic Internet revolutionary: an expansive thinker, rapt by the potential of the medium to "change everything." But there's that tragic moment in so many Web tales, when Thinking Big crosses a line and becomes a form of self-aggrandizing groupthink, the kind that drove Pets.com stock to suicidal heights and convinced millions of Netroots liberals that Vermont governor Howard Dean was a giant-killer.
By attempting to make Grist all things to all green people, Giller may be heading down that road, too, though he insists that expansion makes perfect sense.
"There are a lot of people in our target= audience who just haven't heard of us yet," he says. "It's not growth for growth's sake it's low-hanging fruit."
ONE STRANGE THING about any Web-based movement is that the "tribes" they createare invisible. This leaves you wondering: Do these people actually exist?
In Grist's case the answer is yes, as I witness two weeks after my Seattle visit at the "Meet, Eat, Drink" party for Gristies in San Francisco. Roughly 300 young, fashion-forward urban professionals are packed into an industrial studio in the SoMa district, chatting each other up under a giant steel dragonfly that sways to the beat above the DJ station. They're quaffing Square One organic vodka and organic Mendocino merlot and loading their plates made of cane fiber recycled from sugar mills with skewers of organic chicken satay.
The average attendee seems to be a spunky, athletic 28-year-old woman who makes a good living in "the green space." Like the tipsy Susannah Churchill, a renewable-energy analyst for the California Public Utilities Commission, who's decked out in hip-huggers and a sheer pink tank-top and who declares, "I'm a clean-energy dork!" in such a disarming way that you wish the world were overflowing with clean-energy dorks. That is, until you get buttonholed by the hyperkinetic Mark Dixon, a nice guy who persists in detailing the plans of his YouTube-inspired site, YourEnviron- mentalRoadTrip.com.
I'm introduced to an Asian American woman known by her nom de blog, "green LA girl," who uses her site to dish about "Fair Trade coffee and ethical consumerism in Los Angeles." She drove up for the weekend in a vintage yellow Mercedes fueled by biodiesel, delivering the car to a friend who'd bought it on eBay. She's wearing secondhand Prada, a recycled rubber belt, and a dazzling white overcoat. Like all the regular Grist readers I meet, she serves up a bite-size rave about the site.
"Zany and funny," she says, "but it gives you all the information you're not getting if you're just reading the L.A. Times."
I seek out one of the lonely graybeards in the crowd. Dwight Collins, a tweedy 60-year-old professor at the Presidio School of Management, which offers an M.B.A. program in sustainable business, confesses he's never read Grist, but it's clear to him that all these people are "part of the sustainability movement," which he differentiates from the "environmental" movement.
How so? "Sustainability," he says with a wink, "equals profit."
At every turn, someone's chatting up their business plan. It's like the dot-com nineties again except that the familiar irrational exuberance is now juiced with altruism. Consider, for example, Amy Tucker, the nattily dressed inventor of a kids' trading-card game called Xeko, which is like Pokémon, except Picachu is an endangered dwarf lemur, and the goal is to collect enough cards to build a complete "Xekosystem."
The only partier I meet who's second-guessing any of it is Anna Cummins, a 33-year-old from Santa Monica who runs BringYourOwn.org, which encourages you to lug reusable mugs and bags to cafés and markets.
"I love Grist," she says, tipping back an organic IPA. "But there's this strain in the green world of 'Oh, you can consume. It's OK, 'coz its green.' When, really, you just need to consume less. To me, that's the one slight downfall of "
We're interrupted by a Grist staffer at the microphone, thanking Square One, Clif Bar, Organic Vintners, Bison Brewery, and the other sponsors. The liquored crowd roars with approval. The staffer starts handing out T-shirts ans announces the grand-prize winner of the evening's raffle, a six-month membership with car-share company Flexcar.
By now it's 9 P.M. and the party is dying down. Green LA girl, her white coat stained with merlot, is gathering troops to go to a party hosted by Common Vission, a group that tours California in veggie-grease-powdered buses, planting friut saplings and teaching schoolkids about what its Web site calls "sustainable ecology, West African agricultural drumming, and earth-conscious hip-hop."
"You want to go?" David Roberts asks Lisa Hymas.
"I don't know," she says with a grimace. "It's a little too hippie for me."
Roberts sees me taking notes, and his eyes widen in mock fear. "But, Lisa," he says in his sternest Homer Simpson voice. "Remember? We lovvve hippies."