Why SeaWorld is Investing in Orca Health
Plans to nearly double the size of its San Diego killer whale environment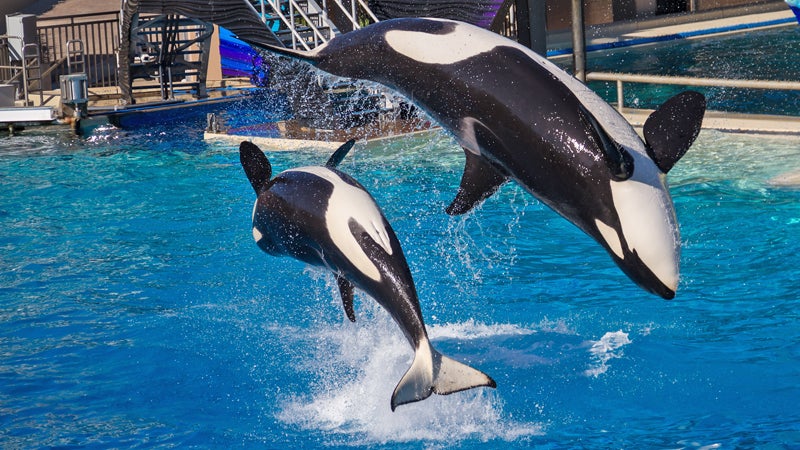 Heading out the door? Read this article on the new Outside+ app available now on iOS devices for members! Download the app.
Amid falling stock prices and public scorn for its treatment of orcas, SeaWorld announced plans to nearly double the size of its San Diego killer whale environment, put $10 million toward NOAA's wild orca research, and create an independent advisory science committee to oversee its orca program.
The habitat expansion, dubbed the Blue World Project and set for completion in 2018, will increase the pool housing its 10 orcas from 5.6 million gallons of water to 10 million, reach depths of 50 feet, and give orcas a taste of the wild by simulating underwater currents. Visitors to the new habitat will be able to watch the whales from behind a 40-foot glass wall beneath the waterline or along a false shoreline. An advisory group composed of California-based academic researchers will monitor the orcas' health.
Similar environments are planned for construction at its Orlando and Austin locations. 
Despite putting funds toward orca health in the wild and at home, many say the project is a transparent attempt to make up Wall Street losses as a result of outcry initiated by the documentary Blackfish. SeaWorld Enterntainment Inc.'s shares dropped 33 percent Wednesday, a sign that investors don't think the company can recover from its PR disaster. People for the Ethical Treatment of Animals says SeaWorld is adding insult to injury by only simulating marine environments for its whales.
"This is a desperate drop-in-the-bucket move to try to turn back the hands of time when people understand the suffering of captive orcas, and it will not save the company," said Jared Goodman, PETA's director of animal law, in an interview with the Los Angeles Times. "A bigger prison is still a prison."
More Outside Coverage of the SeaWorld Controversy
SeaWorld Earnings Flop Amid Blackfish Backlash
The Story of the SeaWorld Death That Started It All
Are SeaWorld's Trainers In Danger? Part 1 and Part 2
SeaWorld's Media Blitz Against Blackfish
Most Recently: SeaWorld and Southwest Part Ways
Lead Photo: Chris Favero