Worry Birds
Last year was a low point for Search-and-Rescue helicopters. Could this year be even more dangerous?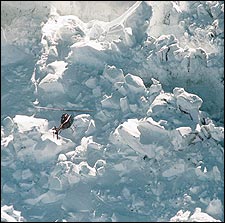 Peter Haley/The News Tribune/AP
Heading out the door? Read this article on the new Outside+ app available now on iOS devices for members! Download the app.
WHEN THE CHOPPER carrying climbing guide Dave Hahn crash-landed on Mount Rainier last June, he thought, There's no way all these moving parts are going down without cutting me to pieces. The tail of the 31-foot Bell 206B Jet Ranger III hit the slope at 8,800 feet, its rotor blades were sheared off as they struck Rainier's Carbon Glacier, and the entire crumpled mess almost slid off the ice sheet.

Aftershock: a copter surveys an avalanche in Rainier's Disappointment Cleaver.

Somehow Hahn walked away unscathed—as did another rescuer and the pilot—but since then, the longtime search-and-rescue volunteer has spent a lot of time wondering what went wrong. An investigator at the National Transportation Safety Board, which looks into civilian aircraft crashes in the U.S., told Outside that the flight was the contract pilot's first high-altitude mission on Mount Rainier. (Pending the outcome of the NTSB probe, the pilot's name is being withheld.) "I knew something was different when they picked me up that day," says Hahn, 41. "The regular pilots weren't around. Maybe that's something I should have been concerned about." Given the risks involved with high-altitude heli-rescues, SAR pilots do a heroic and selfless job, and the number of accidents is relatively small—usually one or two out of several hundred successful rescues each year. But three media-grabbing incidents last spring brought the heli-rescue business into the spotlight. Along with the Rainier episode, May saw the crash of an Air Force Pavehawk helicopter at 10,700 feet during an attempted pickup of six climbers on Oregon's Mount Hood. And at Yosemite National Park in June, an overloaded Navy Twin Huey lost power while evacuating climber Richard Zucatto in a rescue litter. Zucatto was slammed into the treetops and died at the scene.


As another spring climbing season approaches, such mishaps raise the question of whether U.S. heli-rescue operations are being stretched too thin. "These accidents should serve as a wake-up call," says Ken Phillips, 42, the SAR coordinator at Grand Canyon National Park and an investigator with the International Commission for Alpine Rescue (IKAR), an umbrella organization of 30 mountain-rescue groups from Europe and North America. "It's not that one was mechanical and another a freak windstorm. They had common factors involved, and to me that's scary."


According to reports by the Army and IKAR, those factors were incorrect load calculations and pilot inexperience. Before a copter takes off, the crew must determine how much weight it can carry at altitude, since more power is needed to hover in thin air. Excess weight was a culprit in all of last year's incidents. In the Rainier and Hood crashes, the errors were likely compounded by pilot inexperience, a problem traceable in part to the U.S. tradition of local control in rescues.


In most areas of the country, SAR is handled by sheriff's departments or state police, which recruit national guard pilots, contract fliers, and sometimes private pilots, if a department doesn't have its own bird. That arrangement works fine in the flatlands, but in alpine regions it's critical to find pilots with high-altitude experience. Normally, such rescues are delegated to military and civilian top guns, but sometimes the job is handed off to a less qualified flier. "Inexperienced people involved in an emergency sometimes get wrapped up in the excitement," says Phillips. "Then they start pressuring folks to do stuff beyond their capability."


That's a special concern this year. With many military reserve pilots having shipped out to the Persian Gulf in the early weeks of 2003, SAR teams could have a depleted corps of high-altitude hotshots to call upon this spring and summer. "Because of our mountain training, we're one of the first units to go on assignment," says former Army Reserve pilot Jim Hodgeboom, 58, who has flown 30 missions on Rainier and trains high-altitude pilots at Washington State's Fort Lewis Army Base. "We're losing three of our four flight teams."


Things work differently in Europe, where federally funded mountain-rescue outfits like France's PGHM (Peloton de Gendarmerie de Haute Montagne) operate with the best equipment and elite, full time pilots. On a clear day, PGHM choppers can respond to any part of the French Alps in 30 minutes. The unit flies more than 1,000 missions a year, about a third of the country's mountain rescues in France. But it's unlikely the U.S., with its wilderness spread over a much larger area, could ever develop a system as efficient.


What we can do is improve pilot performance in alpine conditions. Increasing situational awareness training, which teaches pilots strategies for multitasking in the face of blinking cockpit lights, bad weather, and the stress of an emergency rescue, is a new objective for agencies involved in SAR flights. On the hardware side, making more twin-engine helicopters available would limit the risk of a copter losing juice at altitude. But the prospect of that is slim, since high-powered birds cost millions of dollars.


Despite the system's problems, Charley Shimanski, education director for the Mountain Rescue Association, says we should be grateful the system works as well as it does. "If it weren't for heli-flights, we'd be putting rescuers at risk," he says. "There have been only 22 helicopter-related fatalities in 50 years of mountain rescues. That tells me we're still doing a pretty good job."