5 Reasons You Need to Ride Mountain Bikes in Sedona
We love this town for its world-class trails, but it also caters to those who like to pedal in many other ways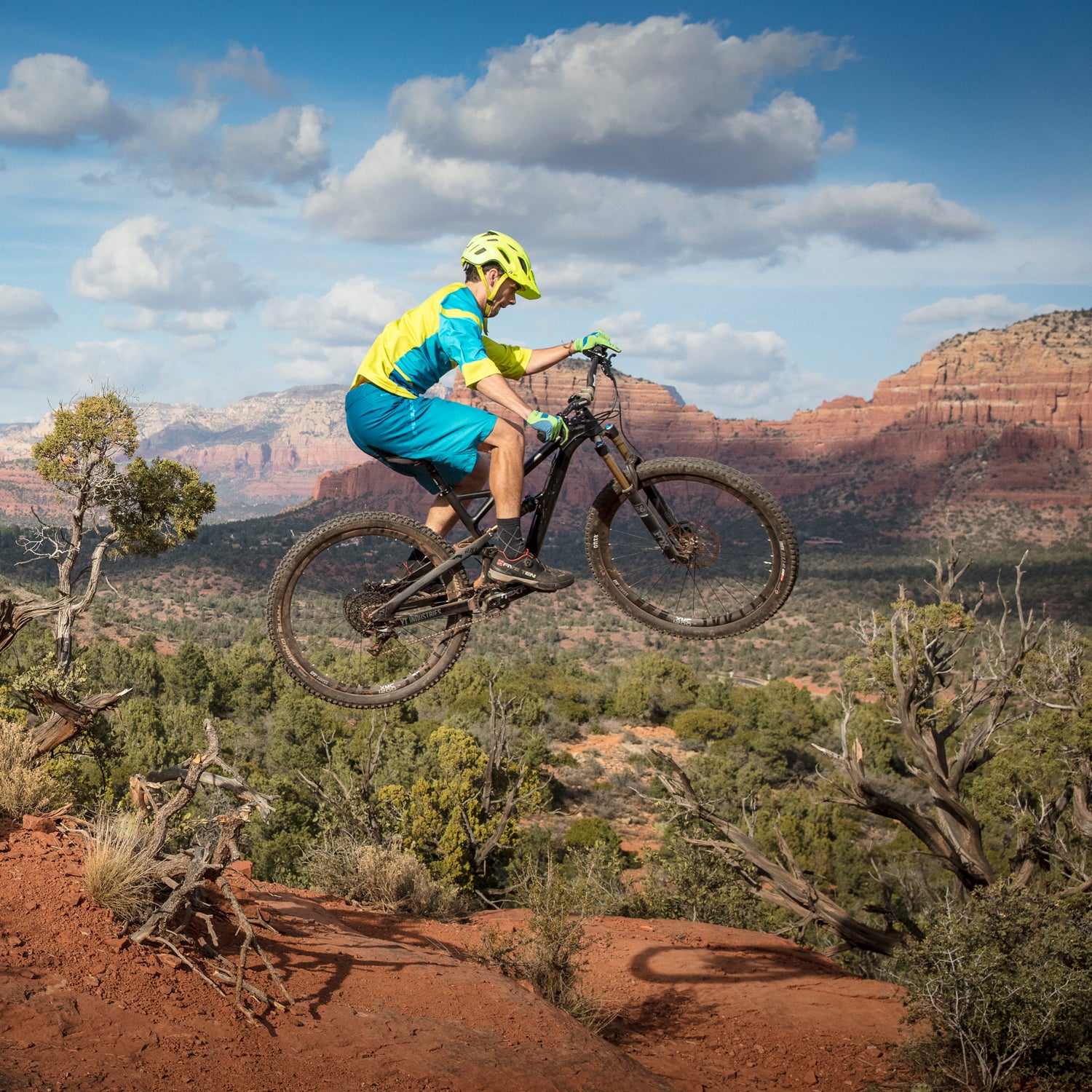 Heading out the door? Read this article on the new Outside+ app available now on iOS devices for members! Download the app.
Two years ago, we moved our annual bike test from Tucson, Arizona, to Sedona. While Tucson was an excellent venue, Sedona has proved to be the optimal testing ground (the hiking isn't too shabby either). This town has the best high-desert trail riding this side of Moab, with plenty of comparable sandstone slickrock, and because the network is as diffuse and intricate as a spiderweb, overcrowding isn't an issue. The town's other big advantage is its compact size: no matter where you stay, you can steer yourself onto trails with just a few minutes of pedaling, and from there, the entire matrix is accessible. The place is pro-cycling, too, and each time I visit, there's a handful of new, excellent, purpose-built trails. Given my work, I could go almost anywhere to ride this year—Squamish, Fruita, the Sierra—but I'm already looking forward to getting my bikes out to Sedona a few more times this spring. Here's why.
---
So Many Trails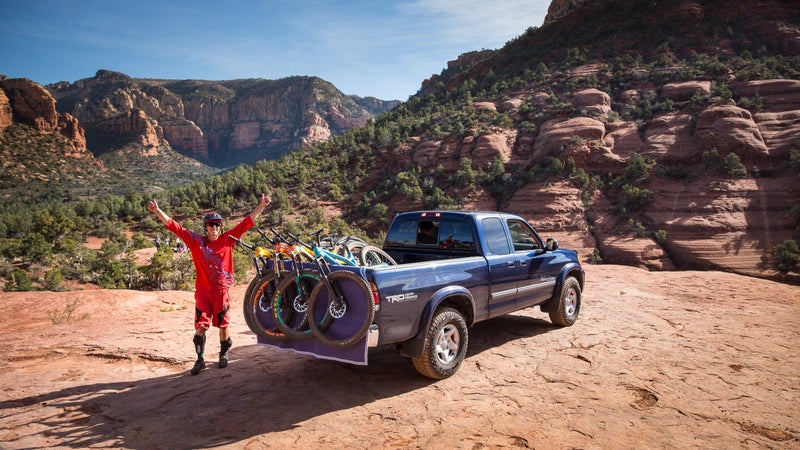 When I first rode in Sedona seven years ago, I liked the riding but found it a little monotonous, with short climbs and descents punctuated by square-cut step-ups and -downs. While I still sometimes wish there were longer climbs, the rolling nature of the place is partly what makes it so good as a vacation destination: it's fun without the suffering. Also, as trail builders have filled in the gaps, variety has increased, from the fast and smooth stuff out by Cockscomb and Aerie, a few miles northwest of town, to the slickrock playground of the centrally located Hogs, to the precipitous tech on Hangover, at the eastern periphery. The more you ride here, the more diversity you find, such as the sandstone swells and benches on Mezcal, the big views and fun chutes on Hiline, and the backcountry feel of Western Civ and Last Frontier, which can be ridden as a ten-mile loop from the high school. The city estimates there are 250 miles of official trail that are open to riding and another 77 miles in the wilderness for hikers. You could spend weeks here without getting bored.
---
The Sedona Mountain Bike Festival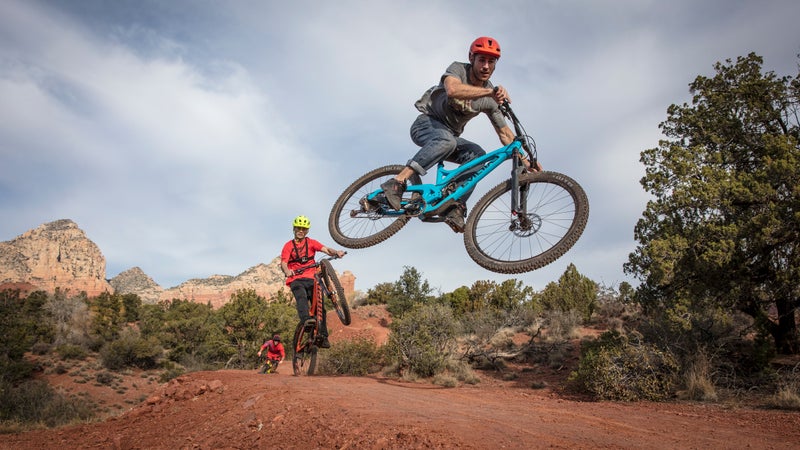 Only in its third year, this three-day event (March 3–5) is one of the best organized and most fun bike events on the calendar, as well as a great time to check out Sedona's riding. The festival features a huge expo with more than 60 vendors; some two dozen bike brands offering demos, free shuttles, group rides, and clinics; and plenty of refreshments (from four breweries and a local winery) and live music (six bands). This year's edition will be the best ever, thanks to the City of Sedona's investment in a new 13-acre venue that features an outdoor amphitheater surrounded by several new flow trails and an awesome pump track. Lots of people will attend, but thanks to Sedona's huge network of diffuse trails, the place shouldn't be overrun.
---
Cycling Hotels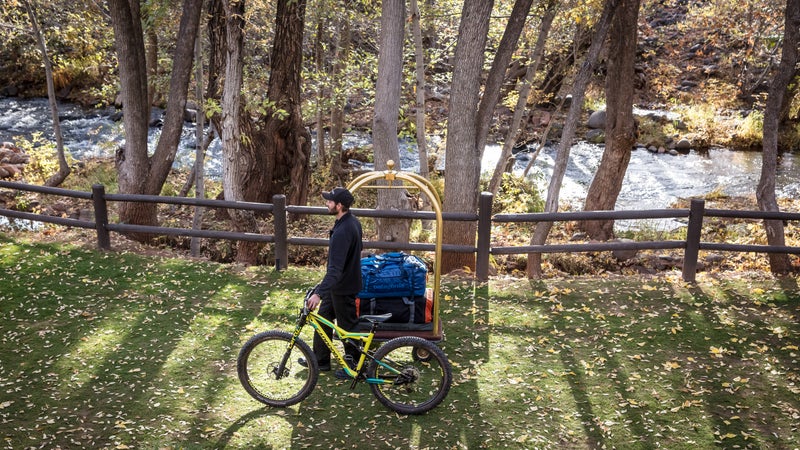 You'll find great camping options in and around town, whether you prefer pay sites or dispersed camping on Forest Service land. But one thing setting Sedona apart from other places I've been is that even the hotels are on board with cycling. Case in point: L'Auberge de Sedona, one of the nicest places in the area, has just launched an adventure concierge service to provide bikes and riding access. You can get a bike delivered to the hotel and book a guide for half- and full-day tours. The hotel houses one of the best restaurants in town, Cress on Oak Creek, and their stellar bar Etch has a great selection of hard-to-find bourbons and an impossible-to-beat location on the creek that's perfect for post-ride drinks and dinner. While pricey, the place isn't stuffy. The bellboys even helped me with my bikes, which are allowed in the rooms.
---
Thunder Mountain Bikes Sedona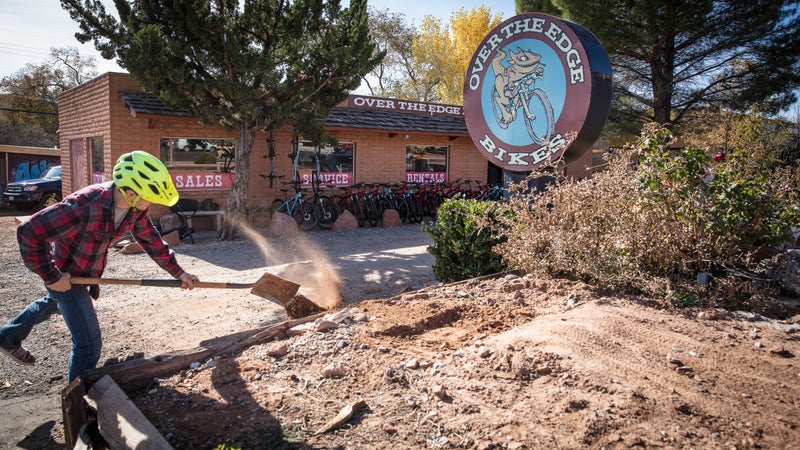 You know how, in a lot of bike shops, the staff ignores you and the wrenches give you a bunch of attitude? Thunder Mountain Bikes, my favorite spot in town, is the opposite. There's always a friendly face to greet you, every person on their team I've ever spoken with is excited about the riding in town and happy to offer suggestions to suit your ability and needs, and the soft goods are pretty sweet. (It's one of the few shops I've considered "buying the T-shirt.") OTE also has a killer selection of rental bikes—it's one of the few spots in the country where you can ride an Evil—so if bringing your own bike on the flight is a hassle, you can leave it home and still have a great ride. You get the feeling on a visit here that if more shops were like this one, more people would be stoked on riding bikes.
---
There's Road Riding, Too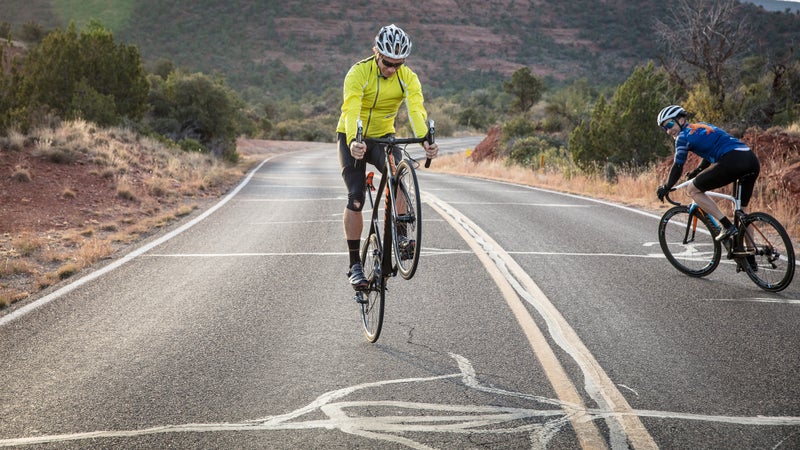 Sedona is a mountain bike town, but it doesn't exclude the skinny-tire crowd. On the west side of town, Red Rock Loop Road is a roller-coaster 12-mile loop that you can ride over and over without getting bored. (During our test, we did just that.) There are also endless jeep and Forest Service roads west of the city that are great for gravel bikes. And 20 minutes farther west, starting from the town of Cottonwood, the 16-mile, 3,000-foot climb up Mingus Mountain is a pavement ride that could win over most mountain bikers—especially the banked-turn descent back to the car. (Don't miss a coffee break in the Wild West mountain town of Jerome.) Sure, come to Sedona for the mountain biking, but if you have any inclination toward riding on asphalt, throw in your road bike as backup.
Lead Photo: JJAG Media