An Abnormal Obsession with Doping
A new report about the last few decades of doping in the peloton lacks scientific credibility, but it's the futile and negative fixation on ancient history that bothers us most.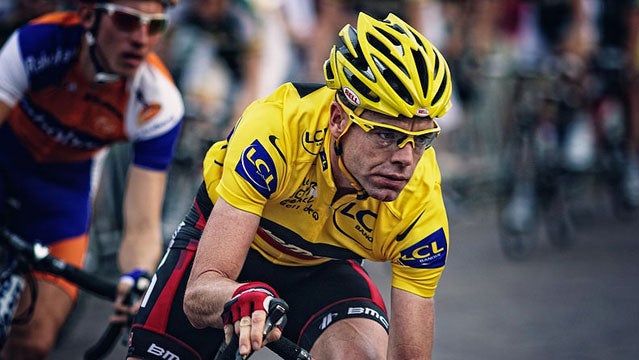 Heading out the door? Read this article on the new Outside+ app available now on iOS devices for members! Download the app.
If there's one thing in pro cycling as reliable as the Tour de France, it's the inevitable doping assertions and leaks that precede the race each year. In 2006, Operation Puerto saw the last-minute withdrawal of Jan Ullrich, Ivan Basso, and other favorites. Floyd Landis made his accusations against Lance Armstrong in the run-up to the 2010 Tour, and Tyler Hamilton put in an encore performance a year later with his tell-all interview on 60 Minutes.
So it was like clockwork when French journalist Antoine Vayer released new research that questions past Tour champions' performances in a digital report titled Not Normal? An insight into doping and the 21 biggest riders from Lemond to Armstrong to Evans. The report came just days before the publication of Vayer's new book, La Preuve Par 21, which compiles years of research into the power outputs of Tour de France winners since 1982.
The report makes for titillating reading but, having pored over it at length, I wish I'd saved my $10. I certainly won't be purchasing the book which is sure to dredge over this material ad nauseam.  
Vayer, a former trainer at the Festina cycling team from 1995 to 1998 who has written for French newsapapers Libération, l'Humanité, and Le Monde, presents calculations of the power outputs of some of the sport's top stage racers on major climbs dating back to the late 1970s. Each rider's performances are ranked on a color-coded scale: below 410 watts are green and considered "human"; yellow rides, from 410 to 430 watts, are "suspicious"; orange, from 430 to 450 watts, are "miraculous"; and anything over 450 watts are red and ranked as "mutant" performances. It's important to note: All figures (which have been normalized to a standard weight for comparison) are based on calculations, not actual power data.
At the beginning of the report, Vayer and colleagues assign rankings to the winners of every Tour de France since 1982 based on an average of calculated wattages from each race's biggest climbs. On this scale, Miguel Indurain is the only rider whose numbers average into the "mutant" range, for his winning ride at the 1995 edition of the race. Behind that are a host of "miraculous" performances: Bjarne Riis (1996), Marco Pantani (1998), Jan Ullrich (1997), Alberto Contador (2009), Lance Armstrong (2001, 2003, and 2004), and Indurain (1994). The winning rides of both Cadel Evans (2011) and Greg Lemond (1986, 1989, and 1990) are all categorized as "human."
In the rest of the 148-page report, Vayer and colleagues provide detailed analysis of each rider's performances over the years and then use the numbers to place riders on the "human" to "mutant" scale. The results are an indictment of racers both past and present, including many of the winners named above. Also on the list of those who deserve suspicion, according to Vayer, are high-profile retired riders such as Laurent Jalabert, Richard Virenque, and even Bernard Hinault.
Setting aside the question of who doped and who was clean, the report lacks credibility. It puts forward these power numbers as if they are taken from a power meter—the only way to collect accurate data—and yet the figures are based on extrapolations and estimations. The authors acknowledge that a host of factors, including rider weight, wind speed, and drafting, could all change the final power values. But this info appears almost as a footnote, starting on page 138, by which point most readers will likely have either already formed their opinions, stopped reading, or both.
Vayer and colleagues say they have controlled for the variables, using figures released by RadioShack racer Chris Horner from the 2010 Tour as a spot check, and they estimate that their calculations are on average within 2 percent of what a power meter would collect. But any scientist will tell you that a control group of one is hardly useful, and besides that, the team's calculations are well off from Horner's measurements in two instances (by as much as 9 percent).
If applied to Riis' average wattage of 449 watts from the 1996 Tour, that margin of error would take him from the near "mutant" category down to the trustable "human" range. Again, I'm not arguing whether or not Riis or anyone else was doped. However, without good peer-reviewed science to back it up, the report reads like little more than marketing hype.
Then there's the question of the ethics and legality of applying new standards and tests retroactively. Imagine if the police suddenly had the means to go back and review your driving records for the past 20 or 30 years to see if you were ever speeding and, if they said you were, they could issue tickets for all those occasions. What if in the process they changed the speed limit from 65 to 55 for the periods they were scrutinizing? Then envision a scenario where citations would be issued not based on the actual speedometer of your car but on circumstantial evidence built around calculations and a host of variables. That seems preposterous—and would never fly in public or court—but it's precisely the standard that Vayer and company are trying institute for cycling.
If there is one useful thing about Vayer's work, it's placing Lance Armstrong and his misdeeds in context. I'm no Armstrong fan, but it's clear that he's been singled out. His seven victories have been expunged from the record, and yet if you look at the rest of the remaining winners in the context of this report, every person on the list dating back to 1992 except for two (Oscar Pereiro, who isn't examined, and Cadel Evans) are "suspicious" or worse. You could argue, as many have, that Armstrong brought that scrutiny on himself. But regardless of how you feel about the deposed American cyclist, it's clear that there's more nuance to the story than the United State's Anti-Doping Agency's statement that Armstrong benefited from "the most effective doping program in history."
Everyone already knows about the murky past anyway, which is precisely what makes Not Normal? irrelevant. It is no news flash that doping was rampant in cycling since the '90s (and well before) or that Armstrong and his peers used EPO, testosterone, blood doping, and other illicit means to win. This obsession with getting to the bottom of cycling's sordid past (and the slow drip of accusations and admissions, like the news about Jalabert and Ulrich this week) is like slowly killing the sport by a thousand cuts. Nearly everyone involved except those who are pushing for "justice," are sick of it.
Rather than focus so much energy on what went on—a Quixotic endeavor that, if pursued to the extreme, will tear down most of the legends and history of the sport—why can't we turn our attention to improving cycling today? Let's make sure the UCI gets reformed. How about those initiatives to revamp the Pro Tour structure? And by all means, we should continue instituting new doping procedures and controls and verifying that they work. For those who insist on closure, I like Bill Strickland's idea of turning it over to those involved, letting them forge a decision for once and for all, and then moving on.
That's the key bit: We have to move on.
Some will argue that Vayer's research is relevant, however, because it questions a few of the current crop of riders, including Christopher Froome, Andy Schleck, Bradley Wiggins, Alejandro Valverde, Alberto Contador, and Thomas Voeckler. But it's these riders who are suffering the greatest injustice by this interminable fixation on the past. All of them, and everyone else in today's peloton, are riding under the current rules and testing, and all continue to pass. (When they don't, as with Valverde or Contador, they are subject to the disciplinary process.)
If we believe that newer, more stringent testing is necessary, then let's get it passed and hold riders to those standards. For instance, it would be simple enough to put power meters on every racer's bike and compare that data against benchmarks deemed clean and fair. But such controls don't currently exist, so the only "justice" is to consider racers innocent until proven otherwise. Damning them by innuendo, association, and contrived metrics simply detracts from the sport.
So I'm deleting Vayer's report and turning to the 2013 Tour de France. I hope for a difficult, hard-fought, exciting, clean race. I pray there won't be any doping scandals this year. And I want to believe that if racers are still cheating, they will be caught. That may or may not happen, but either way, I refuse to just muckrake and grouse and dwell in the past. To me, Vayer's style of obsession with history is the least "normal" approach a true cycling fan can take.
Trending on Outside Online