Are clipless pedals the way to go for road biking?
I've recently gotten into road cycling and I've been eyeing a pair of clipless pedals. I noticed that there are several different systems out there and was wondering if you could give some advice on the advantages of each. Ben Bethesda, Maryland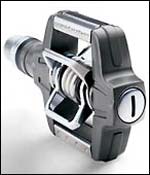 Heading out the door? Read this article on the new Outside+ app available now on iOS devices for members! Download the app.
Clipless is the way to go, of course. This style of pedal is more secure, provides better power transfer to the crank, and just works better than the now-ancient system of toe clips and straps. Of course, if you're new to clipless pedals, there's going to be that exciting moment the first time you prepare to stop and forget which way to twist your foot to free the cleat. Some years back I was out biking, ran into a long line of stopped cars outside a small town where some festival was taking place, and promptly tipped over sideways when my brain seized up and I didn't get a foot free before coming to a stop. Boy, talk about embarrassed.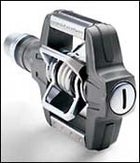 Crank Brothers Egg Beater


Anyway, there are all sorts of clipless systems from which to choose. The big divide is between pedals with a cleat entry on only one side and those that have two or more entry points. The latter are often regarded as a style most often used for mountain biking, but that's hardly set in stone. I use single-sided Look 396 pedals ($100 on various closeouts; www.lookcyclesusa.com) on my road bikes, but also use Shimano's mountain-bike 737 pedals ($120; www.shimano.com) on my rain bike. For the latter, which I often ride at night, it's just easier to have a double-sided pedal, as there's no look-down required to see how the pedal is oriented. I also use dualies on my touring bike. The mountain bike has Crank Brothers Eggbeaters ($120 and up, depending on metal used; www.crankbrothers.com) as they're hard to beat for easy no-look clipping when you're constantly on and off the bike. Plus they shed mud well.
That said, one advantage of single-sided road-style pedals is that they often have a larger cleat than double-sided pedals. That spreads the load over a wider part of the shoe sole, and can sometimes make for more comfortable pedaling. For that reason, I rate Look's pedals, although Time pedals offer the same advantage in a range of worthy models (e.g., Time Impact: $135; www.time-sport.com). I must say, however, that the current Look pedals I'm using are pretty awful. They squeak maddeningly, a condition sometimes (but not always) alleviated by spraying the cleats with Armor-All. Other people have the same complaint about these pedals, which came out two years ago and have since been replaced by the A5.1 ($180).
Anyway, if you just want a reliable pedal and aren't interested in posing as a hard-core roadie, I'd just throw some Shimano 737s on and be done with it. They work, they're bombproof, and they're reasonably comfortable even on long rides.
Get the scoop on bike anatomy in Outside's 2004 Buyer's Guide
.