2023 Summer Gear Guide
The Best Commuter E-Bikes of 2023
Looking to make quick work out of your daily commute? Look no further than these four e-bikes built for the streets.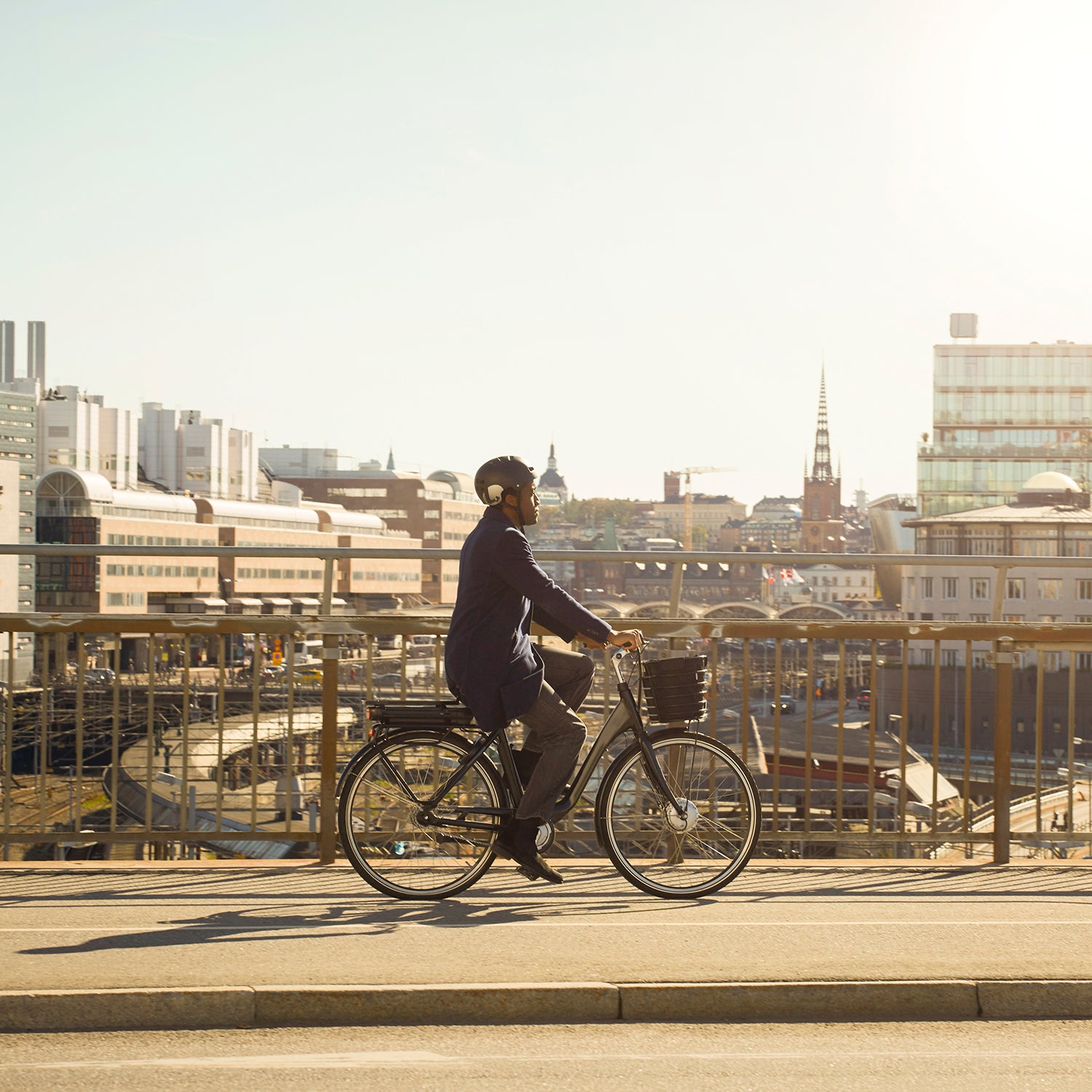 Heading out the door? Read this article on the new Outside+ app available now on iOS devices for members! Download the app.
E-bikes have revolutionized the city and commuter bicycle markets, enabling casual cyclists to ride further and carry more cargo than ever before. Whether you're looking to make quick work of your daily commute or want to shrink your carbon footprint by replacing a car trip with a bike ride, we have options for you.
Winners at a Glance
Best Car Replacement: Urban Arrow Family
Best Compact Commuter: Cannondale Compact Neo
Best City Bike: Specialized Turbo Como SL 5.0
Best Utility Bike: Cero One
How We Test
We evaluated 18 of the latest commuter e-bikes for this year's guide. Our team of testers consisted of two full-time tech editors, four recreational riders, as well as two children, and a dachshund named Jack. The children were eager and very willing passengers. Jack was less enthused but even he eventually agreed to be used as cargo. The bikes that made the cut balanced technology with practicality and made the strongest arguments for opting to ride more and drive less.
The Reviews: The Best Commuter E-Bikes of 2023
Urban Arrow Family ($6,999)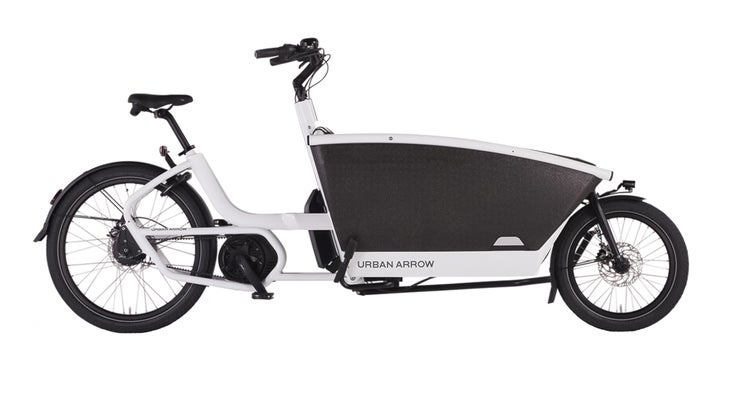 Model and Build: Family, Performance Line
Weight: 110 pounds
Maximum Assisted Speed: 20 miles per hour
Pros: Massive carrying capacity
Cons: Big and heavy; expensive
Best for: Families looking to replace their minivan
Before we explain our love for the Urban Arrow, we need to address the steep price tag. The Urban Arrow is the most expensive cargo bike we've ever tested, and you should consider it a car replacement and not just another bicycle for your garage. And you'll need a garage or dedicated storage space, as this utilitarian heavyweight has a substantial footprint, spanning eight feet and weighing 110 pounds.
The large front box is constructed from polypropylene framed by an oversized aluminum cage. Inside the cargo compartment are two built-in children's seats, complete with three-point seatbelts. A rain cover, sunshade, rear cargo rack, and child seat adapter are a few of the other popular add-on buyers can purchase. You can also add a bench for a third pint-sized passenger. In addition to testing the Urban Arrow with children, we also tested it with one adult passenger simply because we could, given the 250-pound weight limit.
The bike's 250-watt mid-drive Bosche Performance Line motor provides four levels of pedaling assistance and up to 75 Newton-meters of torque. Like other Class-1 e-bikes, the Urban Arrow's maximum assisted speed is 20 miles per hour. Its range depends on the terrain and the combined weight of the rider and payload. The 500 watt-hour battery allowed us to average 30 miles on a single charge, which was enough for our daily excursions. An optional two-battery version is also available.
Our test consisted of running errands we'd normally do by car: commuting, picking up a week's worth of groceries, hauling kids to and from school, and so on. Despite the bike's heft and rangy dimensions, we found the Urban Arrow easy to maneuver along winding bike paths and city streets. The bike's handling remained confident and steady even when fully loaded with excited passengers or several 50-pound bags of dog food.
This cargo bike elicited soul-searching from several of our testers, who pondered if they really needed to own two cars. Not only is the Urban Arrow Family exceptionally adept at carrying cargo, but this pedal-powered minivan also excels at turning everyday errands into family adventures.
Cannondale Compact Neo ($1,900)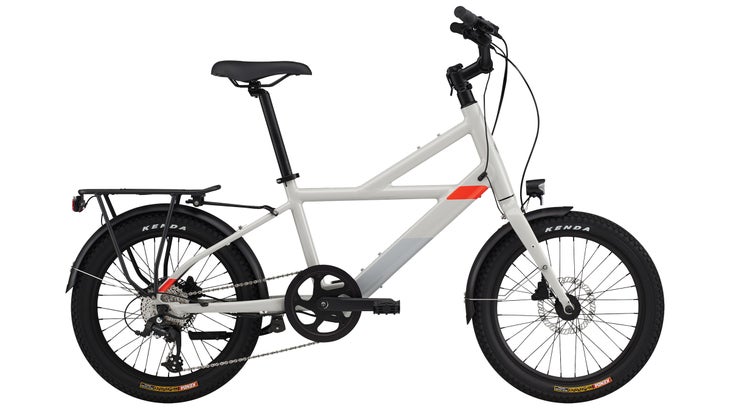 Model and Build: Compact Neo, Only one version available
Weight: 40 Pounds
Maximum Assisted Speed: 20 miles per hour
Pros: Compact and easy to transport
Cons: 20-inch wheels don't roll as well over potholes and rough terrain
Best for: City cyclists short on space
Cannondale's new Compact Neo is a micromobility marvel. This city bike features 20-inch wheels, a compact aluminum frame, and fold-flat mechanisms built into the stem and pedals that make it easy to store behind a couch, under a bed, and in a utility closet or office cubicle.
With a total weight of approximately 40 pounds and a short, 43-inch wheelbase, the Compact Neo is light enough to be carried up a flight of stairs and small enough for multi-modal commuting on trains and subways. We really appreciated that Cannondale makes the Compact Neo commuter-friendly right out of the box by equipping it with a rear rack, fenders, sturdy kickstand, as well as front and rear lights powered by the on-board battery.
The one-size-fits-most frame houses an integrated 250 watt-hour battery. Unlike many other e-bikes in this price range, the Compact Neo features a torque sensor, rather than a cadence sensor, which supplies power based on how hard the rider is pedaling rather than how fast their legs are spinning. The result is a much more natural feeling of assistance from the bike's 250-watt hub-based motor. This Class-1 city bike has a maximum assisted speed of 20 miles per hour. As for range, we were able to ride 45 miles on a single charge.
Bonus: The ability to rotate the handlebar 90-degrees in line with the front wheel with the flip of a lever opens up a world of storage possibilities, not only for apartment and dorm dwellers, but also for van, RV, and even sailboat adventures. The Compact Neo is the perfect stowaway for just-in-case bike outings.
Specialized Turbo Como SL 5.0 ($4,800)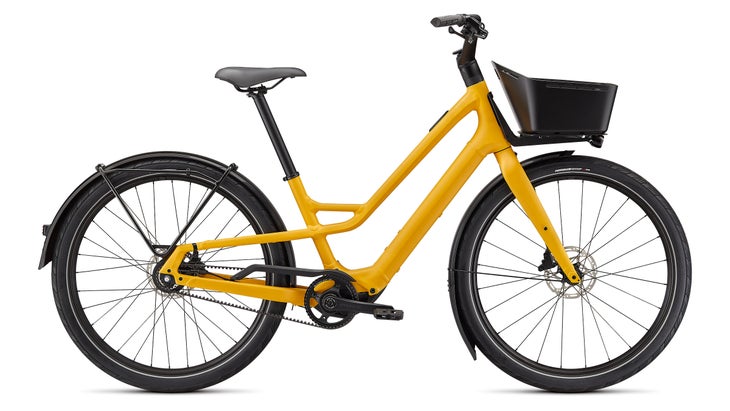 Model and Build: Turbo Como SL 5.0, Shimano Alfine, 8-speed internally-geared rear hub, Gates belt drive
Weight: 45 pounds
Maximum Assisted Speed: 28 miles per hour
Pros: Speedy and low maintenance
Cons: More expensive than its competitors
Best for: Quick commutes and joyrides
The Specialized Turbo Como SL 5.0 checks all of the boxes for a capable all-weather commuter bike: full coverage fenders, integrated front and rear lights, puncture-resistant tires, a rear rack for panniers, a front basket, a belt-drive that won't rust and never needs to be lubricated, and an internally-geared eight-speed hub that shields the gears from grit and grime.
The "SL" in the name stands for "Super Light," and although its 45-pound heft is substantial, the aluminum frame, lightweight motor and battery make it 15-20 pounds lighter than many competitors. The Specialized SL 1.1 motor provides assistance up to 28 miles per hour, and the 325-watt-per-hour battery housed in the downtube will power your travels for approximately 62 miles (depending on the level of assistance and terrain). For longer jaunts, you can boost the Como SL's range to 93 miles with Specialized's optional trip-extending external battery pack (sold separately).
The Como SL 5.0 is speedy, incredibly low maintenance, and a joy to ride. One small but thoughtful feature we came to appreciate is the handle integrated into the step-thru frame right at the balance point. It's a small touch that makes the Como SL 5.0 easy to carry up and down flights of stairs, and to load and remove from hitch racks.
Cero One ($3,799)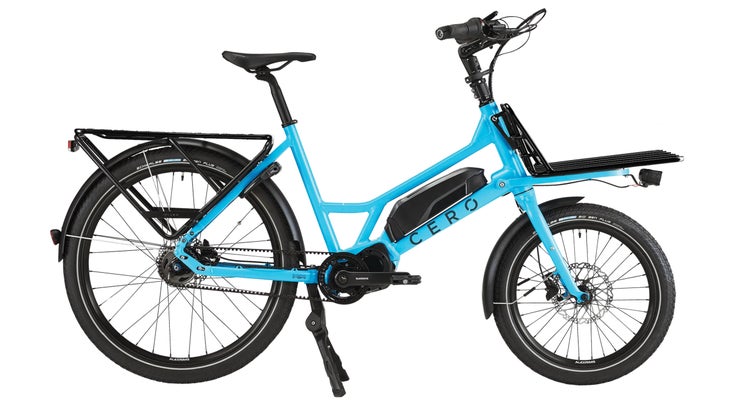 Model and Build: One version available with multiple rack and accessory options, tested with the large front basket
Weight: 58 pounds
Maximum Assisted Speed: 20 miles per hour
Pros: Lots of utility and an incredible range
Cons: Lack of rear rack upgrades and accessories
Best for: Daily errands
The Cero One blends the best elements of all the city and cargo bikes we tested for this year's gear guide. This mid-sized cargo hauler is a modern interpretation of the classic "Cycle Truck" with a powerful motor, impressive range, and highly customizable carry options.
Cero One's e-commerce site is designed to mimic the feel of automotive websites—pick your color, select a platform or basket for the front rack, followed by any accessories you might need to round out the build. Speaking of, we do wish Cero offered more rack and cargo options for the rear end.
The Cero One uses mixed wheel sizes. There's a 20-inch front wheel at the front with a 26-inch wheel in back. The smaller diameter front wheel provides clearance for the large front rack that is bolted directly to the bike's head tube while also keeping the bike's wheelbase relatively compact. This allows the Cero One to carry up to 55 pounds of cargo while handling similar to traditional city bikes. On the road, it never felt cumbersome or unwieldy.
This Class-1 e-bike is built around Shimano's reliable mid-drive 250-watt STEPS e6100 motor. The motor, which is connected to the internally-geared five-speed Shimano Nexus rear hub with a belt-drive for all-weather performance.
Power is supplied by a very large 504-watt-hour battery mounted to the downtube. This larger-than-average battery gives the Cero One an impressive range of up to 105 miles on a single charge when used in the lowest of the three power modes. Our speedier testers who wanted to ride right at the 20-mile-per-hour maximum could still travel more than 50 miles on the highest output setting.
"Practical" has different meanings when it comes to cargo bikes. The Urban Arrow Family is a great car replacement but is also heavy and quite large. The Cero One is the better choice if you don't need to carry the entire family along with your groceries.
How to Buy
First of all, good choice. Using an e-bike to get around town is a wonderful choice that we endorse.
E-bikes are a big investment, period. But as the category continues to grow so does the price range. You could buy an e-bike for around $1,000, but we recommend spending at least $1,500 to get decent components that will keep you safe as you ride. At about $3,000, there is a noticeable increase in the quality of the parts on the bicycle. If you have the budget we think you should start looking in that range.
After you have your budget, think about how you plan to use this bike. Do you need to haul a kid or two? Are you single and just need to carry groceries? How long is your commute? These considerations are important for the end-use of your e-bike.
If you're lucky enough to have a garage, you probably have space for a long-tail electric bike. If you don't, think long and hard about where you're going to keep your purchase. If you have to carry it up stairs or bring it in an elevator, take a look at folding options. And think about how likely you are to actually do that every day.
The quality and style of motors on e-bikes vary. The most common options are hub (on the wheel or wheels) and mid-drive (usually built into the bottom bracket of the bike). Hub drives are usually less expensive and aren't as efficient. Mid drive motors cost more and are more efficient, and generally offer a more seamless acceleration and natural ride feel. Be sure to check into the range of the motor (the distance your battery will get you on a charge) and that it's suitable for your intended use.
E-bikes are classified into three types. Class I is pedal-assist up to 20 miles per hour. Class II bikes also have a max assist up to 20 MPH, but also have a throttle or thumb-operated accelerator. Class III bikes have pedal assist up to 28 MPH, but often have restrictions placed on them (like not being allowed on multi-use trails), so be sure to check the local regulations in your area.
And whenever you're buying a bike these days there's the question of whether you should buy online or from a shop. We'll always recommend local shops for test rides and service, but buying online can save you money—and bike shops will still usually work on your bike whether you bought it from them or not. But do note that not all shops are equipped to work on all e-bikes and you may have to send your bike or battery away to get worked on at some point.
Lead Photo: Maskot/Getty