The Best Cycling Gear of 2013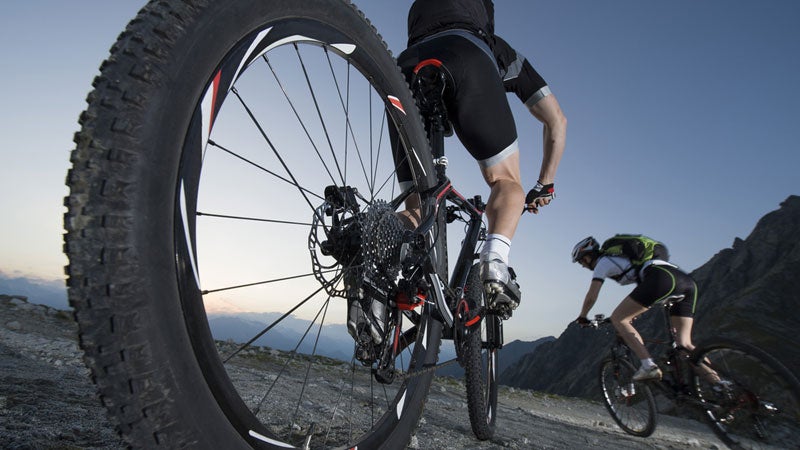 Heading out the door? Read this article on the new Outside+ app available now on iOS devices for members! Download the app.
In 2013, I racked up over 6,500 miles on the bike. Actually, I should say on the bikes, plural, as we tested nearly 100 of them for our coverage in the magazine. And the volume of gear we tried was even bigger: New bibs virtually ever time I ride, dozens of wheel sets, components, sunglasses, lights, you name it. The fact is, most gear these days is pretty darn good. But every year there are a handful of products that stand out because they transform a category or simply because they are better than anything else we've tried. Presenting our favorite new cycling gear of last year.
---
Surly Krampus
Lots of brands jumped onto the fat bike phenomenon last year. Meanwhile, Surly, one of the companies that pioneered big tires, pushed the envelope with what it calls 29+. In short, the Krampus is a semi-fat bike with three-inch tires mounted to 29-inch wheels. (Most fat bikes are built around 26ers.) While it's maybe a little underpowered for full-fledged snow biking, it's probably as much fat tire as the majority of riders outside of places like Minnesota need. And don't get me wrong: It has made easy work of many a snowy trail here in Santa Fe—just not the deep stuff. Meanwhile, it's also perfect for mixed conditions, from snow to mud to rocks to dry, and plenty fast to keep up with a group on standard mountain bikes. And since the hubs are standard size, you can sub in a lighter weight set of wheels for even more versatility. Best of all, the Krampus is just $1,950, which is a bargain for such a all-purpose ride these days.
---
Küat NV Bike Rack
This hitch-style mount is not new for 2013, but since no other piece of equipment had a bigger effect on my riding experience this year, I have to include it. After multiple fork failures associated with roof-mount tray-style racks over the years, I can't overstate the relief at the added security and safety of a hitch-mount carrier. What sets the Küat apart from other hitch-mounts is how burly it is. The extruded aluminum trays and massive, swiveling swing arms provide ultimate confidence even for the most expensive bikes. Loading bikes is a snap, too, with no disassembly necessary (no more dirty front wheels in the car!) and almost no trouble with handlebar-saddle interference. The built-in cable lock system means you'll never get stuck on the road without the ability to safeguard your bikes, and thanks to a cam-lock design the whole rack easily pivots down to provide access to your trunk, even when the rack is loaded. There's even a built-in bike stand for working on your bikes on the road, as well as an add-on (sold separately) for carrying four bikes instead of two.
---
Kitsbow Men's Rudy Jersey
Kitsbow debuted at the beginning of last year with a small, super premium line of made in Vancouver mountain bike apparel, and the truth is every single piece of their gear I've tried is excellent. But I like the Rudy the most because it manages to beautifully bridge the gap between fashion and high-tech. The merino is soft and breathable, the shoulder vents work great, and there are nice details such as a built-in eyeglass wipe in the chest pocket and an inconspicuous rear pocket that's big enough for wallet and keys. With a contrast button-up collar that can be worn either in or out and a trim but comfy fit, it's a piece you can put on for your morning ride and then continue in for the rest of the day. Yes, it's a steep $220. But I'd give up half a dozen of other jerseys in a heartbeat to afford this one.
---
Gore Alp-X Windstopper Insulated Shell Vest
If I had to pick just one piece of apparel that I could keep from the hundreds of things I've tried this year, it would be this winter-weight vest. With Windstopper fabric over top of a thin layer of Primaloft insulation on front, it is the ultimate cold-weather layering piece. I never leave home without it from mid-fall through mid-spring, when it has saved me from miserable, frigid slogs home dozens of times when the temperature suddenly dropped or I got caught out longer than expected. And in the dead of winter, a heavyweight jersey with this vest over top has kept me plenty warm right down to zero degrees. There's reflective piping and print for after dark, an abrasion-resistant pattern on the shoulders in case you wear a pack, and smart, huge elastic mesh pockets on the sides that make stashing glasses and other sundries easy even when the vest is covering your rear jersey pockets.
---
Garmin Vector Pedals
It took Garmin nearly three years to bring their power meter solution from concept to market, but the wait was worth it. Because the Vector packs its strain gauges for measuring power into the pedals (versus the hub, crank, or bottom bracket on other systems), it is the easiest and most interchangeable power meter available. The system also has gauges in both pedals for the most accurate readings possible, as well as true measurements of power balance between the legs. And while we had hoped these would be a little cheaper than their $1,700 price tag, they are actually like purchasing several power meters in one since they are so easily movable between, say, a road bike, TT bike, and commuter.
---
Shimano Di2
Though the Japanese component manufacturer's second-generation Di2 9070 electronic groupo may not look like huge departure from the original, in fact it's a major step forward. Ergonomics of the controllers are trimmer, and shifting performance is much improved thanks to a significantly shorter throw on the levers. The biggest advantage, however, is the modularity of the system, which, through new cabling called E-Tube, allows components to be snapped in, changed out over time, and added-on if you choose to upgrade.
The whole thing is programmable from your PC, as well (though it's frustrating that Apple isn't supported), so you can customize things like shifting speed and even which buttons control what functions. There's also now a multi-shift function that allows you to speed through gears for as long as you hold down the shifter. And the new peripheral shifters, including a climber shifter for bar tops and sprinter shifters for the drops, has spoiled us to the point that we actually lament not having them when we ride bikes with mechanical shifting.
---
Hutchinson Sector 28
It used to be that if you wanted to go fast you chose the lightest, skinniest tires you could find. Thankfully, new testing has shown that bigger diameter tires don't actually slow you down much. And for my money, the added traction and comfort far outweigh any minor penalties by keeping you fresh and having fun. The standard road tire seems to have jumped from 23mm to 25mm, but we've been loving the new Hutchinson Sector 28, a tubeless design that gets as close to the feel of a tubular as anything we've tried—minus all the gluing hassle. Unless you're racing at the highest level, it's worth running this fat of a tire full time just because of how good it feels.
I've added girth on the dirt, as well. Influenced perhaps by lots of time on fat bikes, over the past two or three year I've progressed from 1.9 pinners to 2.4s and 2.5s for all of our riding. And though it's not new for 2013, the Maxxis Ardent 2.4 continues to be my top choice. I raced and trained thousands of miles on a single pair this year without so much as a flat.  
---
Troy Lee Designs A1 Helmet
Best known for their moto and full-face designs, Troy Lee Designs made an excellent premier foray into the trail riding market this year with the A1. Features are similar to many all-mountain helmets out there, with more rear coverage than an XC lid, a visor with three height settings that are fully adjustable without a tool, a removable, washable antimicrobial liner, and a easy-to-use three-position dial retention system. Somehow, though, the A1 manages to be one of the most comfy lids we've ever tried, and half a dozen of our testers—every one who tried it, actually—raved over the fit.
---
Specialized Air Tool Pro Floor Pump
Too often, floor pumps are built of flimsy plastic, cheaply made, and have gauges that go haywire. My garage is littered with broken specimens. But I finally threw them all away because I'm confident this cast-aluminum model is going to last for years. The oversize-diameter barrel blasts so much air that I've been able to use this for tubeless setups. The gauge is huge and easy to read and connects to a stable, all-metal base. And best of all, the bleed valve on the handle means you no longer have to take the head on and off the wheel for micro adjustments.
---
Fenix BT20 Bike Light
Fenix has built some of the brightest and hardest-working flashlights on the market for years, but they've never made one exclusively for bikes. Enter the BT20, which pairs a trim, 750-lumen head unit to a battery pack smaller than a deck of cards. There are brighter and longer-lasting lights out there, but we love this one because it runs on standard batteries (either CR123s or AAs, depending on which pack you choose). That makes this the ultimate backcountry and self-supported ride light as, with access to a gas station, you can replenish your light supply indefinitely.
Lead Photo: Dolomite Summits