The Best New Mountain Bikes
All Mountain: Diamondback Mission 3; $3,800.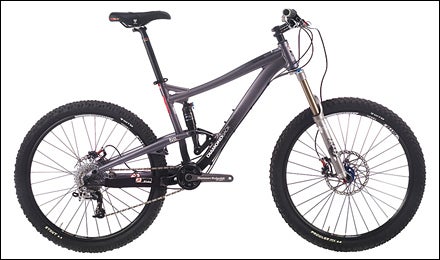 Heading out the door? Read this article on the new Outside+ app available now on iOS devices for members! Download the app.
The Mission 3 was the ATV of our lineup. This six-inch-travel, butted-aluminum rig is designed for big hits, and it comes with a parts spec that can survive abuse. Take the crankset, Truvativ's all-mountain-specific HammerSchmidt system, which, because it's essentially a two-ring crank crammed into a single internal gear, means no dropped chains or broken chainrings. But all of that comes with added heft that, for some of our testers, was a bit too much. "It handled surprisingly well at low speeds and took every rock I steered it toward," said one tester, "but it's a tank." An internal mechanism in the Diamondback's crankset delivers the benefits of two chainrings—a wide range between easy and hard gears—in a more durable and tidy package. It's heavy, but a boon in all-mountain and freeride applications, where dropped chains and broken parts are common.33.6 lbs (medium); diamondback.com
How We Tested Them
Over the course of nine days in Tucson, Arizona, our 23-person test crew hammered more than 40 bikes—from ,000 pro-level Tour de France machines to 0 starter bikes, from 29-inch-wheel trail bikes to hardtail racers. Each one was ridden by several testers, then scored in a variety of categories, including pedaling performance, handling, comfort, components, and aesthetics.

CLIMBING: 2.9/5 DESCENDING: 4.2/5 (ALL SCORES ARE OUT OF FIVE)
Kona Cadabra
All Mountain: Transformer; $2,799.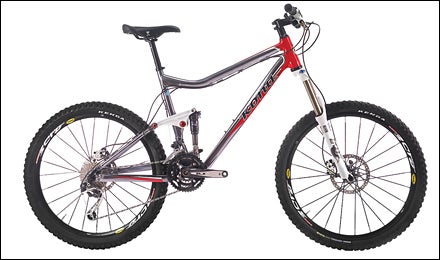 The butted-scandium Cadabra doesn't feel like an all-mountain bike at first. That's because it presents itself as a four-inch-travel bike with steep, agile cross-country geometry. Then, when you encounter a big bump or fast descent, the Cadabra transforms into a beast with 6.4 inches of rear travel and slack, forgiving steering angles. When Kona's unique Magic Link suspension kicks in, it engages a secondary link that drops the back end and delivers an additional 2.4 inches of travel. It's a complex design, and testers generally liked the performance, but it comes with a pretty significant weight penalty. The Fox 32 Float RL fork, as always, earned unanimous praise. 30.9 lbs (19″); konaworld.com

CLIMBING: 2.5 DESCENDING: 4.4
Pivot Mach 5
Trail: It'll Play; $3,699.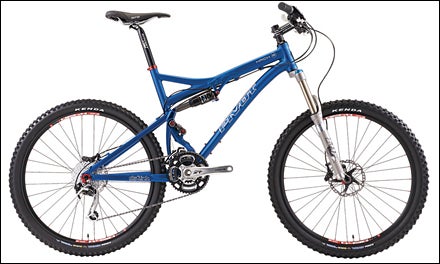 The Mach 5 is a great illustration of why trail bikes—those loosely defined as having five inches of travel—are the right choice for 75 percent of riders. "Set up for comfort and success," said one tester. "Stays stiff on the climbs, softens the landings. No back pain. No issues." Our bike came with the most price-conscious parts this boutique builder offers for the aluminum Mach 5, but our testers found the mix of Shimano SLX and XT components and Fox 32 Float R fork to be solid and dependable. Bonus: The Kenda Nevegal tires had a perfect tread for our desert test loops. 28 lbs (medium); pivotcycles.com

CLIMBING: 4.4 DESCENDING: 4.2
Cannondale RZ One Twenty 3
Trail: Takes On All Comers; $2,650.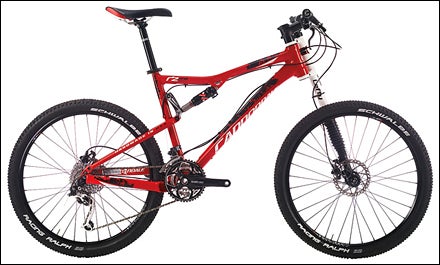 Frightened by Cannondale's single-arm Lefty front fork? Get over it. The 4.7-inch Lefty Ultra DRL on our test bike was damping, predictable, and just as (or even more) stiff laterally as any other fork in its category. The rest of this aluminum trail bike scored just as well. "A nice balance of aggressiveness and plushness," wrote one reviewer. "I didn't have to be overly picky with clean lines and could instead focus on flow and speed." Some testers remarked that the middle-shelf mix of Shimano and Hayes components felt a bit cheap and plasticky, but they help keep the price down, and no one had any major gripes about their performance. 27.4 lbs (large); cannondale.com

CLIMBING: 4.4 DESCENDING: 4.4
Niner S.I.R. 9
Trail: Steely 29er; $1,500 (Frame, $849).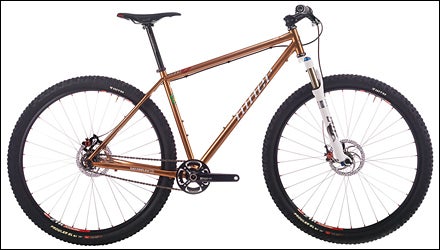 Take It Easy
If the increasing complexity of bike components leaves you feeling overwhelmed, consider a single-speed, like the Niner here. They're much easier to maintain (no derailleurs to break or go out of alignment), but the flip side is that there's no hiding behind your granny gear as the hills get steeper.

Bike parts break. Shocks blow, derailleurs snap. The only way around this is to either take it easy (yeah, right) or, as Niner's single-speed hardtail has kindly reminded us, ride with fewer parts. Purists might scoff at the front shock, but the S.I.R. 9 can be built up fully rigid (and geared), and the buttery steel frame is all about tradition. "This is an almost perfect single-speed," wrote one tester. "Best 29er geometry I've ridden, and the steel tubing feels amazing." Testers also praised the powerful Formula hydraulic brakes and the sprightly and lightweight feel of Stan's tubeless rims. 22.6 lbs (large); ninerbikes.com

CLIMBING: 4 DESCENDING: 4.1
Trek Fuel EX 6
Trail: Confidence Builder; $1,980.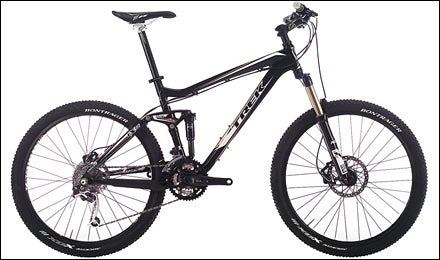 Got two grand and big dreams? Here's a lot of bike for the money. The EX 6 is basically an aluminum version of one of our favorite bikes from last year's test, the full-carbon Fuel EX 9.9. And while it's neither as light nor supple as that model, the EX 6 offers more than a taste of that performance—at less than a third the price. Trek's patented ABP suspension, which places a pivot on the rear axle, performed as advertised, minimizing pedal bob while staying active in all conditions. And the RockShox Recon SL front fork earned high marks for its plush feel and on-the-fly lockout. 29.1 lbs (medium); trekbikes.com

CLIMBING: 4 DESCENDING: 4.3
Gary Fisher Superfly 100
XC Race: Built for Speed; $5,600.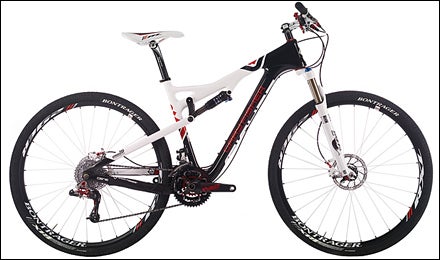 World-Cup Worthy
This new full-suspension, carbon-fiber 29er is the frequent choice of Subaru-Gary Fisher team riders for World Cup races. We can understand why—it was the most nimble 29er we've ever tested.


Editors' Pick


Think 29ers are heavy and ungainly? Think again. The Superfly 100, possibly the most anticipated mountain bike of 2010, had the highest climbing scores of any full-suspension bike we tested. With its race-ready parts mix, this full-carbon cross-country racer delivers four inches of travel in a 23-pound package (for a large!). The unique geometry moves the seat tube forward of the cranks to shorten the wheelbase for faster handling than with any 29er we've ever ridden. One minor gripe: Some of that stability comes from an unusually low bottom bracket, which left us surprised by how often we were hitting our pedals on rocks. 23.5 lbs (large); fisherbikes.com

CLIMBING: 4.7 DESCENDING: 4.3
Specialized Epic Comp 29
XC Race: Big-Wheeled Climber; $2,800.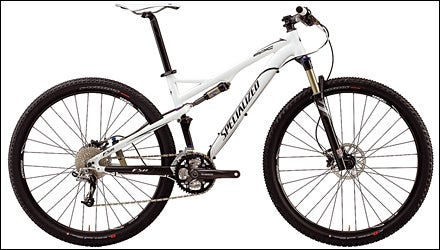 Killer Value


The first 29er in the company's Epic line, this aluminum rig was a tester favorite: impressively responsive but, thanks to the wheels, even more stable and forgiving than its 26-inch brethren. Wheel size aside, Specialized's proprietary Brain shock, which remains locked out in smooth terrain and opens up in the bumps, continues to generate debate among us. While some love everything about it—"Locks out until you need it, with no buttons or levers!" wrote one tester—others wished for more suppleness and consistency, especially during continuously changing terrain. Even so, there was some consensus: The shock earned slightly above-average marks for descending but notched some of the test's highest scores for pedaling and climbing. 28.6 lbs (medium); specialized.com

CLIMBING: 4.5 DESCENDING: 4
Giant Trance X Advanced SL 0
XC Race: Race-Ready; $6,800.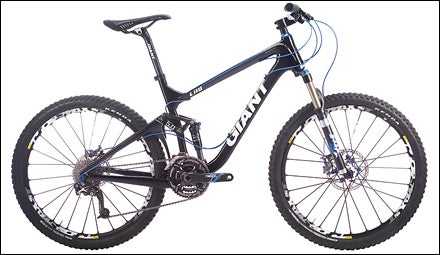 If the price has you stymied, consider this: Of the ten categories in which we scored, the Trance had the highest marks in six (descending, suspension design, comfort, fork performance, component spec, and aesthetics). The three-position Fox Talas fork can be adjusted on the fly between four and 5.5 inches of travel, and the Pro Pedal setting on the rear shock firms up the plush five-inch rear end for climbs. The stiff carbon-fiber frame simply dives through corners, and with a mix of Shimano XTR and Avid Elixer components, it hits a very respectable racing weight. "If I could have only one bike," read a typical tester evaluation, "I'd be more than happy with this one." 24.5 lbs (medium); giant-bicycles.com

CLIMBING: 4.5 DESCENDING: 4.9