The Best New Utility Bikes
City: Giant Twist Express; $1,625.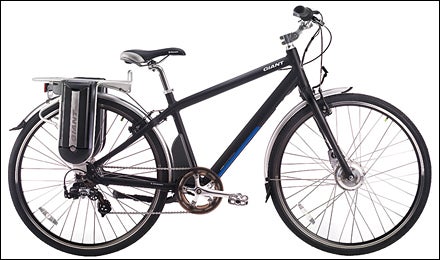 Heading out the door? Read this article on the new Outside+ app available now on iOS devices for members! Download the app.
"Finally!" remarked one tester. "It's like Apple designed an e-bike." Whereas most electric (or "pedal-assist") bikes we've seen have been cluttered, clunky, or both, the seven-speed, aluminum Express is sleek, a gas to ride, and, at 50 pounds, considerably lighter than the competition. The interface is idiot-proof, and the quiet electric motor churns out a steady and smooth amount of power. A single lithium-ion battery takes roughly four hours to charge, lasts about 40 miles (depending on the hills and load), and locks to the rear rack. The best part? Bikes like this get folks who can't or wouldn't otherwise ride back into cycling. Never seen an electric bike? That's about to change. According to Electric Bikes Worldwide Reports, there are now more than 100 million (!) e-bikes in China. And they're starting to catch on here, too. Big names like Giant, Trek, and Schwinn all have numerous e-bikes out now. giant-bicycles.com
How We Tested Them
Five testers put anywhere from 50 to 500 miles on dozens of bikes to find the coolest, smartest rides out there for going beyond recreational trail and tarmac cycling. Offerings were judged based on such criteria as quality, versatility, value, and, most important, fun factor.

VERSATILITY: 3.5 COMFORT: 4 (ALL SCORES ARE OUT OF FIVE)
Marin Hamilton 29er
City: Urban Assault Vehicle; $485.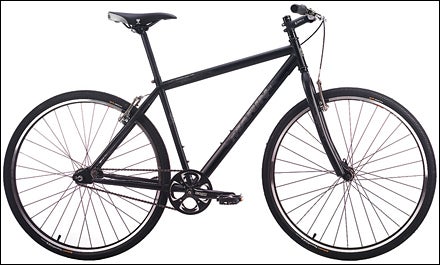 If you just have to huck some man-made terrain while roaming your particular concrete jungle, this is your machine. The flip-flop hub means you can ride fixed or freewheel and keeps drivetrain maintenance to a minimum, plus the chromoly frame (with rack and fender eyelets for commuting) and big 29-inch tires deliver a plush ride. Low-slung and long, the Hamilton also makes it easy to just sit back and cruise. Or, slap on some knobbies and hit the trails; rigid single-speed 29ers don't have a cult following for nothing. marinbikes.com

VERSATILITY: 3.7 COMFORT: 3.9
Surly Long Haul Trucker
Touring: Country Crosser; $1,095.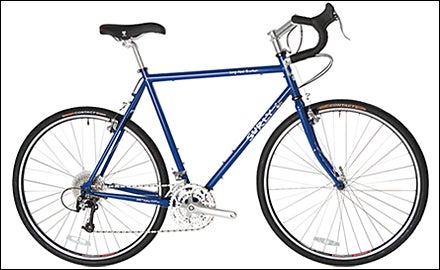 Killer Value


The LHT was built to take on the fattest 700C (a.k.a. 29-inch) rubber out there, plus fenders, full racks, stuffed panniers, and a different horizon every day. But we employed this tough ride as a mixed-terrain commuter and do-it-all city bike. It had the goods required: a longer wheelbase, a double-butted chromoly frame, every braze-on we'd ever need, a solid parts mix (Shimano drivetrain and hubs, classic WTB SST saddle), and those lovely tire clearances. Bonus: Would-be world travelers can also get every size of this bike with 26-inch wheels, which you'll find in abundance all over the globe. surlybikes.com

VERSATILITY: 4.8 COMFORT: 4.4
Hampsten Tournesol Audax
Touring: Rando King; From $4,000.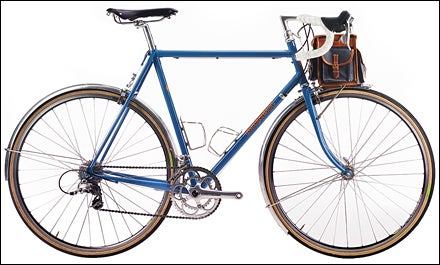 Editors' Pick


Designed for randonneuring (i.e., fast-and-light day touring), our Audax was hailed for its amazingly supple ride, the superior modulation of its Paul Racer brakes, and a geometry ideal for clocking dawn-to-dusk mileage in comfort. Think of it as the offspring of a thoroughbred race rig and a classic touring bike. Falling into a rhythm on interminable climbs was effortless, and the light lugged steel and plumper 28mm tires seriously softened the jolts of rapid fire-road descents. Unfamiliar with the brand? That would be Andy Hampsten, the only American ever to win (gloriously, over a snowy mountain pass) the Giro d'Italia. hampsten.com

VERSATILITY: 3.8 COMFORT: 4.6
Madsen kg271/Bucket
City: Cargonaut; $1,299.
With its lower center of gravity, the high-tensile-steel Bucket is a seriously stable cycle truck, and we used its 40-gallon capacity to carry gobs of sundries and hardware; unwieldy, oversize loads that required lashing; and, on the removable benches, up to four kids. The double kickstand made parking and loading easy, and the eight-speed SRAM drivetrain provided a nice range for moderate climbing and flats. But the cherry was the bike's responsiveness to steering inputs. Oversize haulers can lumber along and fight you, sometimes requiring dismount, but we could maneuver this vehicle into and out of some surprisingly tight spots. Upgrade suggestion: a leather saddle. madsencycles.com

VERSATILITY: 3.2 COMFORT: 3.7
Rivendell Samuel Hillborne
Touring: Wilderness Camper; From $2,000.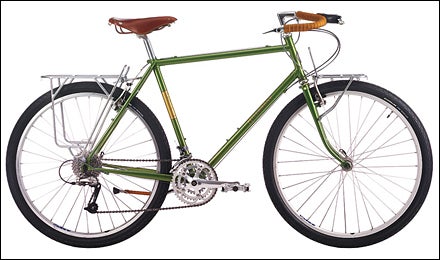 D-Control
Unlike index shifting, friction shifters (as seen on the Rivendell) let you control, or "trim," the exact position of your derailleurs—especially handy when you're off riding in the middle of nowhere and don't want to deal with indexing knocked out of whack by overstretched cables or road abuse, which will have your gears slipping and singing.

We couldn't find a better, more comfortable all-arounder, yet the lugged-steel Hillborne was designed with camping in mind: The super-low gearing in its 27-speed Shimano Deore range was much appreciated while hauling tackle up rugged hills, and the handling was sublime with the bike both stripped down and loaded. Huge clearances let us run tires that chuckled at rough stuff, and the mustache bars offered superior leverage while climbing. The Hillborne is up for a high-mileage tour, too, but that isn't always possible, so we recommend taking it for weekends and overnights under the stars. Bonus: 5'9″ or shorter? Your frame size will take smaller 650B (versus standard 700C) wheels, which means greater versatility and off-road performance. rivbike.com

VERSATILITY: 4.7 COMFORT: 4.8
Trending on Outside Online