Gear Guy
Can one bike handle commuting, racing, and off-roading?
I'm looking for a bike to do a bit of everything: commuting year round, several short rides in spring, and some off-road racing in early fall. What's your opinion of the Gary Fisher 29er bicycles, and how exactly do they differ from other high-end hybrids (for exple, the Cannondale Bad Boy HeadShok or the Kona Dr Dew)? I currently own a Trek 1200 road bike for racing and a worn hybrid for commuting and bad-weather training, but would like something fast, comfortable, and durable for all-around use. Can one bike do it all? Jarle Bergen, Norway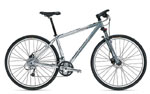 Heading out the door? Read this article on the new Outside+ app available now on iOS devices for members! Download the app.
Yeah, I think one bike would do all that. And any three that you name would likely work just fine. The Fisher 29ers are, of course, the most interesting choice. Basically, they're mountain bikes built around a wheel that's the same circumference (700 centimeters) as those on road bikes. A little more acceleration, supposedly, and more forgiving over bumps because of the different angle afforded by the taller wheels. I'm skeptical of the acceleration—a bigger wheel is also heavier and has more mass to move. But the smoother ride makes sense. And, you'd have more rubber on the trail, so traction may be better.

Dual 129



In the Fisher lineup, you might look into the Dual Sport 129 ($1,430; www.fisherbikes.com). This bike is designed to really bridge the gap between road and trails, and does seem equipped to do both. Nice mix of Shimano components, disc brakes, Manitou front fork. By comparison, the Cannondale Bad Boy is very similar in features and price ($1,500; www.cannondale.com), without the 29-inch wheels. Cannondale also uses a proprietary integrated shock. It works well, but upgrading in the future poses a challenge. The Kona Dr Dew ($999; www.konaworld.com) seems a little more skewed toward roads, but also manages that pavement-to-dirt transition.
If you can, the best bet is of course to test-ride all these bikes at the same sitting so you can get a real feel for what fits and rides the best. But, my vote is for the Fisher. I think you'd really enjoy that bike.