Can you help me find the right car rack to carry my bike?
Gear Guru- I'm looking for a bike rack that is easy to use and easy to put on the car and take off. I've been looking at the Thule Jaws rack, but on a recent trip to Moab, I noticed almost every car out there was equipped with a fork-lock rack. Do these people know something I don't? Chris Eau Claire, WI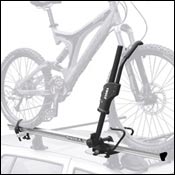 Heading out the door? Read this article on the new Outside+ app available now on iOS devices for members! Download the app.
Not sure what you mean by a "Thule Jaws" rack, Chris, as they don't make one called that. I take it you're debating between a rack that lets you set the entire bike into a tray, with a swing-arm clamp that secures it; and one in which you take off the front wheel and clamp the front fork into a devices that uses a skewer, just like your wheels.

The Sidearm
Examples: Thule's Sidearm ($170 for rack alone; bars extra) lets you load a bike in seconds. Just set the bike in the horizontal tray and attach an arm to the front wheel—nothing touches the frame.
With Yakima's Sprocket Rocket ($170; cross bars extra as well), the back wheel goes into a tray and is held in place with a ratchet strap, and the front fork goes into a fork clamp.
Pros and cons? The whole-bike systems are easier to use, take less time to load/unload, and eliminate the question of where the front wheel goes. This may sound harsh, but they're best for people who don't handle their bike that much, don't like fussing with the wheels, and just like simplicity. They certainly have their place.
Fork-mount racks take a bit more fiddling, but they are much more secure. And that's the trade-off—security for simplicity. You see more fork-mount racks because serious cyclists want to know their bikes are going to stay where they belong—on the roof. They're what I use.
But if you're looking for a rack that you can remove from your vehicle when not in use, then you'd want to go with one of the truck-mounted models like those from Thule's Passage or Speedway series. Both come in two- and three-bike models and are tailored to fit most vehicles. The entry-level Passenger 2 Bike Strap Rack starts at $100, while the two-bike Speedway 961XTY starts at $230. Trade-offs versus the roof-mounted racks? More time to get the rack on and off (to say nothing of the bike), and depending on how efficient you are, the rack could also be less stable than the roof-mounted variety.