Cycling Shootout: 4 Winter Weather Tops
With the first snow of the season on the ground, we've turned to our favorite cold-weather pieces to keep us in the saddle.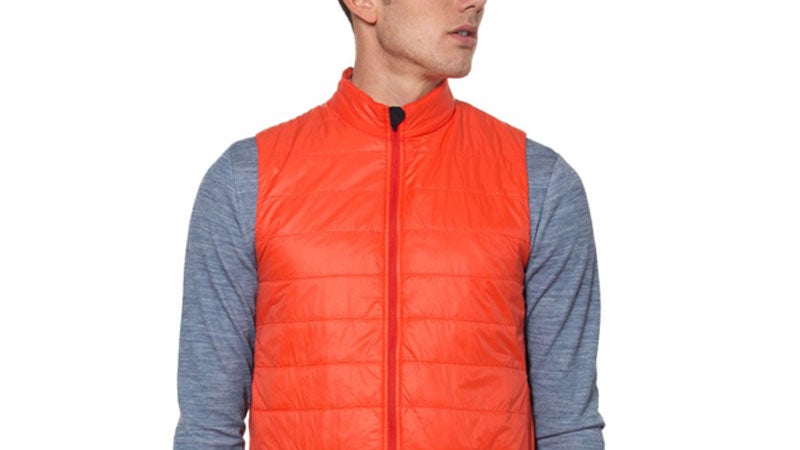 Heading out the door? Read this article on the new Outside+ app available now on iOS devices for members! Download the app.
I returned last week from two months in Africa and was rudely met by sub-freezing temps and piles of snow. My first inclination was to hang up the bike.
This vest has become an ultimate insurance piece that I refuse to leave home without on cold-weather rides.

This happens every year. Winter arrives and, after nine blissful months of warm-weather riding, it's hard to find the motivation to get out. The good news, however—and what takes me a bit to remember at the beginning of each winter season—is that apparel has become so advanced that you don't have to be uncomfortable when it's frigid.
Here are a few of the best new pieces we've found for keeping warm in the saddle. You don't need them all, naturally, but one of these high-quality garments can mean the difference in whether or not you get out and ride.
---
Gore Fusion Cosmo 
This new piece from Gore is destined to be my mountain bike jacket of choice this winter. The WindStopper soft shell has a nice supple hand that helps the jacket move with you on the bike, and the grid fleece interior feels good against the body. Storage for food, extra gloves, and a hat is ample, including two large front pockets, a Napoleon-style chest pocket, and a large zippered rear pouch that's big enough for a mini-pump and spare tube.
The Fusion Cosmo is heavy duty enough for even the coldest days—I'm just back from a morning spin in 18 degrees with just a mid-weight base layer underneath—while the mesh-lined zippered chest vents help keep you from overheating when going really hard. All zippers are equipped with tabs that are plenty big for pulling on even with bulky mitts. On the other hand, the waist cinches, located in the bottom of the front pockets, are too small and fiddly to be of much use.
My only other niggle is the color: Black is classic, and the few reflective highlights will help with visibility, but I'd rather have something brighter for this time of year—but not the atrocious Shiraz Red or Varsity Green options. Still, if you're riding mostly off road, the voluminous cut and ample coverage make this a great choice. $230
---
Assos iJ.BonKa.6 
I would gladly trade every other winter piece in my collection to afford this exorbitant, high-tech jacket. Whereas many jackets rely on vents and zips to manage the wide range of temperatures you encounter while exercising in the winter, this jacket does it all with simple, smart body-mapping technology. It is constructed from six separate fabrics and 32 patterns to get the fit and function just right. The jacket literally adapts to the conditions, including an outer layer wind- and waterproof membrane that becomes less breathable when it's cold and more breathable when it's warm.
In freezing blast winds, this material keeps the warmth in, but as you heat up, it allows the moisture to escape. The side panels are cut from a lighter version of this fabric, which allows additional heat transfer to prevent overheating. And the back panel is a stretch fabric for great fit and excellent temperature management. Three rear pockets provide plenty of storage, plus two smaller zip pouches on top of those are weatherproof for wallet and electronics, including a port for running headphones internally. There's even a thin, built-in neck gaiter that helps seal the collar on especially cold days, but tucks away when it's too warm. Though it's possible to buy the ij.Bonka.6 in a trim Cento version, I'd always opt for the broader cut Mille as it provides more space for layering. $560
---
Giro Insulated Vest 
No piece of cycling apparel is more versatile or indispensible than a gilet, and Giro's insulated version is the ultimate rendition for winter layering. Though it's incredibly lightweight (5.8 ounces for a size medium) and packable (down to the size of a softball), this vest has a thin layer of Primaloft insulation that adds about 10 to 15 degrees of warmth. I've been packing it along on evening rides, and when the sun drops and the temperature plummets, I pull it out for another hour or more of comfort.
I'm partial to the Glowing Red color (which looks more like traffic cone orange to my eye) as it adds visibility on dark winter mornings and evenings. Because the piece is part of Giro's New Road line, which is aimed at the urban rider, it's not a performance cut, so you may need to size down one size to prevent flapping in the wind. Similarly, while Giro has used tiny, hidden zippers for a clean look, I'd prefer bigger zips with pull tabs so I didn't have to take off my gloves to get this thing on and off or to access the three pockets, two front and one full-size rear. Nonetheless, this vest has become an ultimate insurance piece that I refuse to leave home without on cold-weather rides. $160
---
Rapha Pro Team Jacket
Not as insulating as the Assos piece and less bulky than the Gore jacket, this Rapha shell at first seemed a little outgunned for winter. But after I tried it a few times, I realized it's a perfect piece for layering, provided you get the right layers underneath. The chest panels and front of the sleeves are cut from a windproof Polartec softshell that is surprisingly protective given how thin it is. While the sides and backs are built of Super-Roubaix fleece, which is cozy and comfortable even on the skin and also wicks moisture amazingly well.
On the road bike, the Pro Team Jacket is best over a very heavy base layer, or, if it's really cold, even a long-sleeve jersey and thin base. Whereas on the mountain bike, where speeds are a bit slower, I've found it quite comfortable down to about 25 degrees with just a thin full-length base layer underneath.
It's not cheap, but the detailing justifies the cost. The offset zipper keeps the rough edges out of your face and is extra storm-proofed with a rugged waterproof collar below the zipper. The collar seals out the wind in back and is soft and fleecy and cozy against the skin on the inside, and the sleeves have tight-fitting gasket-style closures that not only keep out the cold but also fit well beneath gloves. There's a rubber coating on the inside of the extra-long back section to keep the jacket from riding up, and we love the locking zipper, which allows you to unzip with a tug on the lapel if you leave it the unlocked position. The massive rear pockets can hold extra thermals (such as the Giro vest), gloves and spare hat, a tube and kit, some food, and still have leftover space for a few sundries. Overall, it's a massive amount of features for such a trim-fitting, thin piece. $300