Does going sockless in cycling shoes cause them to wear more quickly?
Does going sockless in cycling shoes cause them to wear more quickly? I got this bit of information from a fellow rider on a recent century, but it sounds a bit dubious. Bob Belmont, Massachusetts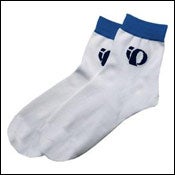 Heading out the door? Read this article on the new Outside+ app available now on iOS devices for members! Download the app.
One's first reaction is to add this to the file marked "Nude sleeping." As in, "You'll be warmer in your sleeping bag if you go to bed naked." A notion that has absolutely no basis in fact.
Pearl Izumi Attack socks

Attack socks
But in this case, there may be some truth to this statement. Mainly, going sockless means your shoes have the task of absorbing perspiration. And sweat has salts and acids that can damage leather and fabric. So if you bike a lot and sweat a lot, then it's possible that the shoes will not last as long as they otherwise would. Will there be a big difference? Very hard to say.
I also don't know if there would be any "wear" difference, in terms of actual physical impact on the leather in the shoe. I should think your own skin would start to wear away before the shoe leather would. But I could be wrong about that. Certainly socks are softer than your skin, so protect both your feet and maybe the shoe as well.
You can go sockless and still protect your cycling shoes by taking the simple step of washing them out occasionally with a little warm water and maybe a squirt of Dawn detergent. That will get the acids from sweat out of the shoe.
And if you just don't like socks, maybe try some Pearl Izumi Attack socks ($7; pearlizumi.com). They're a really light, thin cotton sock that is almost like having nothing on your feet.
You've seen our picks for 2007 Gear of the Year, and now the entire
Outside Summer Buyer's Guide is online. Check out this year's more than 400 must-have gear items, including bikes.