E-Bikes Hit the Alps
European resorts are pushing battery-powered trail machines hard. Can they override traditional mountain biking culture?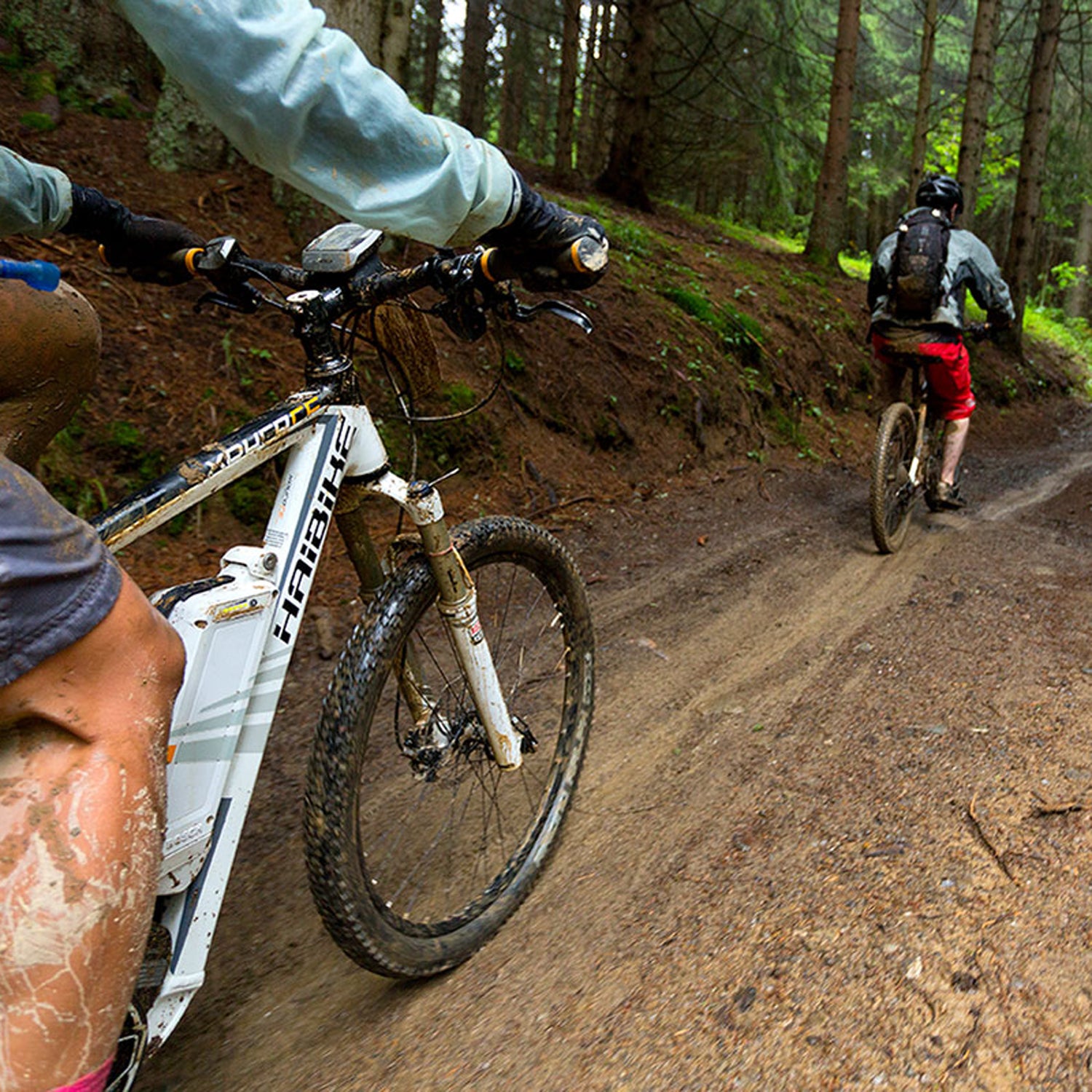 Heading out the door? Read this article on the new Outside+ app available now on iOS devices for members! Download the app.
Love 'em or hate 'em, full-suspension e-mountain bikes are becoming increasingly common on trails around Europe. Last summer, the French-Swiss Portes du Soleil region opened the largest linked network of electrique VTT trails in Europe—350 km of tracks graded from green to black, with nine charging stations and a dedicated e-mountain bike trail map. And since 2013, bike shops in the region have purchased more than 100 electric mountain bikes to stock their rental fleets. 
The goal? To attract new visitors. "[E-mountain biking] is good for families and groups of friends, so they can all stay together when they ride. It's also good for people who want to try mountain biking for the first time," says Bruno Robinet, project director at the Office of Tourism in Morzine, France. 
I can hear you scoffing already, dear reader. But before I passed judgement on this off-road movement, I wanted to see for myself what it was like to ride one of these machines. DSV Bike Shop in Morzine set me up on German-made Haibike Xduro FS RC's to see if I could be converted to electric. With 120mm of travel in the front and 110mm in the rear, the Haibike looked like a regular 26-inch full-suspension rig—other than the Bosch battery pack and motor fixed to the frame.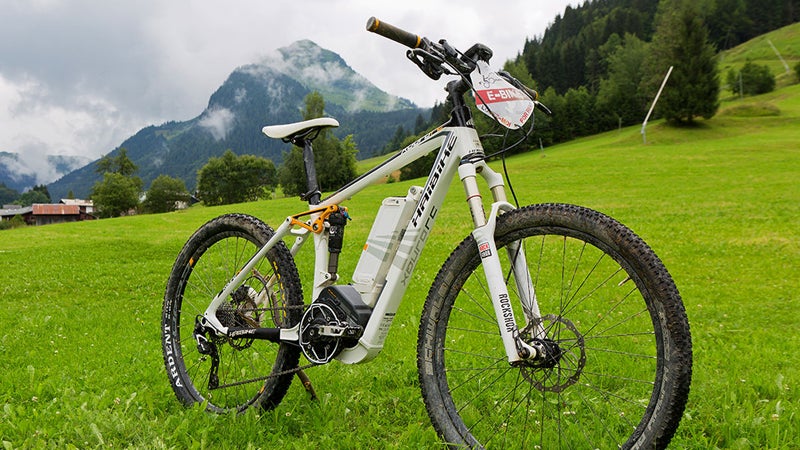 The bike came with four settings that added 30, 70, 100, or 250 percent to my power output. If I were spinning at 100 watts, kicking the bike into turbo would have me pedaling at 350 watts—that's Tour-de-France territory. Because the electric assistance only goes up to 250 watts, I maxed out the motor several times on steep hills, but the ability to hit 11 mph going up a fire road with a five-percent gradient made me giggle like a kid.
This is where the bike shined: on easy, non-technical climbs up fire roads or wide doubletrack where I could tap into the motor for a nice boost. I didn't have as much luck on technical singletrack. 
First, you must consider the weight. The bikes weighed a whooping 46 pounds. That's portly by any standard, especially considering even heavy aluminum full-suspension rigs usually only come it at around 30 pounds. The bike washed out easily in tight or muddy corners, and flew off jumps about as gracefully as a bag of cement. The handling was so squirrelly on technical terrain that I switched to my hard-tail 29er by the afternoon, preferring to trade rear suspension for more control. 
I also immediately noticed the silent but palpable disdain of riders on "traditional" bikes. I got plenty of dirty looks while testing out the Haibike. Portes du Soleil events coordinator Max Ortiz acknowledges that there are some cultural barriers to overcome. "Switzerland and Germany have adopted [e-mountain biking] in a big way the past four years. But the French still think it's a bike for lazy people. The mentality is starting to change, though…It will blow up in the next three years."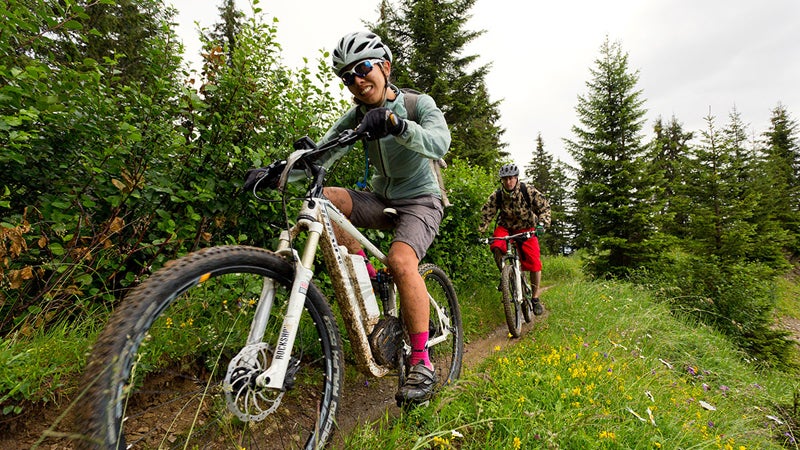 E-mountain biking in France is still in its infancy, though it's gaining momentum quickly. "It's like any new trend, like when snowboarding first started," Ortiz says. "People still think it's a little unusual. We just want people to try it once. When they do, they like it…It just makes [mountain biking] much easier."
It's unlikely the movement will come to the U.S., which has adopted e-bikes much slower than the EU, anytime soon. Advocacy groups are concerned about safety issues that may lead to the banning of all mountain bikes in areas where access has already been difficult to get. The International Mountain Biking Association (IMBA) has drawn a line between electric and traditional mountain bikes, stating that electric bikes should be classified as motorized vehicles in terms of trail access.
Purists may roll their eyes, but, guess what? They're not the target audience. And if the European resorts' bets pan out, we may all have to learn to share the trails on our next European holiday with a whole new kind of mountain biker.
Lead Photo: Thomas Humpage