Enduro Helmets: Super Protection?
Bell's new enduro-oriented Super is the latest in a quickly expanding market of all-mountain helmets. But are these new, bigger lids really safer?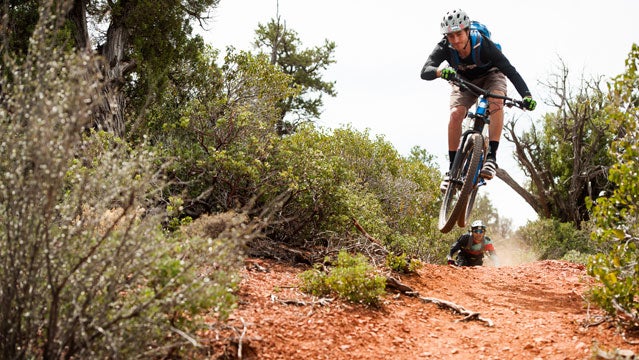 Paris Gore(Photo)
Heading out the door? Read this article on the new Outside+ app available now on iOS devices for members! Download the app.
Don't come to Sedona expecting smooth riding. The trails here—almost exclusively singletrack—are riddled with red rock stairsteps, gravel, and chunder. It's the sort of place where a five-inch bike is sufficient, but bigger is better. No surprise then that Bell, the 59-year-old helmet maker that got its start in motorsports, chose this northern Arizona locale to launch their new all-mountain helmet, the Super.
I've been slow to warm to the idea of an all-mountain helmet, partly because I'm more of a XC kind of guy. But also because I'm wary of yet another category, which means still more gear to buy. (At $125, the Super isn't the spendiest lid around, but it's still an investment.) Do we really need a mid-category of helmets that have more coverage and weight than XC lids, but aren't as burly as full-facers? Can't one helmet suffice? Are these all-mountain helmets really better?
"Bikes continue to evolve," says Benny Cruickshank, brand manager for Bell. "Today's six-inch bike is so much better and more capable than that size five years ago—which is allowing people to push harder and access more trails. Helmets [also] have to evolve to the style of riding people are doing, and that means more coverage and better protection."
So is the Super safer?
"The truth is there's no quantifiable improvement in safety," Cruickshank admits. "But that's a limitation of the testing, not necessarily a statement about the helmet."
That sounded like marketing speak to me, but in some ways, he's right. Safety testing for CPSC/CE testing on all bike helmets involves dropping a weight directly on the crown of the head. (BMX and full-face lids have their own sets of certifications and tests.) So if you go ass-over-teakettle and land flat on your noggin', all accredited helmets are created equal. The problem is that those tests don't take into account side trauma, whiplash-style crashes, or rotational forces, all of which are real possibilities in a mountain bike crash.
"As people push harder, we're definitely seeing more injuries to the sides and backs of heads," Cruickshank says. "So though we can't tell you quantitatively that the Super is safer. The extra coverage isn't going to hurt."
But the argument for the Super is as much about choice as about safety. Consider bikes. If you live in a flat, fast place like Minnesota, you'll likely purchase a hardtail 29er—it will handle great on most local trails, and you'll make it work when you visit places with rougher terrain. Grow up at Mammoth Mountain, on the other hand, and you're going to want an eight-inch sled, and you'll rent if you go somewhere else.
So it goes with the Super. "Other than the coverage, we definitely took safety into account," says Bell product manager Shannan Valette. "The camera-mount has a breakaway feature so if you catch a branch it won't yank you off your bike. And the visor attaches with plastic screws so it will peel off in a crash. But really this helmet is about the right feature set for enduro riders."
Most notable is the removable, rubber-damped GoPro mount that plugs directly into the central vent and attaches via built-in Velcro. The other is the goggle-compatibility. The Super gets its shape from Bell's DH Full-9, so it fits great with goggles, and the adjustable visor, which swivels 35 degrees, means you can pull them off with one hand and easily stow them on the brim of the lid. The Super has all the other features of any modern helmet, including speed-dial fit system, X-Static antimicrobial padding, and ample ventilation. And it weighs 390 grams, which is just fine for this style of lid.
I rode in the Super for four days in Sedona, and I was pretty impressed. Temperatures crept into the mid-80s and I never felt like my head was hot. The massive adjustment on the visor does indeed easily accommodate goggles, though even an XC guy like me appreciated the simple adjustability to keep the sun out of my eyes. The fit is good and solid and comfortable. And the GoPro mount worked well enough (and forgoes all the dangly bits and homegrown connections some riders have had to devise), though I'm curious to see how the Velcro connection holds up over time. It mostly recedes on your head, which, as far as I'm concerned is the biggest compliment for a helmet (let's face it, like a seatbelt or a condom, we want something that offers plenty of protection without any distraction).
For those who regularly use GoPros or goggles, the Super is a no-brainer as there really isn't anything else out there with comparable integration. But what about the all-mountain trend in general? Honestly, I'm ambivalent, but verging on convinced. The XC geek in me likes knowing that my lightweight helmets offer as much measurable protection as the big rigs, and I'm sure to keep strapping on my sub-200-gram Giro Aeon when I race. On the other hand, I'm considering wearing something like the Super in everything else because of the specter of extra protection. After all, if there's one thing we can all agree on it's that head trauma is no fun.
ALSO: Bell's Super is the most purpose-built all-mountain helmet I've tried, but there are plenty of others on the market. Kali makes the lightweight Avana, with key sections reinforced with carbon fiber. Troy Lee Designs, best known for their full-face moto helmets, offers the blinged-out gold-flake-finished A1 Cylcops. And the new Mavic Notch brings the company's XC adjustability and fit to the bigger-travel crew.
Lead Photo: Paris Gore
Trending on Outside Online