Epic Rides Could Save Mountain Bike Racing
While mountain bike racing continues to struggle for growth, the promoter behind 24 Hours In The Old Pueblo is revitalizing the sport.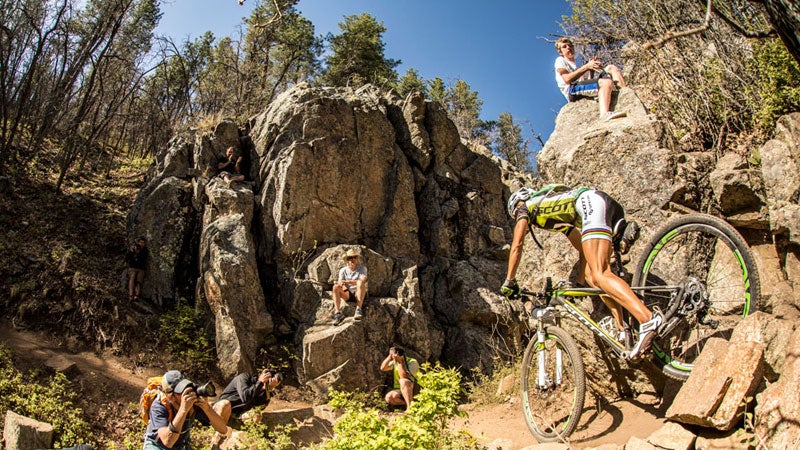 Devon Balet(Photo)
Heading out the door? Read this article on the new Outside+ app available now on iOS devices for members! Download the app.
It's no secret that 24-hour events are on the decline. Last year, at the discipline's National Championship, held outside of Gallup, New Mexico, there were fewer national categories than ever before and, accordingly, fewer racers attending. And USA Cycling announced this week that they will discontinue sanctioning for a 24-Hour Nationals in 2015. Meanwhile after 18 years, the 24 Hours of Moab, long considered the granddaddy of them all, went dark in 2013 largely because it wasn't garnering enough interest and revenue.
But a few weeks ago at the 24 Hours of Old Pueblo (24HITOP), the event looked anything but dead. Demand for the race was higher than ever this year, with spots for race plates selling out in a record 47 days versus 80 in 2013. And at the President's Day weekend event held in the desert north of Tucson, over 1,800 racers toed the line and some 4,000 people turned out to support and cheer them. The half-mile Le Mans-style running start was a gauntlet of screaming fans as big and boisterous as any you're likely to see at U.S. pro stages races such as the Tour of Colorado or Tour of California.
So if 24-hour racing is dying, why is Old Pueblo thriving? "We have a model that encourages everyone to participate. We offer some of the biggest cash purses for racers. But even more importantly, our events aren't just about the elite riders. We want to get everyone out riding," says Todd Sadow, the president of 24HITOP race presenter Epic Rides. "And remember, it's not just 24-hour racing that's struggling. It's mountain bike racing as a whole."
Sadow cites falling numbers at and interest in USA Cycling's national level events. And while registration at mountain bike nationals has held pretty steady in the last five years, it's true that the attendance is small (just 59 pro men and 27 pro women started the 2013 XC National Championships) and the number of grassroots events around the country is contracting.
USA Cycling didn't help the racing cause when it announced last year that it would enforce a UCI rule that prevented pro racers from entering unsanctioned events. It was a blow to pro mountain bikers and their sponsors, as it would have prevented them from riding some of the biggest and best-funded races in the country, including the Teva Games and Epic Rides' Whiskey 50. A firestorm of criticism erupted and a showdown seemed inevitable. But USA Cycling backed down and agreed to postpone the rule's enforcement until 2014. Earlier this year, the organization quietly announced it would postpone the rule again for the 2014 season.
Meanwhile, Sho-Air Cycling Group, a huge sponsor of the sport that split with USA Cycling last year over the UCI rule debacle, came back to the table this winter. Sho-Air has teamed up with USA Cycling for 2014 to fund and promote a four-race series called the US Cup. The hope is that the collaboration will be a fresh start that can drive energy and participation into mountain biking. "It's good to see the investment," Sadow says. "Let's hope it can bring everyone together and generate some interest."
Time will tell, but in the meantime, Old Pueblo and all of Epic Rides' events continue to flourish. In addition to 24HITOP, the company runs three other events, The Whiskey 50 (April 25-27), Tour of the White Mountains (October 4), and their newest race, The Grand Junction Off-Road (August 29-31). They are very different formats than Old Pueblo, based around cross-country races not 24 hours events, but like 24HITOP, all three have been huge successes. The Whiskey in particular has drawn some of the most star-studded fields in the sport with its $40,000 cash purse as well as thousands of sport and recreational racers to boot. And Epic Rides is looking to expand its roster of events in 2015.
Sadow believes that as much as the deep prize pool, it's the inclusive nature of his events that has made them a success. The Whiskey, for example, is a full weekend bike festival that offers races for riders of all abilities, parties and concerts in the evenings, and culminates with the pro race on Sunday morning. "It's not just about the race," he says. "It's about fun for everyone. It's about promoting the culture."
This year's 24 Hours In The Old Pueblo displayed that laidback vibe. The tent town, which pops up just for the three days of the event, was bigger than ever, with mountain bikers and their families and friends thronging the downtown vendor section and DJs spinning music throughout the night. There were kids races run concurrently with the main event, lots of raffles, and a Schwag Angel wandering town throughout the race to distribute free gear.
Some of the biggest names in the sport, including Todd Wells, Rebecca Rusch, and Chloe Woodruff, raced on teams with high school students as part of an outreach program with the National Interscholastic Cycling Association. And while plenty of racers were on the course vying for fast times, just as many teams were in costume or simply out for a good time. It was reminiscent of Burning Man for mountain bikers, a comparison that's often made by those who attend.
Late Saturday afternoon, five hours into the event, Sadow was meandering around 24-Hour Town, chatting with participants. "Everything's smooth so far. This is the warmest year on record, and the crowds are bigger than ever. We have a full moon tonight for the first time in 15 years, and some good, tight races are shaping up," he said. "Everyone is having fun. That's what's important."
Lead Photo: Devon Balet