The Gear Junkie Scoop: Feedback Sports Repair Stand
Heading out the door? Read this article on the new Outside+ app available now on iOS devices for members! Download the app.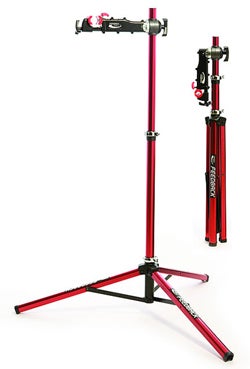 The Gear Junkie is also a bit of a bike junkie. As of this moment, my one-car city garage is crammed with six bikes, two pull-behind kid trailers, a tag-along attachment, and various child bike seats. Our van is parked on the street. The lawnmower? It's been relegated to the backyard and stowed under a tarp.
Amid this chaos, Feedback Sports' Pro-Elite Repair Stand (feedbacksports.com) has assisted me this spring and summer to manage my fleet of two-wheelers. From my fixed-gear to my mountain bike, the Feedback Sports stand has steadied and held high bike after bike as I've lubed, tightened, adjusted, and tweaked chains, pedals, handlebars, gears, brakes, and seats.
A bike stand is a luxury item for most cyclists. Its essential duty–steadying a bike held up a few inches off the ground–can be accomplished via ad hoc systems involving clamps and two-by-four boards. Or, most riders I know simply deal with maintenance by leaning their ride against a wall.
But a stand offers a new level of mechanical access. Clamped into a stand like the Pro-Elite, which retails for $239, you can crank pedals, spin wheels, and turn the levitating bike frame around to approach spokes and components from all angles.
The Pro-Elite, touted as a "go-to repair stand for mechanics on the road," has an easy-to-use quick-release clamp with rubber jaws. Lift your bike into the stand and ratchet it tight–the bike won't budge.
Height adjusts with the telescoping main shaft from about 40 to 70 inches. Tripod legs make it stable on gravel or uneven surfaces.
For moving the stand around or packing it for a trip, the entire unit folds into a small and manageable size–no tools required. It weighs about 12 pounds packed up.
For me, a clumsy bike mechanic at best, the Feedback stand has made manipulating components, swapping pedals, and adjusting brakes an easier task. On the driveway outside my crammed garage, the stand adds some order to my otherwise chaotic bike life.
–Stephen Regenold is founder and editor of www.gearjunkie.com.