Got any ideas on how to transport a tandem bike?
We are planning to buy a tandem bike, but we're concerned about how to transport this big, long bike on the back of our small fifth wheel. We don't have a hitch receiver on the back of the RV. Is it possible to add one on? Any other ideas? Jean Cpbellsport, Wisconsin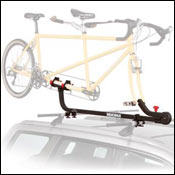 Heading out the door? Read this article on the new Outside+ app available now on iOS devices for members! Download the app.
Boy, that's a tough one. You probably have, what, a Forest River Wildcat? Or something like that—a 24-foot RV trailer, more or less.
Yakima SideWinder Roof-Rack

SideWinder Roof-Rack
Anyway, the short answer is: Anything is possible. What's likely or do-able, that's another matter. The back bumper on the RV may not have the heft to take a bike rack and a 35-pound bike, which together could put a lot of leverage on the bumper. But the thing has a chassis. So one thought is to visit a welding shop that specializes in adding trailer hitches and the like, and see what they could do to bolt/weld some steel to the chassis. That could lead to an extension for a Class 2 hitch, and at that point you can add most any bike rack you wish.
The problem with that, however, is that you then have the ends of the tandem sticking out into traffic on each side of the RV. So you might consider a second option. I assume you have this RV attached to a Ford F150, Chevy Silverado, or similar (Gear Guy is conversant in all matters pickup and uses a 1993 Ford F250 to haul gravel. Do not ask about gas mileage). Then you could get a roof-mount rack. Don't blanch at the prospect of military-pressing your tandem up onto the roof. The Yakima SideWinder ($375) is a tandem rack that swings out and pivots so that even one person can easily load a tandem. You'd also need a set of Q Towers ($145) and crossbars ($60).
The 2008 Summer Outside Buyer's Guide is now on newsstands. Look for it online soon.