Harlot Scarlet Knickers bike shorts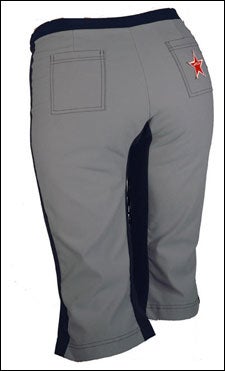 Heading out the door? Read this article on the new Outside+ app available now on iOS devices for members! Download the app.
Ladies, ditch the spandex—there's something new on the market. Let me introduce the Scarlet Knickers, made by a new women's mountain-bike apparel company called Harlot. With a funky, urban-inspired design, the just-past-your-knee Knickers are fit for bike messengers, commuters, and mountain bikers who want to lose the tired and unflattering black Lycra shorts of yesteryear. I never thought I'd call bikewear sexy, but these truly make you look and feel like a harlot.
Harlot Scarlet Knickers bike shorts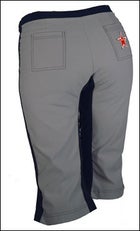 Harlot Scarlet Knickers bike shorts
When I first saw these shorts on the trail, I was skeptical that a piece of clothing that looked this good was actually functional. Instead of the diaper effect from the bulky chamois usually found in women's bike shorts, the knickers have a thin, seamless pad (coined the Beaver Comfort Zone) that's barely visible from behind. The scarlet-colored star patch on the back pocket and the slightly flared cut make them look almost like streetwear. I had to try them for myself.
I took them for a test spin one day after work, meeting some friends at the trailhead just after 6 P.M. so there was still enough daylight for a solid two-hour ride. I was sporting my Scarlet Knickers and a black short-sleeved jersey—in other words, I was stylin'. Within minutes, I was carving over the dusty singletrack of La Tierra, in Santa Fe, New Mexico. The sun was low in the sky, and the temperature was a comfortable 75 degrees.
The hip-hugging Knickers are made of a water-repellent, stretchy nylon-and-polyester blend, but the inside liner felt soft against my legs. Even as I heated up on the ride's short climbs, the fabric wicked sweat away from me. As for that saddle pad? It turned out to be just enough support for the sub-two-hour ride. Any longer and I might have opted for more cushion between me and my seat.
One caveat on these trendy threads: The low-riding and stretchy waistband left a thin gap of exposed skin on my lower back between shorts and shirt—a perfect target for a pesky sunburn stripe.
After the ride, my friends and I went for margaritas at a local Mexican restaurant. All of them went home to change beforehand, but not me. And therein lies the real beauty of the Scarlet Knickers: They're as suitable for the trail as they are for the bar. And that's what I call versatile. $75; www.harlotwear.com