How do I know when my mountain bike's had it?
I need a new bottom bracket for my old Titanium fre GT mountain bike. But, the old one is stuck so badly that the bike shop couldn't get it out and gave up. What can I do?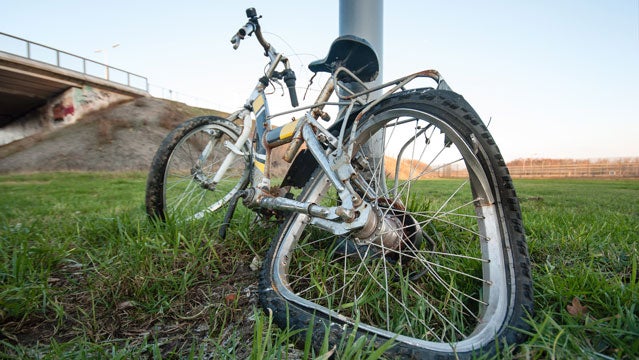 Heading out the door? Read this article on the new Outside+ app available now on iOS devices for members! Download the app.
You re sunk, Terje. What has happened is this: The bottom bracket (the thing that goes through the bottom of the bike triangle and to which the pedal/crank assembly attach) almost certainly was made of steel. The frame is titanium. A chemical reaction called galling" occurred, and the bottom bracket literally welded itself to the threads in the frame.
Jamis Dakar XCR Comp

Dakar XCR Comp
You have no good options at this point. You could try soaking the bottom bracket area in Liquid Wrench or a similar penetrating oil either spray the area daily for a few weeks to see what happens, or figure out a way to fill a container with the stuff so the bottom bracket can bathe in it. Gentle heat MAY help. (I had a stuck faucet in the utility room I was trying to replace, and a little massage with a propane torch eventually got it to loosen up.)
If it s an English-threaded bottom bracket and it almost certainly is the last resort is to destructively remove the bottom bracket and try to re-thread it as an Italian bottom bracket. But now we re talking serious shop-time and money, and I have to wonder if it s worth the trouble. I know you re probably emotionally bonded to the GT frame, but there s a reason hardly anyone sells Titanium mountain bikes these days. It s a nice material for a hardtail or un-suspended bike because of its natural springiness. But in a full-suspension bike it s TOO loose and can cause binding in the linkage points. So aluminum has become, far and away, the stuff from which most mountain bikes today are made.
My recommendation: Give the GT a decent burial, then go to eBay and find a Jamis Dakar frame or even built-up bike for yourself excellent bikes, well priced ($865-$4500; jamisbikes.com).
Lead Photo: Willem Havenaar via Shutterstock