How Lael Wilcox Crushed the Tour Divide
A conversation with the new women's record holder on the world's hardest mountain bike course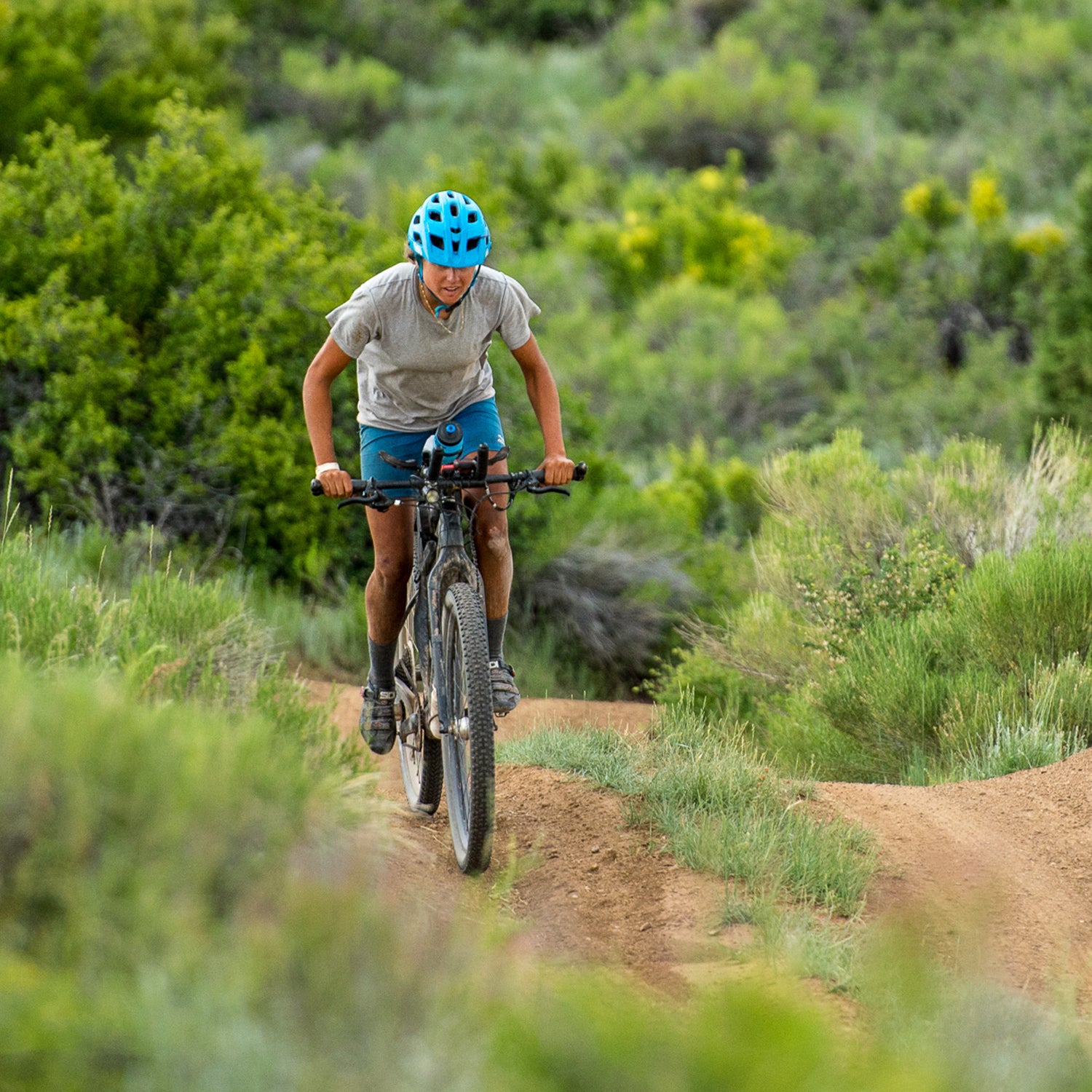 Heading out the door? Read this article on the new Outside+ app available now on iOS devices for members! Download the app.
The men's record on the Tour Divide wasn't the only one to fall this year. Lael Wilcox, a relatively unknown 28-year-old woman from Anchorage, Alaska, shattered the three-year-old women's record on her rookie attempt. Wilcox shaved more than two days off the previous fast time, stopping the clock on the 2,745-mile event in 17 days, 1 hour, and 51 minutes. And despite her lack of experience and a nasty chest infection for the first half of the race, she finished sixth overall out of more than 150 starters.
But those stats are only part of the story. Leading up to the race, Wilcox rode—solo—the 2,100 miles from her home base in Anchorage to the race start in Banff. The whole journey, from Anchorage to Mexico, was the culmination of 10 months of bike touring, mostly with her boyfriend Nick, in Eastern Europe, South Africa, and Israel. It's the couple's longest stint in eight years of on-again, off-again travel that sees them home for a spell to work and save money and then away for as long as they can ride and support themselves.
We caught up with Wilcox a few days after she completed her record-setting ride. She seemed neither tired nor bothered by the fact that she was headed home to Alaska to work for a while. "It's all just part of the ride," she said.
OUTSIDE: For most people, a 2,745-mile race is the biggest thing they will ever do. But this was just a stop along the way for you, right?
WILCOX: My boyfriend, Nick, and I have been on the road for the past 10 months touring. We heard about this route in Israel called the Holyland Challenge, so we went over there to tour it. But the timing was right, and we decided to go race it. That was my first bikepacking race. And I thought, "If this goes well, maybe I'll do the Tour Divide."
So it went well?
It was rad. Actually, it sort of turned into a shit-show. They happened to have a lot of rain, and the terrain just turned into crazy, crazy mud that you couldn't ride through at all. So they had to stop the race, transfer us down south, and then restart it. When they stopped it, I was 40 or 50 miles ahead of everyone, but we restarted all together. I was the only woman, and you know these guys were like, "We're not going to let her beat us again." In the end, we rode about 600 miles of the 800. And I got second. I had a lot of fun.
You had only done one bikepacking race before the Divide?
Yeah, and before the Holyland Challenge, I had never used a GPS. Nick would navigate, and I'd just follow. I was always really bad with navigation. So during that race, I learned how to navigate, and that changed my life. I was like, "Hey, I'm never lost anymore. I have this GPS that tells me where I am. It's awesome."
But before the Divide, you figured you'd just do a 2,100-mile prologue. Doesn't that seem like a bad idea?
I wouldn't have raced the Divide without first doing the ride from Anchorage to Banff. I'm from Anchorage, and I had never taken that road down to the U.S., so I just saw it as an opportunity to see that connection. Everyone told me, "That's too much," and "Don't do it. Just take the ferry." But I didn't want to hear about it. I just want to do my thing. Obviously it's a hair-brained idea… [Lael laughs out loud at herself, as she does repeatedly through the interview.] But I mean, you know, go for it. I figured if it doesn't work out, who cares? I'll just move on. I could just ride somewhere else.
How was the tour down?
It was a lot of alone time, even more than the Divide. I'd go 100 mile stretches and see no people. It's all paved, but it still feels more remote. I saw like a hundred bears.
Actually, the ride from Alaska was mentally a lot harder than the Divide. No one really understood what I was doing. I was on the fringe. You're this weird girl out on a bike sleeping on the side of the road, and people look at you strange. For the Divide, people know what you're doing. They understand it. But when you tour by yourself, you're a loner. It's a cool experience, and I liked it. But it's nice to know that there's an end date, that I wasn't going to go on forever like that, being alone, passing through the world. You engage with people more quickly because you're alone. But it's the northern country up there. For a lot of people, it's like the end of the earth. There's a lot of weird stuff going on. Like people hiding from society. 
After that ride, you spent a week recovering and then started the Divide. How did it go?
The first day, I was riding really hard. I did 183 miles, and I was having so much fun. The weather was pretty bad. We had rain, freezing rain, and hail, and it was cold, and I felt that my lungs were starting to hurt, just burning. At first I thought they were just opening up, but then I got really short of breath, I was sort of gasping. I developed this sort of infection, though at the time I didn't know what it was and I just kept moving along. But I couldn't breathe, and after that first day I went slower. I walked a lot. And I was so tired that I had to stop early, like 9 p.m. every night.
In Helena, maybe six days in, I went to the urgent care. They took a chest x-ray and said I had some form of bronchitis, but that's sort of an overarching thing. It was just some sort of respiratory infection. So they gave me an inhaler, which really helped, and antibiotics. And in a few hours, I was feeling so good that I rode until 3 a.m. I wasn't better immediately, but in two days I finally felt better. I still had a pretty bad cough, but at least I could breathe. That was something like eight days in, at the end of Montana.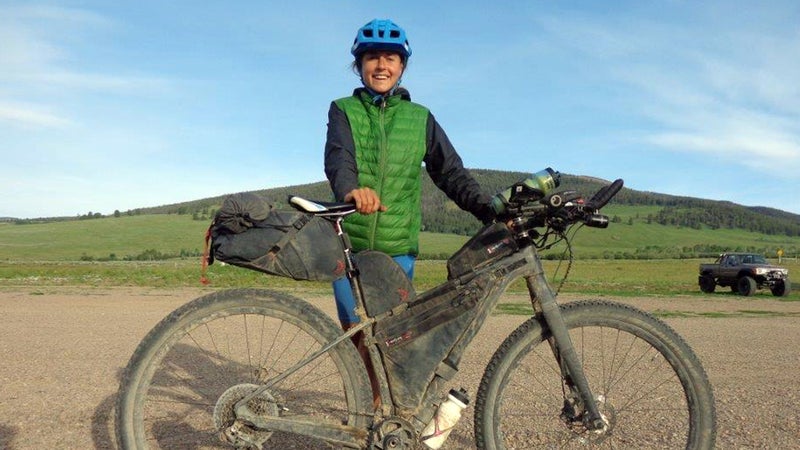 When you started, what was your goal? And did the sickness change that?
I wanted to ride as hard as I could. I planned to sleep four or five hours a night and just see how it went. I didn't have specific mileage or time goals. I knew about the women's record, but I didn't have a smart phone and couldn't monitor it. Sometimes when I saw people along the way, they'd tell me I was ahead of it.
And then you had some route issues in Wyoming?
I loaded the track for the racecourse before I left Alaska. That was on May 16. And I guess while I was en route to Canada, they updated the track. But they never posted anywhere that it had changed. So I was following the 2014 track, but I had no idea. I got to Pinedale, in Wyoming, and I got all these texts from Nick saying that I was off route and that I needed to go to the outdoor shop and get the new track.
Nick has been in touch with the guys who monitor the race. They were like, "I don't know about the race standings, but we'll definitely honor your course as the record because it's the same one that the previous record-holder rode." But I didn't think about going back. This was when I had just started feeling healthy again, so I wanted to keep moving forward.
How does it make you feel that your record will count but you won't get credit for the win? 
I don't know if it's been decided yet whether I'm in the official standings or not. And the whole thing makes me feel a little sad. I was really doing my best to ride the route and stay true to the spirit of the race. And with a technicality like this…I don't really want to engage in it because it hurts my heart. While I was riding, I was really worried that I was going to get disqualified. You feel like a kid who's in trouble, which is terrible because I was working hard to be honest and stay true. I did everything I could. And I guess I'm just grateful that I got to ride. I still got the record, and I guess that's more important than the race.
"It actually doesn't matter that you have a piece of shit bike or that you're a girl. The riding speaks for itself."
So do you think you would have been a lot faster if you'd not been sick?
If I had been healthy, yeah, I definitely would have gone faster. When I started, I just went as hard as I could and I figured that if I blew up, I'd work out something else. I guess that's sort of what happened with getting sick. It made me ease off. But yeah, without that illness I definitely would have gone a lot harder. 
So will you try again?
Yeah, I might. It could be cool. Not next week, but… [Lael trails off in laughter.] But this year the weather was good, too. The passes were clear. So harder conditions would be a different race. I don't know, it kinda creeps into your head, and then you have to just do it again.
Endurance racers always want to try again, but it usually takes awhile, especially after a big race. You definitely seem chipper for having just raced 2,800 miles.
I'm always chipper. [She laughs again.] I don't know. It's just obsessively riding. It becomes almost like breathing. Riding is how I learn about the world. It was great just to see all that terrain, to take it all in and be outside so much. The weather was so good that I was able to just sleep out every night. 
Did it ever feel dangerous to you?
Not on the Divide, but in Canada. There's this stretch of road from Prince River to Prince George, like 300 miles called the Highway of Tears. Lots of women have been abducted there, and there are signs that say stuff like, "She's gone. Why risk it on the Highway of Tears?" It feels terrible to be out there, and I was riding by myself. You look at the pictures and you think, "That girl looks like me." So by the third day I just had to get off that road. There was a huge rainstorm, and trucks were sending big waves of water over me, and I should have stopped. But I just had to get out of there.
Is doing a race like the Divide different for women than men?
People want to be more involved with you when you are a woman. They want to help you more, which is nice, but it can also be kind of frustrating. On the Tour Divide, people would come out to see me, and it's like they felt like they were my friends already even though I didn't know them. I guess people can relate to me more than they can to the men. It's easy to look at these racer guys and think, "Man, I don't have that kind of ability." But they look at me, and they're like "If this little girl can do this, maybe I can do something." And that's good. I want to empower people, to inspire them. I mean stop making excuses. At least try.
So do you consider yourself the race's fastest woman or just a fast racer?
Results speak. People talk a big game about what they can do and what somebody else can or cannot do. People would treat me like a joke, especially in Israel, where women aren't as active and I was racing on really crummy equipment. But that's the exciting thing about a race. You enter, and you get your result. And no one can take that away from you. That's just how it is. It actually doesn't matter that you have a piece of shit bike or that you're a girl. The riding speaks for itself.
Lead Photo: Eddie Clark