Heading out the door? Read this article on the new Outside+ app available now on iOS devices for members! Download the app.
Winter's first flakes flew in Santa Fe today, and it got me thinking about snow bikes. Total gimmick, right? That's what I thought until I spent last season on a Surly Pugsley. And I have to tell you, it's pretty dang fun. Chugging up Santa Fe Ski Hill on a bike rather than skins was a totally different kind of workout, and the double takes from downhilling skiers was priceless. Better still, slipping and careering down 2,000 vertical feet on four-inch rubber doughnuts gives that same on-the-verge-of-control feeling of exhilaration as driving on ice—minus (most of) the dire consequences. And for those who thought snow bikes were as fleeting as a spring dump in Denver, there are almost as many of them out there these days as there are meteorologists who missed the forecast again. Here are a few highlights.
–Aaron Gulley
www.aarongulley.com

Moots FrosTi Steamboat-based titanium frame builder Moots has been creating custom snow bikes for years for friends who raced, including none other than Mike Curiak. For the first time, the company will produce a limited run of its fat bikes for the public this season. At $3,975 for the frame alone, they aren't cheap, and given that orders must be placed by November 1, you might need to either cash in some of those stock options (or sell a pair of skis) to make it happen in time.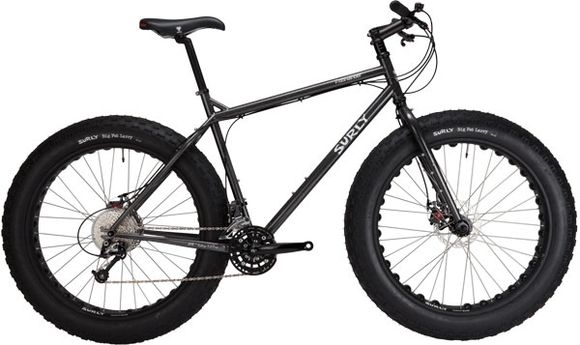 Surly Moonlander The company that's been pimping the Pugsley for the past few seasons ups the ante this year with this aptly named big bike. Compared to the Pugsley, which sported 3.8-inch tires, the Moonlander's 4.7-inch Big Fat Larry tires are absolutely colossal. And the 100mm Clown Shoe Rims (versus 65mm on the Pug), which are perforated to save weight, not only provide lots more float but also add a comical, and somehow irresitible bulbous effect. The complete ensemble goes for $2,350.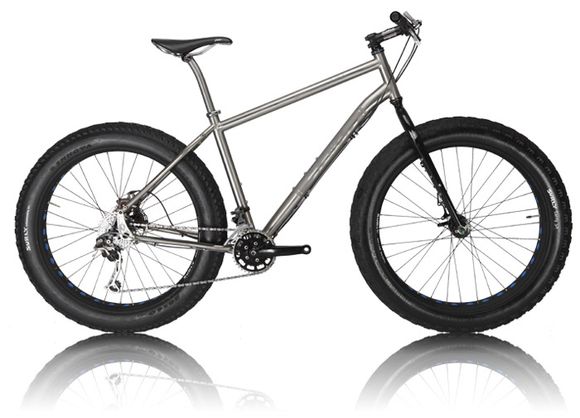 Salsa Mukluk Last year, as Surly won all sorts of attention with the Pugsley, Salsa quietly unveiled its own snow bike, which immediately won a small but devoted following. The company didn't change the bike design for 2012—why mess with geometry that's effective? But they threw their weight behind the trend by unveiling a full line of Mukluks, including a top-shelf titanium frame and two complete aluminum bike options. Salsa is also offering made-to-fit frame bags for Mukluks size medium and up.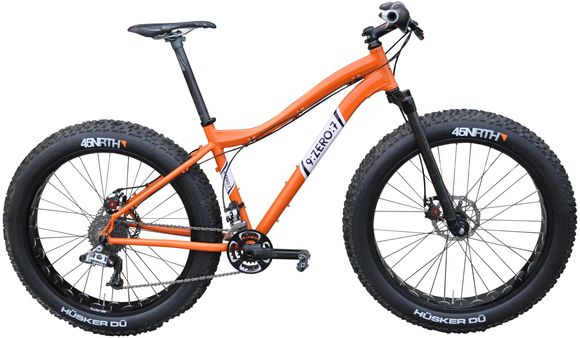 FatBikes 9:Zero:7 Named after the area code for Alaska, the 9:Zero:7 is redesigned for 2012 with hydroformed aluminum tubing for increased standover and stiffness. The frames come in two options, a 135mm version that adopts the offset chainstay design of the Pugsley and a 170mm centered version that makes building up a pair of summer wheels easier. All frames are equipped with six rack mounts, three water bottle mounts, fender mounts, and full cable housing and sell for just $600 for the frame only.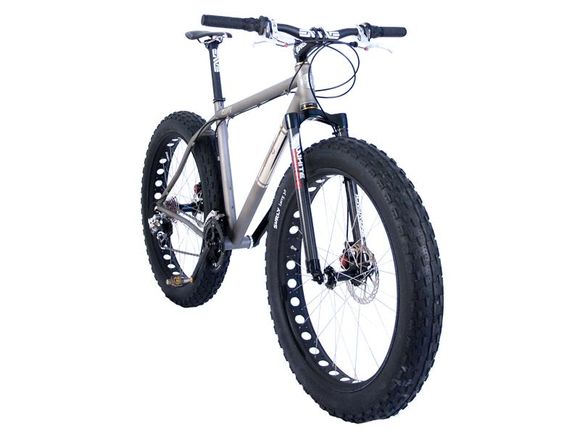 Twenty2 Cycles Bully This recently launched company is building steel and titanium fat bikes including White Brothers SnowPack rigid carbon fork. The company offers the bike in both 1×10 and 3×10 build kits and can customize just about anything else to fit your needs. They are also compiling a race calendar of events that cater to the fat bike crowd.