Ladies: Want to Ride Across Alaska? Here's Your Chance
Take a page from Lael Wilcox's playbook and go long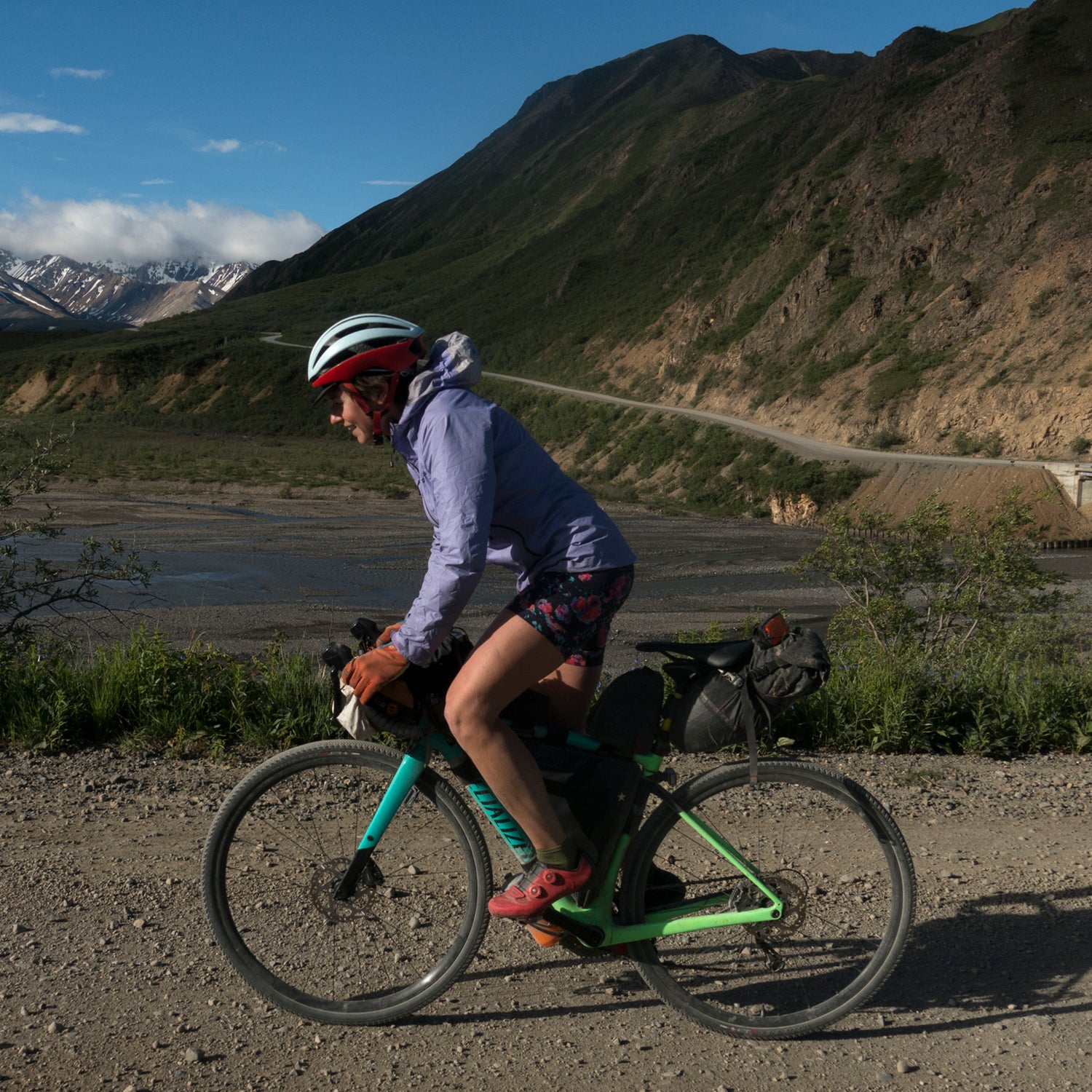 Rugile Kaladyte(Photo)
Heading out the door? Read this article on the new Outside+ app available now on iOS devices for members! Download the app.
Lael Wilcox talks about cycling in the nonchalant, unflappable way that Steven Hawking probably discusses theoretical physics. Speaking from Tucson, Arizona, about her upcoming riding plans for the next couple weeks, Wilcox says, "I'm going to Specialized to pick up a new bike. Then I'll ride it back." It sounds like she's headed over to a local shop, but the truth is she's flying to Specialized's headquarters in Morgan Hill, California, and will tour back—1,130 miles—on the new bike. Oh, and she'll only be gone a week.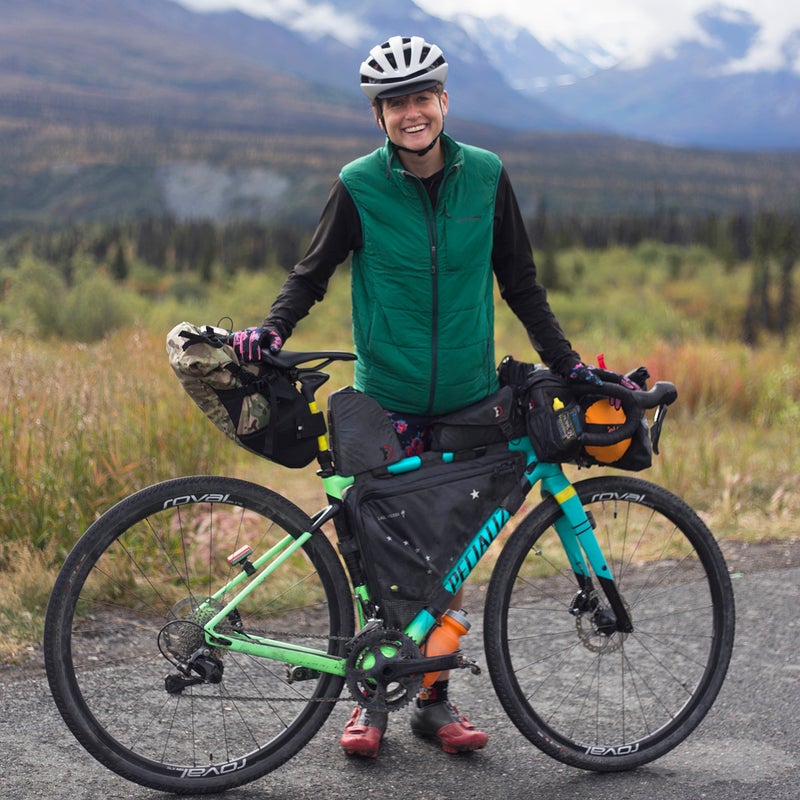 It's safe to say that Wilcox, at 31 and less than four years into her riding career, is a bit of a cycling prodigy. You might even call her a freak. The year her boyfriend, Nick, got her into riding, she entered a 600-mile mountain bike race called the Holyland Challenge on a whim and placed second overall. The following year, Wilcox shattered the women's record on the 2,745-mile Tour Divide by more than two days, then returned a month later to shave almost two more days off her own time. That's right, she rode the course twice in a single summer, and yes, she's ridden it faster than pretty much anyone in history. In 2016, Wilcox won the TransAm Bike Race outright, beating 65 riders on the coast-to-coast ride. During the winter of 2017, she helped launch an epic new bikepacking course, the Baja Divide, then rode the fastest known time on it.
All of this is to say that Wilcox thinks big and has the legs and heart to back it up. And while you might expect her to be some puffed-up, finely honed über-athlete, she's actually a weedy, unassuming, rail of a brunette who rides in baggy shorts and a T-shirt and looks like the perpetual newb. But woe to anyone who underestimates her.
Case in point: After speeding across Baja, which would leave most people craving a beach vacation, Wilcox decided to take on an idea she'd been brewing for a couple years—to ride all the major roads in Alaska. "I'm a fourth-generation Alaskan. My grandfather was born in Fairbanks, and my family had stores in Cordova and Seward," she says. "I've never been to some of these places. And I just decided that it was important to go and see them, to know what their lives were like and know my home. Besides, there are only ten major roads, maybe 12."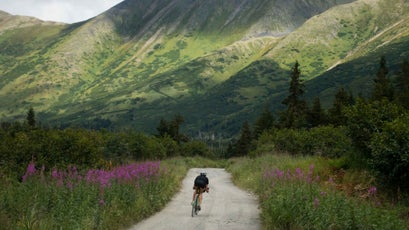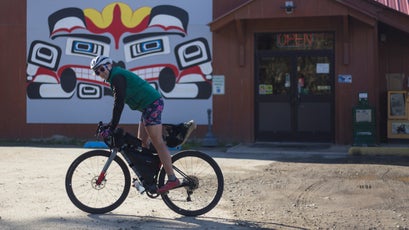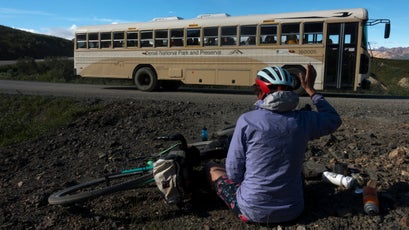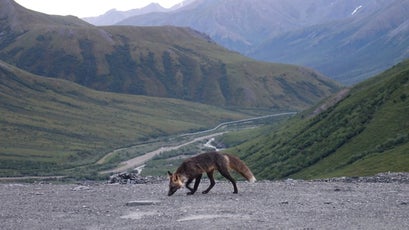 Coming from Wilcox, that sounds as casual as ever, but it's worth remembering that Alaska is also three times the size of Texas. A few months and 4,500 miles later, Wilcox had ridden them all. Pretty much. "There are still some roads out there I want to do. There are 90 miles on Kodiak Island and 300 or so of logging roads on Prince of Wales Island. But I had some family stuff come up, and anyway, I saw a lot." The fact that she puts an asterisk on such a monumental feat speaks to Wilcox's outlook and drive.
Following the ride, Wilcox, who runs a girl's cycling mentorship program called Anchorage GRIT, was so jazzed up over the experience that she decided to launch a scholarship to allow another woman to follow in her tracks. Applications for the Lael Rides Alaska scholarship program opened on February 1 on Wilcox's blog, Lael's Globe of Adventure. Applicants will be judged on their stories and the 1,000-mile itinerary they craft. The winner will receive a Specialized Diverge bike and gear, Revelate Designs bikepacking bags, Big Agnes camping equipment, Patagonia apparel, and a $1,000 stipend to make her Alaska ride happen this summer.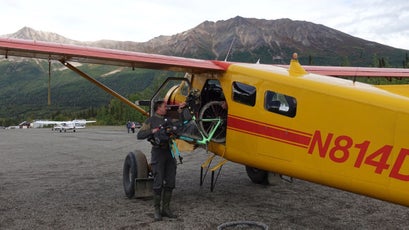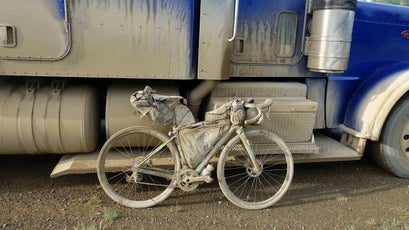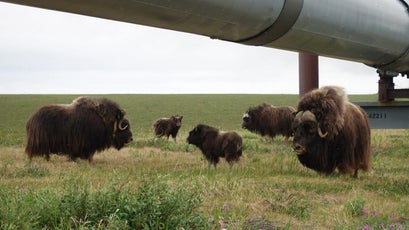 Wilcox sponsored a similar scholarship last year for the Baja Divide, and more than 200 women applied, ages 19 to 63. "I was like, 'Woah, this is a lot of people who are willing to take off six weeks to go ride.' And there are so many great people and stories out there, it was so hard to pick," Wilcox says. "But the coolest part was that even though we gave the prize to just one of them, more than 30 of those women ended up going out and riding the route."
Through all her wild adventures and record-setting races, the thing that maybe inspires Wilcox most is simply motivating people to get out and ride. "For me, bikepacking and bike touring weren't on my radar before I started. I wouldn't have gotten into it without Nick," she says. "So I'm hoping that my putting this out there may give a few women the opportunity." Wilcox says she's just "opening people's eyes."
And she's not done—hardly—though that's difficult to tell from her insouciance. Talking about her plans after the Specialized pick-up, Wilcox says, "Nothing big. I'm leading some endurance gravel camps in Patagonia in February and March, doing the Anchorage middle-school mentorship program in April and May, and then planning to race this summer. Maybe the Navad 1000 in Switzerland, maybe the Tour Divide, maybe the Silk Road Bike Race in Kyrgyzstan." Nothing big, as usual.
Lead Photo: Rugile Kaladyte