Look Ma, No Training Wheels! The Best Balance Bikes
"It's like learning to ride a bike" just got a whole new meaning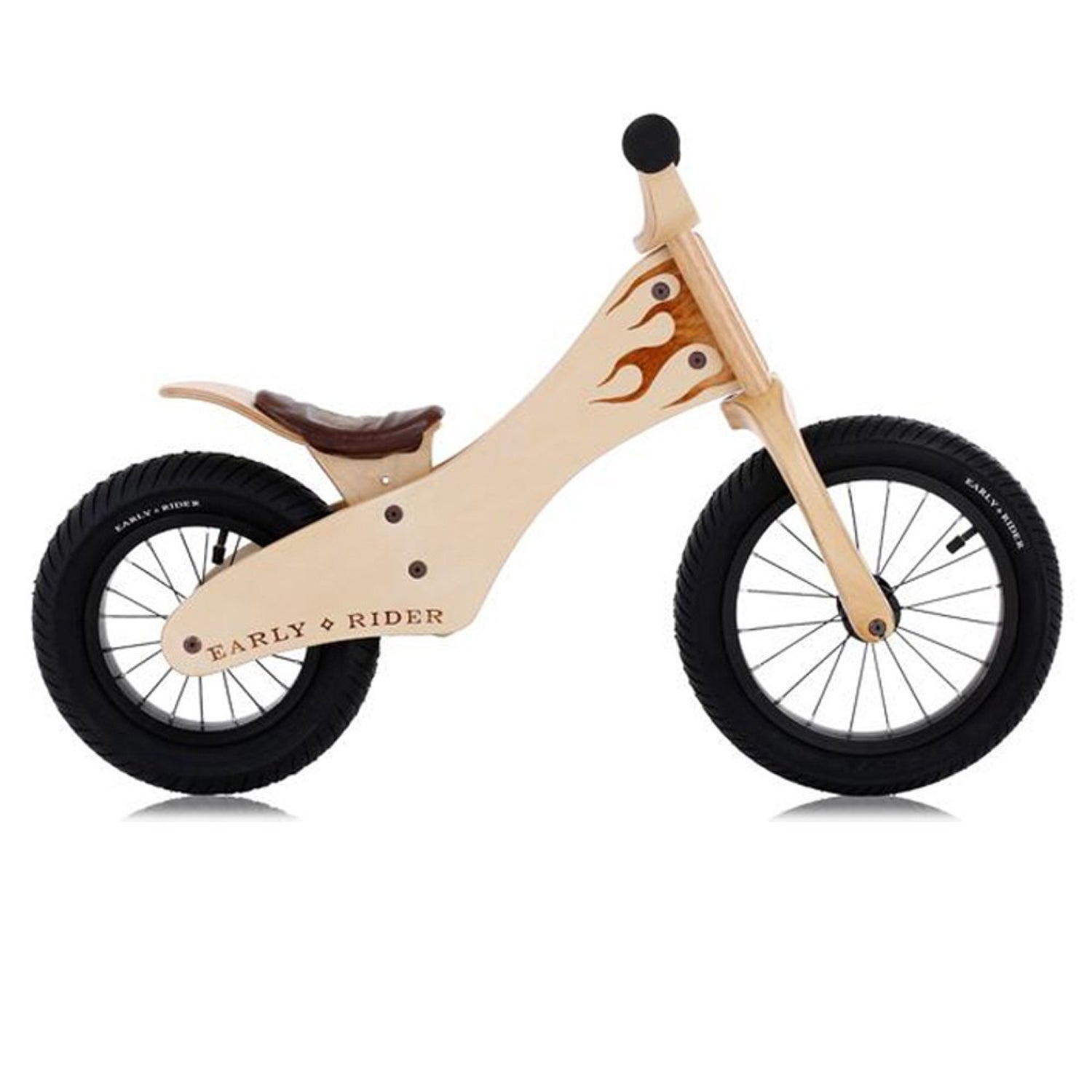 Heading out the door? Read this article on the new Outside+ app available now on iOS devices for members! Download the app.
Learning to ride a bicycle can be brutal for both kids and parents alike. But those endless sessions of running alongside your tike and bandaging up bloody knees can be avoided altogether by incorporating a balance bike into your kid's training.
Balance bikes—pedal-less cuisers that are low enough to the ground so kids can put their feet down—are not only fun, but easily teach kids how to balance and steer without the terror of falling over. "They are designed so the kid has a little stand-over height and a place to put their feet when they are coasting," says Lester Binegar, general manager of University Bicycles in Boulder, Colorado.
"Training wheels train kids how to not balance a bike," Binegar continues. Balance bikes teach—surprise!—balance, a main component of cycling that makes everything else related to riding a bike easier. "Once the kid has the balancing down for a month or so, the parent should move them to a bike with pedals."
Binegar recommends waiting until your kid is at least two-and-a-half to three years old to get him or her on a balance bike. At that age, children are able to balance and steer at the same time and will fit properly on the bike. Most balance bikes don't come with brakes, so Binegar recommends starting off on a flat surface. For more of a challenge, head for a little downhill.
There are plenty of balance bikes on the market, with frames made from both wood and metal. And some of those rigs are really more toy than bike. The more expensive balance bikes are made like adult bicycles, minus the drivetrain and other components. "There's even a few models that allow for easily removing the drivetrain until the kid gets the balance," Binegar says. "Then you put the crank and pedals back on and off they go."
Here are our top picks to get your little rider off and cruising.
1. Ridgeback Scoot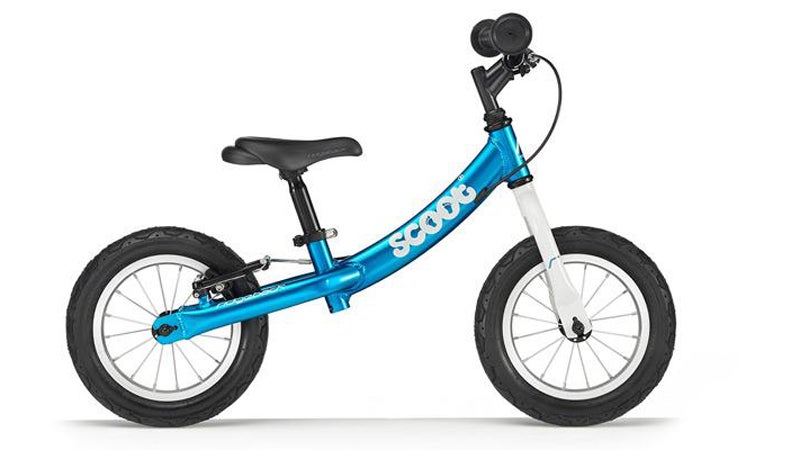 According to Ivan Altinbasak, the owner of Wee Bike Shop in Warwick, Rhode Island, the Scoot by Ridgeback ($135) is the rock star of balance bikes. From the frame to the handgrips, it is completely customizable. And adjustable—the seat height can be increased by six inches, which means kids up to 6 years old can hop on comfortably. Maintaining control is easier, too, thanks to a longer wheelbase and handlebars than other balances bikes. Bonus: because this is an actual bike (and not a toy) any maintenance or repairs can easily be done at a regular bike shop.
---
2. TooToo by Yedoo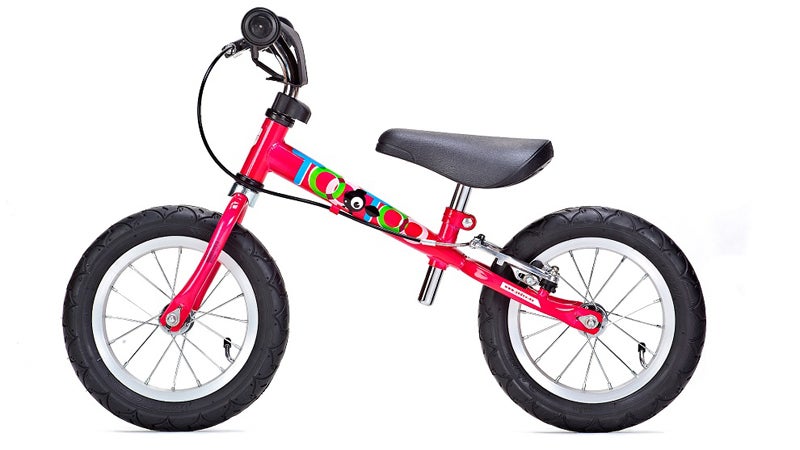 The TooToo by Czech-company Yedoo ($130) is on the lighter end of balance bikes but still has top stability and high-end features, such as brakes, an upholstered seat, wide-end grips, and backstops to prevent the handlebars from doing a 180. The aluminum version weighs in at just more than eight pounds. Using an Allen wrench, the seat is adjustable up to five-inches, so it can grow as the kids grow, or the bike can fit multiples siblings, so long as sharing isn't a problem.Full-Column Inline Image with Caption:
---
3. FirstBIKE Limited Orange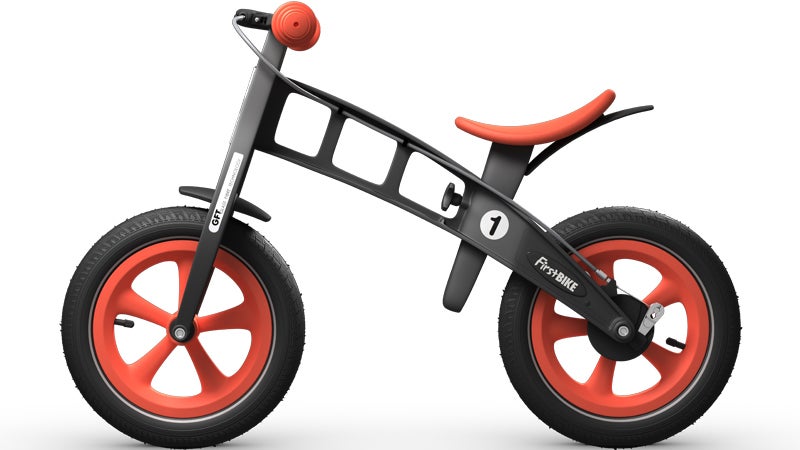 Although FirstBIKE's cruisers are technically toys, the Limited Orange balance bike ($200) is designed by German cycling professionals and doesn't skimp on safety. The bike accommodates ages two to five thanks to a four-inch adjustability in the seat, has a Safety Stop Brake System, a no-slip saddle, and a steering limiter so sharp turns won't lead to bloody knees. The bike is made from durable nylon, which won't rust or leave paint chips everywhere.
4. Early Rider Classic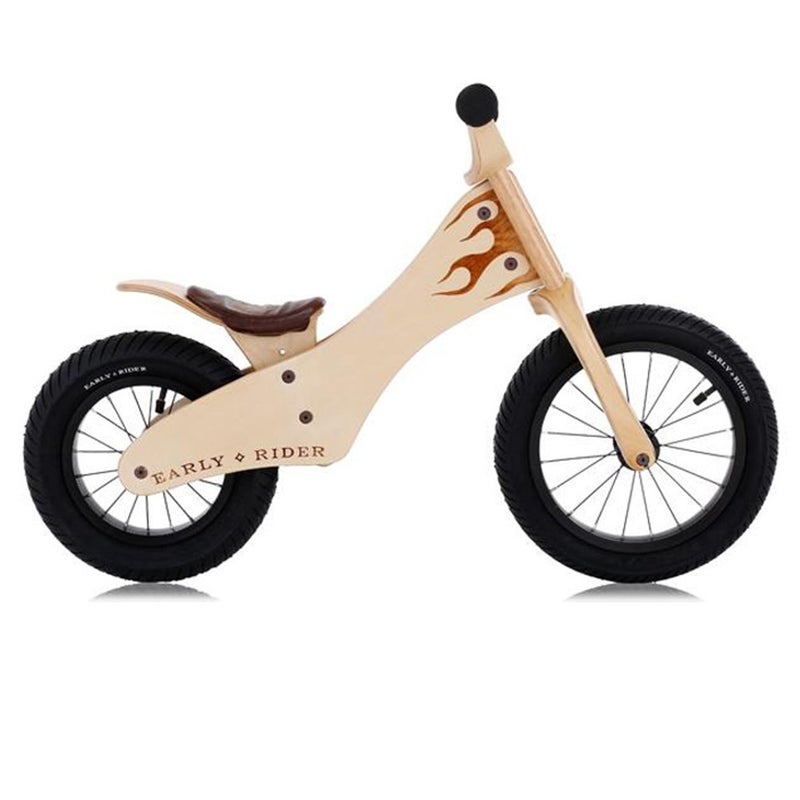 Thanks to the flame detailing, customizable seat and grips, and the wheel set up (14 inches in the front, 12 inches in the rear) you'll have a badass biker in no time. Although more expensive ($180) then some models, this seven-pound wooden bike is made from marine-grade Birch, which is essentially weather-poof. A removable turning limiter along with recessed bolts keep your little ones safe. The Classic is recommended for ages two to four-and-a-half years, but Easy Riders makes models for older kids, too.
5. Wishbone 3-in-1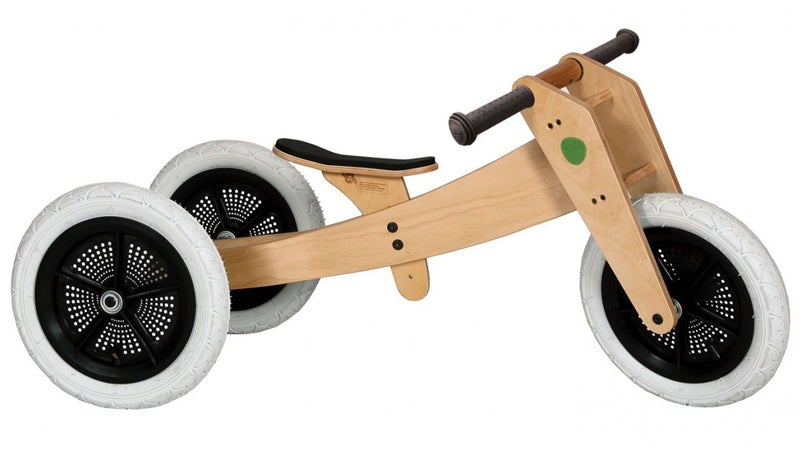 The natural birch Wishbone 3-in-1 ($230) is one of the most versatile balances bikes on the market. It transforms from a three-wheel trike to a two-wheeled balance bike to full-blown glider with a flip of the frame and a raise of the seat. With a seven-inch adjustable seat, it can accommodate kids from one to seven years old.
6. KinderBike Laufrad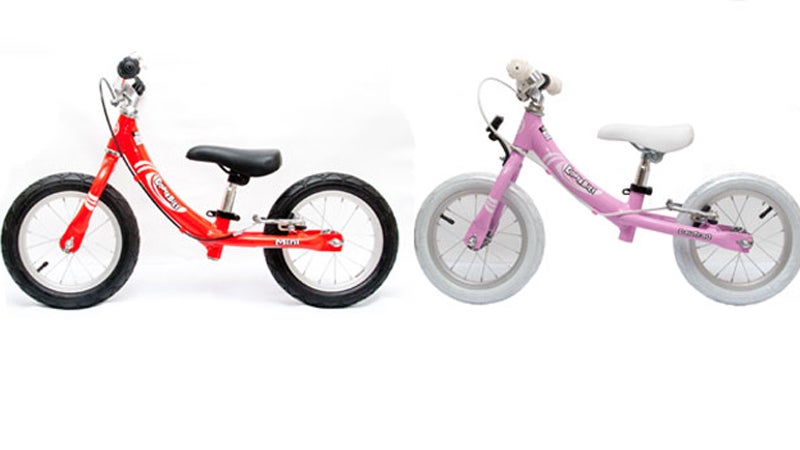 The rugged and sporty Laufrad by KinderBike ($119) doesn't disappoint, though it works best for kids two to four years old. The durable bike boasts air tires and an aluminum frame, along with a five-inch adjustable seat that not only moves up and down, but also front to back.
7. LIKEaBIKE Mountain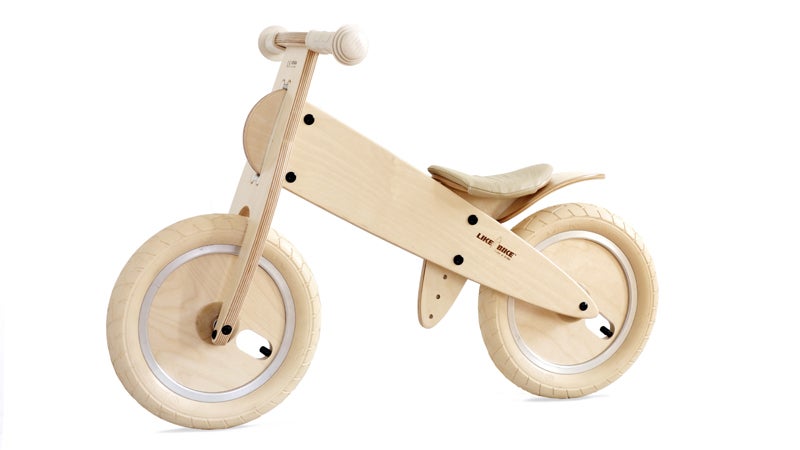 Another wooden model, the 7.7-pound LIKEaBIKE Mountain ($315) uses laminated birch to create a sleek frame perfect for kids aged two years to five. Customize your ride with five different colored saddles, and adjust the seat up for four inches. Rubber handle grips and pneumatic tires make for comfortable riding both indoors and out.
8. Strider Sport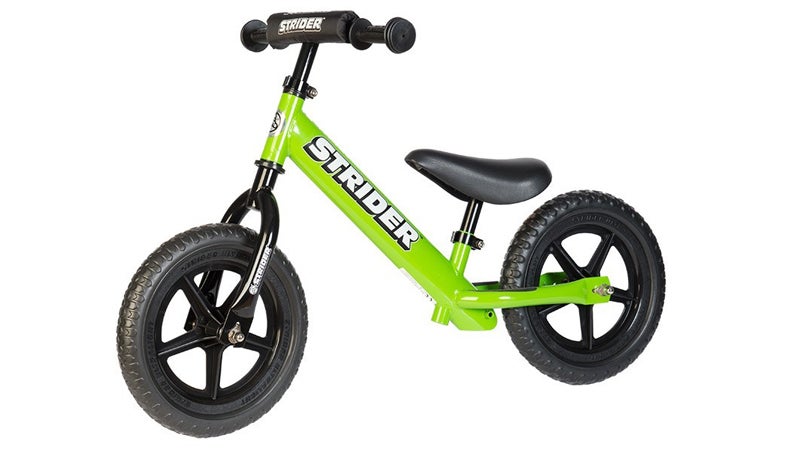 Perhaps the most recognizable brand for balance bikes, South Dakota-based Strider was founded in 2007 and now sells more than 700,000 bikes around the world. The popular Sport model ($119) checks in at 6.7 pounds and, with a five-inch adjustable seat post, is ideal for kids 18 months to five years old. The Sport comes with a brake mount, foot rests, and protective ends on the handlebars. Unlike some balance bikes, the Strider uses foam tires, which means no flats. It also means once your kid gets into tricks at the bike park, you might want to upgrade to something with more traction.
9. Specialized Hotwalk Boys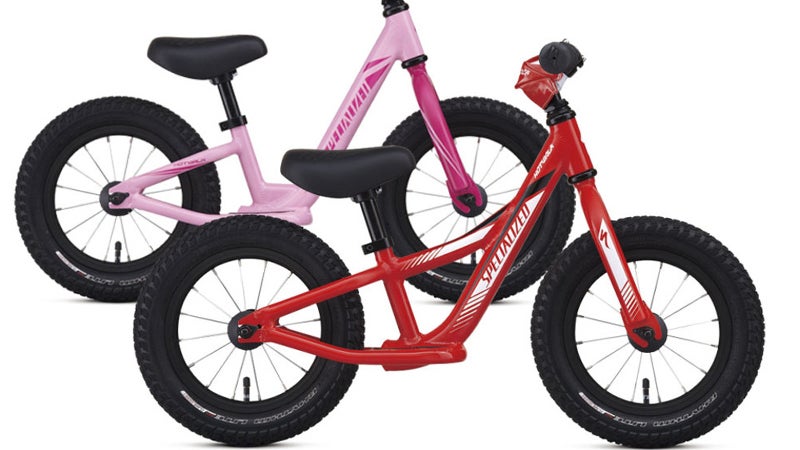 We love Specialized bikes for adults, so it's no surprise that the company's kids' line impresses, too. Perfect for your future mountain biker, the Specialized Hotwalk ($175) comes with Specialized Rhythm Lite Sport tires, soft grips, and feet platforms for endless riding. Children will be keeping up with parents in no time.
10. Kundo EVO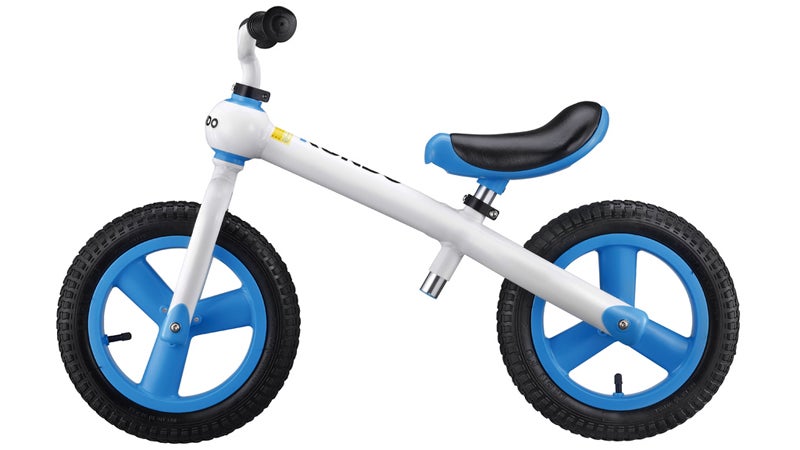 At only 7.1 pounds, the Kundo EVO ($150) is a good choice if you're going to be hauling your ride from the house to the park and back. The lightweight, one-piece aluminum frame boasts modern, European styling with tri-spoke wheels. No protruding and a padded saddle aid comfort for kids, and an integrated carry handle is useful for mom and dad.