Looks Great, Rides Even Better: The Niner RLT 9
Before criticizing the gravel bike movement, throw a leg over Niner's impressive new RLT 9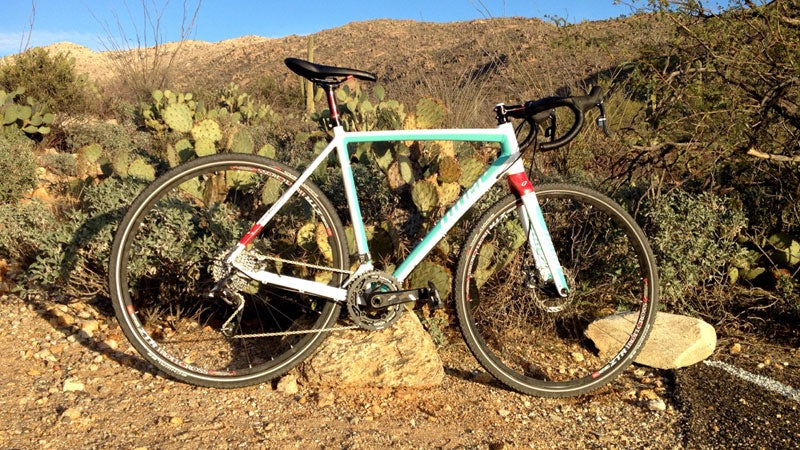 Heading out the door? Read this article on the new Outside+ app available now on iOS devices for members! Download the app.
Cyclists have recently maligned the term "gravel bike." Fed up with the constant barrage of new wheel sizes, head tube and bottom bracket standards, and proprietary seat post shapes, consumers grouse that gravel bikes are little more than cross frames repackaged for profits. Meanwhile, industry vets who have made cross frames for decades voice similar objections, except their objections probably stem from being cut out of the pie.
Yet no one can deny the growing movement of well-attended gravel road races. Just look at the granddaddy of them all, the Dirty Kanza 200, which filled up within a few hours of opening. Before dedicated gravel bikes arrived, racers modified everything from road bikes to mountain bikes for such events.
In recent years, many manufacturers even assisted racers by making bikes that don't need modifications to succeed. These new gravel frames typically have lower bottom brackets for high-speed stability, internal cable routings to keep the workings safe from the dirt and rocks, lots of tire clearance, and plenty of space in the main triangle for carrying water and other supplies.
Enter Fort Collins, Colorado, company Niner's first foray into the road bike market, the beautiful RLT 9. Representing the Road Less Traveled, the bike is one heck of a freshman effort. The Fresh Mint color scheme on the hydroformed aluminum frame had our testers turning circles on the RLT in the parking lot days before testing. The chunky carbon fork impressed as well.
Our tester, the first of its kind available in the United States, was equipped with the four-star build ($3000), meaning SRAM Rival components with hydraulic disc brakes, Stan's Iron Cross tubeless wheels, lots of gorgeous color-matched Niner carbon bling in the cockpit, and Schwalbe Sammy Slick 35mm tires.
Despite the RLT 9's great looks, it was even more impressive to ride. We found a five-mile out-and-back trail in East Saguaro National Park that was fast and hard-packed with enough sand, ruts, and steep uphills to put the gravel steeds through their paces. The Niner laughed all of it off like it was asphalt.
It's exciting to ride a bike this efficient on trails because you can hammer speed in ways a mountain bike makes impossible. The chunky carbon fork muted the blows and the Sammy Slicks held slippery corners better than larger tires. The long top tube added the necessary confidence for sharp descents, and the disc brakes made us wonder how we survived when only the rim variety existed. The sole change we'd suggest would be to switch from aluminum bars to carbon ones for additional damping comfort, though that would spike the bike's cost.
Say what you will about "gravel bikes," but if the trend continues to inspire companies to build bikes this good, we're all for it.