Meet the Hunting Company Making Our Favorite Backcountry Gear
First Lite, a small apparel operation out of Ketchum, Idaho, is one of a growing number of crossover designers producing gear that works equally well for riding, skiing, hiking, and hunting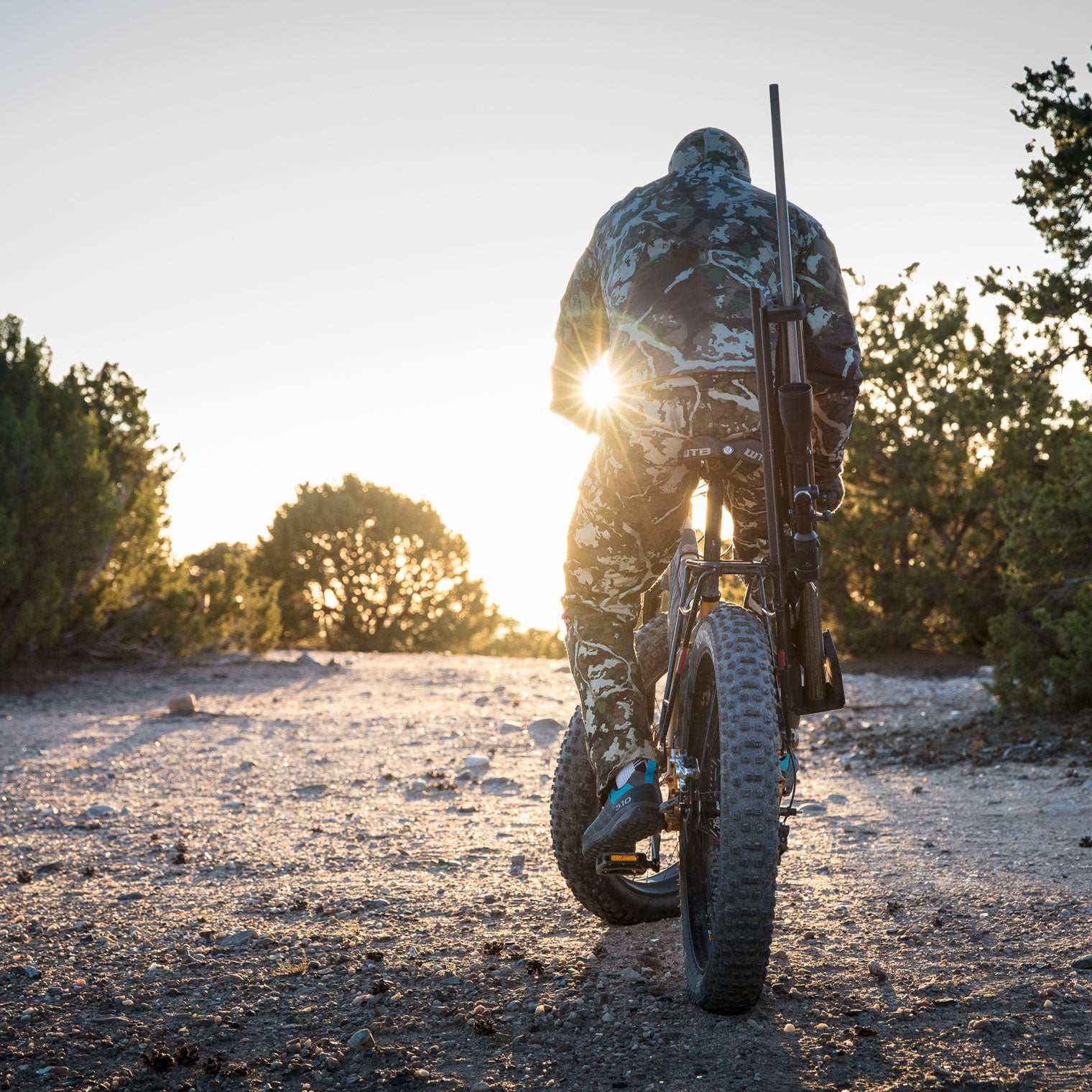 Heading out the door? Read this article on the new Outside+ app available now on iOS devices for members! Download the app.
An hour before sunset, Scott Robinson pushes his bike past a Forest Service gate and leads me onto the nine-mile, 2,000-vertical-foot pedal to Coyote Yurt in Idaho where we will spend the night. Robinson is co-owner of the small hunting apparel company First Lite. He and his crew have invited me to the mountains outside Ketchum on the eve of rifle deer season to test their gear, check out what the company is about, and, with any luck, fill the freezer.
There has been talk in recent years about the convergence of the hunting and fishing industries with the more adventure-oriented outdoor markets, and First Lite embodies the trend. Dressed in camouflage pants rolled to the knees like pirate pantaloons and a T-shirt with the image of an elk and the phrase "Hunt to Eat" superimposed on the silhouette of Idaho, Robinson, 46, is carrying a 30-pound backpack with a 30-06 rifle in the center scabbard and pedaling a featherlight Scott Scale 700 RC carbon race bike.
"Yes, I like to hunt. But I like to go fly-fishing, too. I like to ride my bikes, and I like to ski in winter," he told me on the way to trailhead. In addition to First Lite, Robinson owns a backcountry ski hut called Wintertux, where he spends chunks of his winter. "A lot of the hunting we do is in the mountains and backcountry. I think of it like mountaineering for food."
Over the next three days, Robinson and his partner, Kenton Carruth, will lead me all over the jaggy Sawtooth Mountains in pursuit of mule deer. We'll head out well before light every morning and return long after dark. We'll all use bikes to pedal to almost 9,000 feet, slog on foot up and down 1,000-foot scree slopes, and see some magnificent country.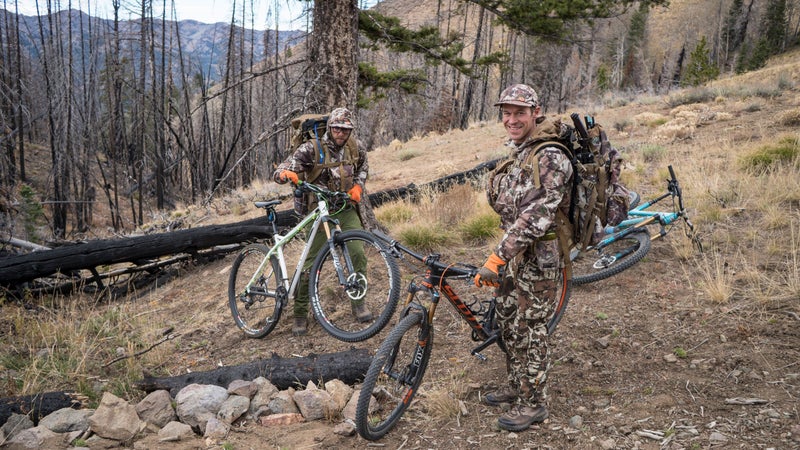 Domestic hunting jumped by more than 9 percent between 2006 and 2011—the last time the U.S. Fish and Wildlife Service surveyed the market—and at least part of that growth is from an expansion into the broader outdoor markets of hiking, camping, skiing, and mountain biking. Companies like Sitka, founded with the help of an ex–Mountain Hardwear senior employee and purchased thereafter by W.L. Gore, and Maven, started by an alpinist and Brunton defector, make gear for both the hunting and traditional outdoor worlds, creating a bridge between the two. Brands that historically had no involvement in the hunting world are also training their sights on this market: QBP, the biggest cycling distributor in the United States, owns Cogburn, a brand of fat bikes equipped with rifle and bow racks; Smith Optics has absorbed its tactical unit into its sport division in part to address demand from athletes for mil-spec-rated gear; and Icebreaker sells its Kiwi merino in camo patterns.
In a roundabout way, First Lite got its start thanks to Icebreaker. When the New Zealand–based apparel company came to the United States, it set up shop in Ketchum, Idaho, where Robinson was in charge of international sales for Smith. Robinson's friend and future partner, Carruth, was an outdoor photographer at the time, shooting for Smith and Scott, also then based in Ketchum. Once they'd been turned on to Icebreaker wool for skiing and hiking, the two friends realized the gear would be perfect for hunting—except for the chipper colors. After some research into the tricky process of printing on merino and discovering only one company was doing it at the time (for the Australian military), First Lite licensed the technology and launched in 2007 with a small range of camo-sublimated merino wool pieces. The company has since added synthetic insulation, down, and waterproof-breathables to its offerings, though merino is still the foundation of its line.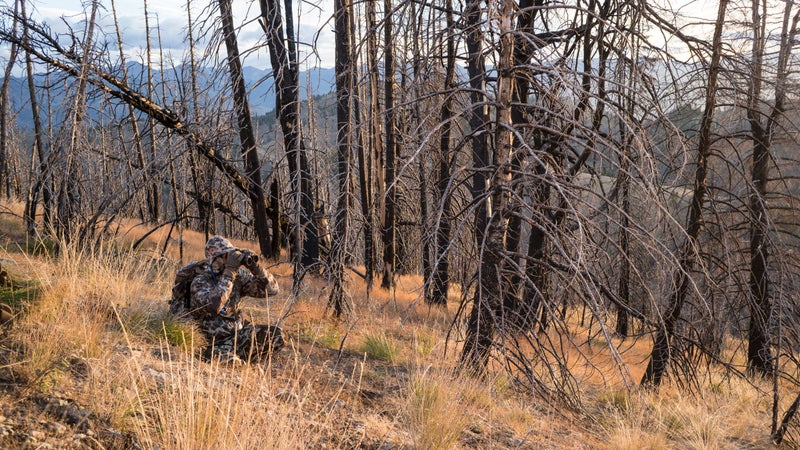 I've used and tested gear from pretty much every major outdoor manufacturer over the past two decades, and an interesting thing has happened of late: I've started favoring gear from hunting companies such as First Lite, Kuiu, and Sitka. Compared with some outdoor brands, where the biggest selling point can be a new colorway, these companies are working hard to innovate and make venturing into the woods easier and more comfortable. In addition to camo, most of this gear comes in earth tones and solids, which makes it plenty versatile for everyday use.
The First Lite crew doesn't talk about these things or pitch me on their gear. I'm constantly badgering them with questions. They are stoic, Western cowboys: understated, comfortable with long pauses and empty space.
That's a good thing for hunting. We walk the scrubby, sage-pocked mountains in silence, stopping frequently to study tracks and glass the hillsides with our binoculars for animals. The first morning of the hunt, we hike six miles at 9,000 feet and see exactly zero deer. But then, an hour before sunset, Robinson spots what we think is a big buck, 500 yards straight uphill. I make a long, vertical stalk on the animal, and about the time I get him in range to discern that it's a monster of a mule deer, a spike elk blunders in and startles it off.
I've sensed this attitude among nonhunting friends that harvesting an animal is as simple as strolling out and popping it. It's true that high-powered rifles and tools like GPS and spotting scopes make it easier. In fact, many of the First Lite guys generally hunt only with bows in an effort to level the field. But even with a rifle, it's not easy. On our second night, we side-slope for 45 minutes on a north-facing pitch covered with deadfall before setting up on a rocky perch to spot animals in the cirque above us. Eventually, Ryan "Cal" Callaghan, First Lite's director of conservation and public relations and one of its toughest field testers, says he has two deer in his sights. Even through the 50-power spotting scope, it's tough to tell if they are bucks. A half-mile and a thousand vertical feet of scree separate us from the animals, the sun is about to set, and I wonder aloud if this is realistic.
"It's not going to be getting groceries," Cal says simply.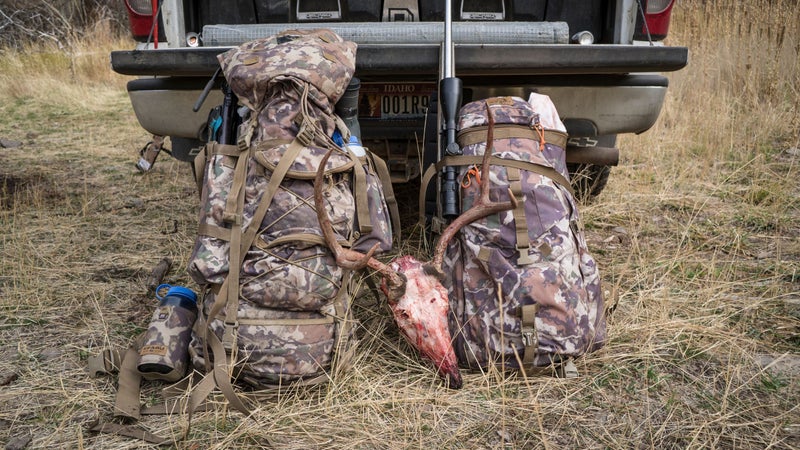 I figure we'll never see those bucks again, but after a brutal hike and lots of tracking, we come on them at dark. It's a straight uphill shot, and before I can set up, the animals disappear into the next valley. I sprint upslope for 150 yards, gasping and slipping on the scree, but they've vanished into the night by the time I gain the ridge. It's two hours of hard hiking in the dark back to the truck and an hour of driving back to town, yet it feels like a successful night, empty packs and all. The moon is coming up, and it's good to be in the mountains.
Throughout my visit to Idaho, nobody seems stressed about getting a deer. It feels like it's about being in the woods and showing me some cool country, the same way I feel when people come to Santa Fe and I get to take them out to ride my favorite trails. Cal underscores the feeling on the hike back when he starts talking about the importance of public lands. We've been walking all over National Forest for the past few days. Given all the hunting that's done on private ranches, land conservation isn't always equated with hunting. But First Lite spends 2 percent of its gross sales to directly support land and wildlife advocacy. "The outdoors is the playground we depend on to do what we love," Carruth says. "Hunters are far more invested in conservation than most people believe."
We don't see any deer on day three, and I assume the hunt is done. I'll have to get my meat for the year later in the season. But Cal cajoles me into going out one last time on day four, despite my noon flight home. It's just him and me, and after spotting deer high on the mountainside in the gloaming, I manage to shoot a buck on a rugged slope at first light. We clean him and carry him together, and I make the TSA line with tenderloins in my backpack and blood still on my hands. I will eat beautiful steaks for dinner, but more important, I'll dream of high mountains and the new friends who showed them to me.
Lead Photo: JJAG Media