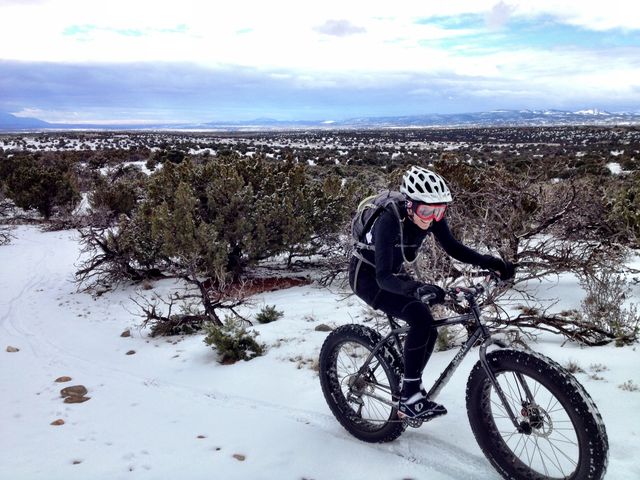 Heading out the door? Read this article on the new Outside+ app available now on iOS devices for members! Download the app.
Earlier this week on a side street in Santa Fe, I passed a guy bike commuting the opposite direction from me. He was riding a fat bike.
Like any good cyclist, I'll often crane my neck to see what a passing rider is pedaling or what pretty frame is adorning the roof rack of that Subaru. But this time I nearly crashed looking because, other than the handful of fat bikes that come through the Outside offices for testing, this was the first big wheeler I've ever seen in my town. In addition to the fatty, this guy was wearing royal blue short shorts and technicolor knee socks—as if he needed more than the monster truck tires to draw attention to himself.
What you have to understand is that Santa Fe is no Boulder, Colorado. No Portland, Oregon. A small contingency of dedicated cyclists lives and trains here, but this is no bastion of cycling culture. So the arrival of fat bikes in Santa Fe is akin to the arrival of, say, women in military combat positions—it's a sign that the trend has moved from outlier to mainstream.
Fat bikes, which for me started as a passing fancy—my editors rolled their eyes a little bit a few years ago when I first argued to put the Pugsley alongside all the other bikes in print—have turned into a fast-growing and viable segment of the bike market. Surly's offerings have swelled from a single fatty to four complete bikes (including the uproariously fun Moonlander), and Salsa has three full specs of its Mukluk and a new race-oriented bike called the Beargrease. And yet dealers will tell you that because demand is so high, it's virtually impossible to actually get a Salsa or Surly without a lengthy wait. Fortunately, dozens of boutique companies are also now manufacturing fat bikes (think: Speedway, 9:Zero:7, Hanebrink, Schlick Cycles, Twenty2 Cycles, Moots, etc.), so the spread of fat bikes continues.
Meanwhile, the venues for fat biking also continue to swell. Once reserved for a few crazies willing to brave the grandaddy of all snow bike races, the Iditabike, fat bike races are popping up all over the country, from New England to the Pacific Northwest. This weekend, almost 100 cyclists will line up to take on the Arrowhead 135, a frigid endurance event in the far reaches of northern Minnesota, and there's movement in the west for an organized fat bike race series for the 2013-14 season. The nation's largest cross-country ski area recently opened some of its trails to fatties, and I've heard of half a dozen more nordic centers across the west considering following suit.
My brother recently asked me, "Why ride when you can ski?" which is a question I hear a lot when I talk about fat biking. I started to formulate an argument about Bike People vs. Ski People, but I quickly realized the fallacy given all the folks who ski in winter and ride in summer. Upon further reflection, the only reasonable answer I can muster is that fat bikes are fun, which I know sounds incredibly weak—but you'll know what I'm talking about if you've ever ridden a fattie.
There's a whimsy and playfulness on a fat bike that you don't get on any other bicycle. The big tires make you ride differently. The extra traction allows you to lean harder in to turns. The extra weight encourages you to take more time to absorb the surroundings. The knowledge that you can turn off trail and go exploring where you like is freeing. And the rooster tail of snow you kick up in turns and the slip-sliding through curves and down steeps feels ridiculous and hilarious and absolutely entertaining.
My wife and I went out for her first fat bike ride in the snow about a month ago, and I couldn't believe quite how much fun she had. In spite of the single-digit temps, every time she rode up she was grinning ear to ear. "This is the most fun I've had on a bike in years," she announced as she plowed past, beaming. She later told me she was adding a fat bike to her 2013 Christmas list. (The other great thing about fat bikes is they aren't terribly expensive—Salsa and Surly have options as cheap as $1,500.)
I've noticed that before about fat bikes: Their sheer ridiculous proportions just make people happy. When Santa Feans see me buzzing around town on the Moonlander, they stop and gape, wave and smile, shout out things like, "Nice tires!" and "Where'd you get the bike?" It's the same for me, too, I discovered yesterday when I saw that guy in the knee-highs on the fat bike. "Go fatty!" I cried with a laugh and a wave. He hooted and grinned back at me, and I'm quite certain that, thanks to his fat bike, we both had an even better day than we would have otherwise.
Trending on Outside Online