One Perfect Thing: Maven Optics B2 Binoculars
These high-end zooms are what you want for bike hunting, but I've also taken to carrying them on most mountain bike rides just to enjoy the view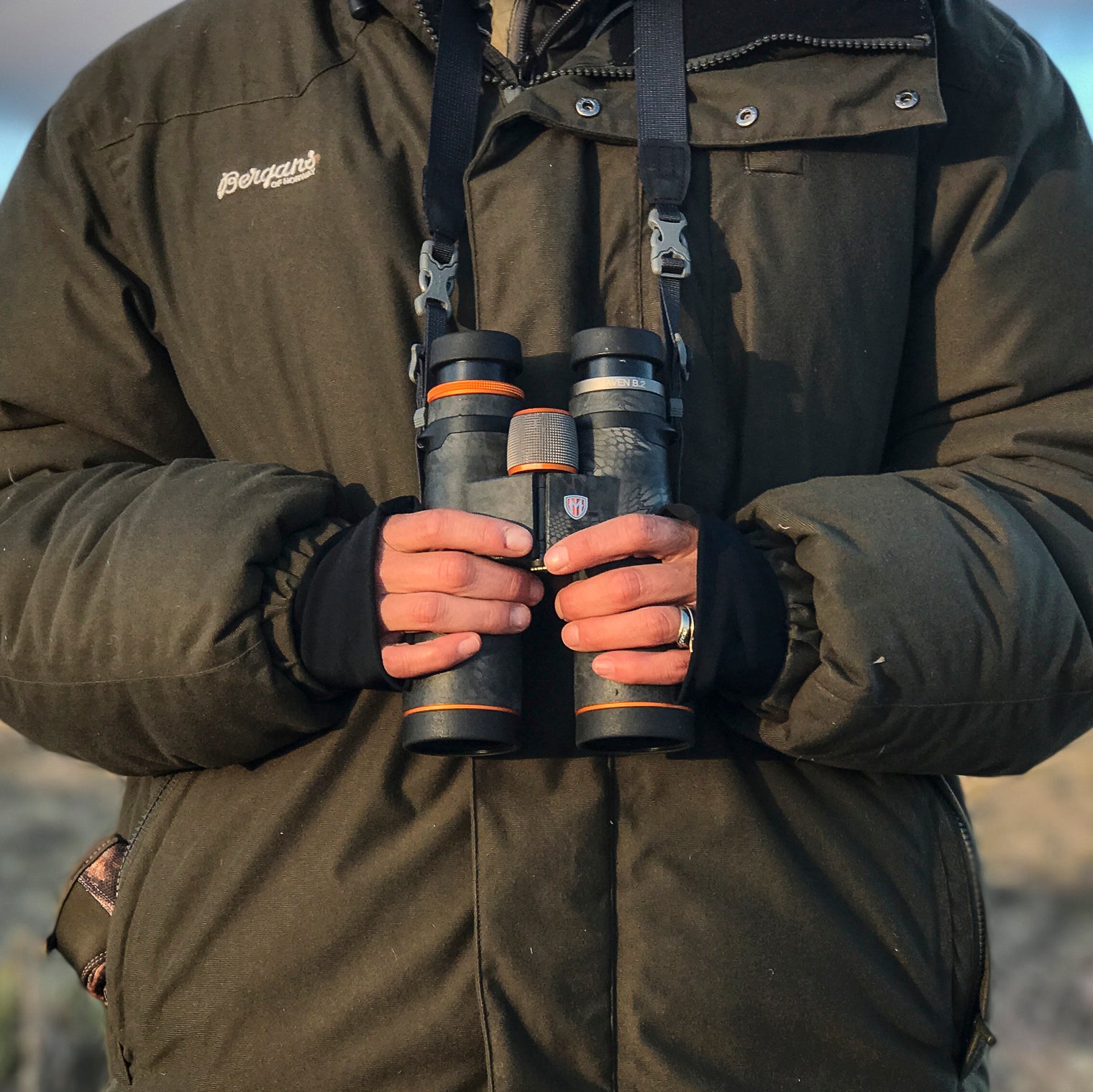 Heading out the door? Read this article on the new Outside+ app available now on iOS devices for members! Download the app.
Binoculars might seem as necessary for a cyclist as Enve M50 Fifty wheels for an ornithologist, but I came to my Mavens on the bike, and they will forever remain part of my riding kit.
A few years back, a friend introduced me and my wife to elk hunting by way of bicycle, an improbable convergence that has brought whole new meaning to post-race riding season. Since I already had a bike, this friend said the next piece of equipment I had to get was a set of binos: you can't feed yourself if you can't see the animals you're after.
I had an old set of Bushnells that I thought were fine—until I tried my buddy's Leicas, which made mine look about as sharp and clear as a Charlie Chaplin–era film. I resolved to get a pair just like his. Then I found out they cost about as much as those Enves.
As it happened, another friend of a friend, an alpinist and hunter who previously worked at Brunton, had recently started Maven. The company sells customizable binoculars with glass that is supposedly as good as top-shelf camera and birding optics—for a lot less money. As with bike brands like Canyon, YT Industries, and Franco, which all claim to pass along lower costs by selling exclusively online and thereby cutting out the overhead and middlemen, Maven promises an extraordinary product at cut-rate pricing.
That's not to say the Maven products are inexpensive. At $1,000 stock ($1,210 as built), my 9×45-magnification B2 binoculars cost as much as a good used bike or a set of fast, lightweight wheels. But they are just as good as, if not better than glass from the other major brands I've tried (Leica, Swarovski, Zeiss) that are twice as expensive (or worse). And yeah, it's pretty cool that you can mix and match eight colors of anodized metal rings and seven body patterns for a one-of-a-kind setup.
For those cringing at the steep prices for a pair of binoculars, I did the same when I first began considering them. (For the record, depending on your needs, Maven offers lighter-weight, shorter-magnification versions of the B1 and B3 that are less expensive.) But if you spend a lot of time in the field, the performance gains justify the price. Whereas cheaper glass (my old $250 Bushnells, for instance) turns an elk or deer rack at 500 yards into a befuddling haze, the Mavens allow me to count every point. Using these binos, I've spotted animals at close to two miles away—and ruled them out because they were the wrong sex or species. That's the difference between a lot of lost time stalking and not.
Even with access to other pricey binoculars, I almost always find myself reaching for the B2. The differences, as with all good binos, are most revealing in the extremes of dawn and dusk, when the Mavens seem to gather more ambient light than the competition. I've had experiences where, after looking into the darkness through another pair and making out only a sheet of black, I've picked up the B2 and discovered deer staring back at me at 50 yards.
To be honest, no other single piece of gear has transformed my outdoor existence as dramatically as these binoculars have. Look through them at a flat hillside half a mile away—it becomes a ponderosa forest crawling with life. Point them at that golden evening field in the distance—deer, coyotes, javelina, and rabbits materialize. When we're camping, I can spend hours in the woods perusing the far distance. And these days, even when it's not hunting season, I've taken to carrying binos along on backcountry rides to enliven rest breaks or pass the time when friends have mechanicals. For me, the Maven B2 binoculars are like outdoor television, only cheaper, lighter, and much more relaxing.
Lead Photo: Jen Judge