We Imagined Our Dream Bike. Then We Actually Built It.
If our half-baked effort resulted in the first Grim Donut going six seconds quicker than a production bike, what would happen if we sat down and took it a bit more seriously?
Heading out the door? Read this article on the new Outside+ app available now on iOS devices for members! Download the app.
From our sister site Pinkbike. Video by Max Barron
The first Grim Donut wasn't supposed to work… and, to be honest, most of the time it didn't. Sure, it was fast as hell during timed testing in the last episode, but that was mostly because Yoann Barelli was riding it on our steep and rocky test track. Get it on a normal trail and that's when it felt like you were trying to land the Spruce Goose on a twisty country lane during rush hour, the only difference being that the Donut is actually a bit longer. And louder.
But if our half-baked effort resulted in the first Donut going six seconds quicker than a production bike, what would happen if we sat down and took it a bit more seriously? And by that, what I mean is what if we had someone who actually knows what they're doing design the next version of the Grim Donut? It was obvious that we had to make some changes to make it "a bit more rideable" and "a lot less ugly," but most of the bike companies we spoke to had their own ideas, all of which involved adding downtube storage to the first Donut, routing the cables through the headset, and then re-launching it as completely new.
Thankfully, Chris Cocalis at Pivot Cycles agreed to build the second Donut at their in-house prototyping facility – using our geometry numbers – and it would even get a DW Link suspension system to control its 170mm-ish of rear-wheel travel.
While the first Donut proved that we were onto something, it was only built by Genio to be a rough prototype for us to try out our carefully calculated geometry. That first mule was a proof of concept, but the new Donut was set to use a proven and well-liked suspension system, be much more polished, and it would even have a bottle mount.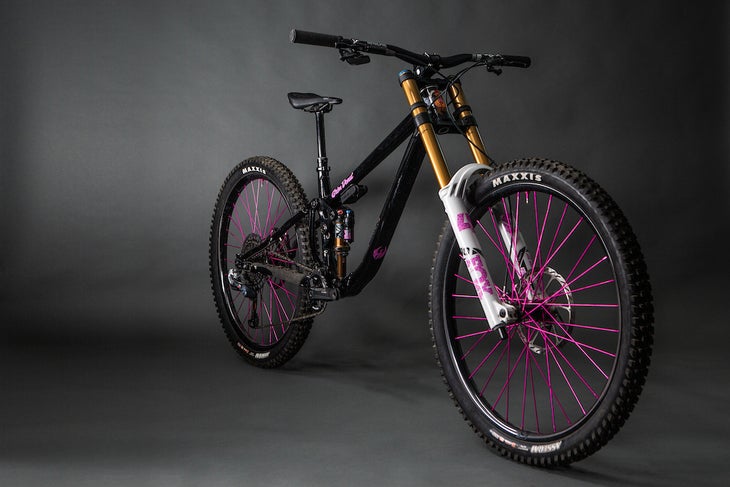 Grim Donut V2 Details
Intended use: enduro, downhill
Fork travel: 170mm
Rear travel: 165mm – 172mm
Wheel size: 29″
Head angle: 58-degrees
Reach: 513 – 525mm
Chainstay: 460 / 470 / 480mm
Frame material: Aluminum
DW Link suspension (but also not)
Weight: 35lb
MSRP: TBA
Availability: TBA
Made in Phoenix, AZ, by Pivot Cycles
More info: www.pinkbike.com
What took so long?
If it feels like it's been five years since the first Donut debuted, that's because time has been moving slower since 2020. Or at least it feels that way, but smashing through paradigms doesn't happen overnight, people. While other brands were drilling holes in headsets and throwing their entire development budget at e-bikes, we were working hard to perfect the new Donut's geometry, not exactly an overnight process…
I'm not joking; it took only fifteen or twenty minutes to settle on some new numbers that made sense. That was the easy part, though, with us spending the next two years trying to decide if we should paint the frame Obsidian Black, Sable Black, or maybe even get really wild and go with Onyx Black.
Okay, so we fell a little behind schedule and the new Donut is about a year late, give or take another twelve months and a couple of "spy shots," but have you seen the latest enduro bikes? The Donut might be overdue, and it might have even spawned some poor imitations, but it's still a decade ahead of everything else on the market, regardless of where they hide their cables or how high the pivots get.
And to be fair, at the end of the first video we did say that the next episode wouldn't be out until 2030, so we're still ahead of schedule in my books.
New Donut, new geometry
If you watched the previous episode, you already know that the first Donut was unstoppable on steep, fast terrain, which is exactly where it went six seconds quicker under Yoann Barelli than the time he put in on his own enduro bike. "The EWS in Chile? This bike wins by a minute," he said of how the first Donut would perform at the dusty South American event where racers often say they find only anti-grip. When I asked if he'd ride the Donut every day, he replied, "Absolutely not. The way it is right now, the geometry isn't pleasant. When you pedal, you're going to hit them on the ground. And it doesn't corner properly, but it works when you go super fast."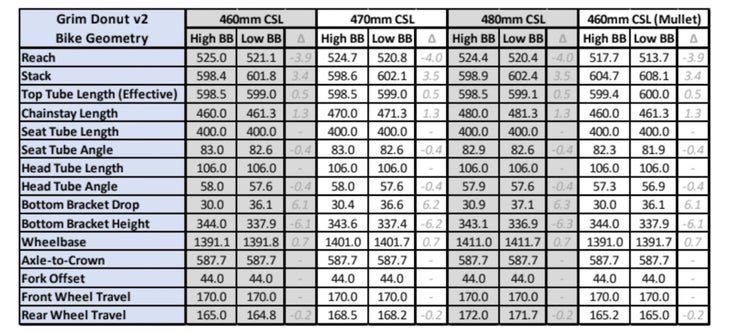 Sometimes you've got to take things a bit too far in order to find out what really works, and that's precisely what the original Donut did for us.
While it was listed as being a bit steeper on paper, that bike's head angle was actually closer to 56 degrees once we got it out on the trail, and it very much felt that way. The front end had more flip-flop than a Presidential candidate at any speed lower than about 30 kph, and I had six pedal strikes in the first hundred feet of my initial test ride. It was obviously fast – Yoann proved that much – but it was also a death trap crossed with a shopping cart full of empty Monster cans, and not all that rideable by someone without Barelli's skillset.
The next Donut needed to be a bit more useable (and less dangerous) everywhere but without taking away from its abilities on the really gnarly stuff.
After nearly twenty minutes of intense discussions that saw our eyes go bloodshot and a dangerous amount of Fuego Takis eaten, we finally settled on making the head angle 2 degrees steeper. That makes the new Donut the first mountain bike in history that's not as slack as its predecessor, marking a bold new leap forward in geometry technology that we're calling Turn Helper Concept. Our proprietary and revolutionary 58-degree head angle is paired with the 83-degree seat angle that worked so well on the first bike, and we've also lengthed both ends; there's a 525mm reach, a 600mm effective top tube, and three different chainstay settings that allow for a 460, 470, or 480mm rear end. And yes, of course our new geometry technology is patented.
Depending on the chainstay setting, all that adds up to a similar wheelbase as the first bike, but it gets there via a much longer rear-center, a longer reach, and a steeper front end.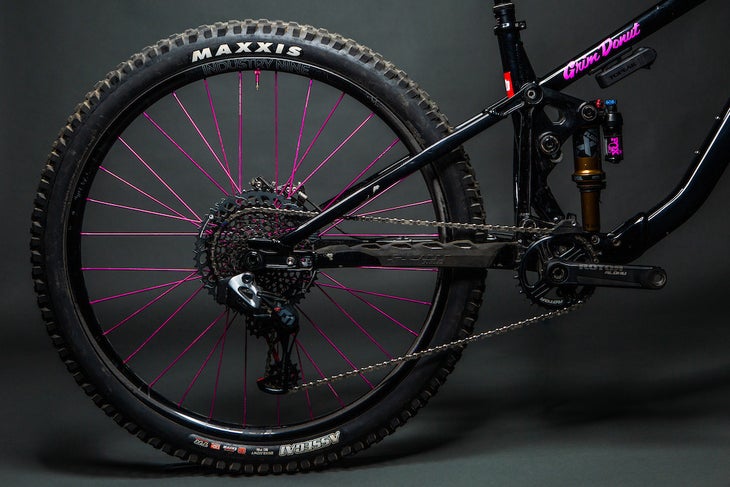 DW Link suspension… But also not
The first Donut will always be special to me, but I'll be honest: we spent so much time thinking about the geometry that we kinda just phoned it in for the rear suspension. I had originally envisioned a high-tech dual-link system, called High Pivot Virtual, that employed an idler pulley and, I believe not coincidentally, looks a lot like what Santa Cruz was investigating in their recent V10 development video. My design was shot down quickly, however, largely because I didn't have a clue what I was talking about but also because I spilled a bubble tea on my drawing and it got really smudged.
What we ended up with was an off-the-shelf single-pivot and pull-style linkage design that did that job, but didn't do it that well. As Dan Roberts oh-so-kindly pointed out in his Behind the Numbers article, the leverage was relatively linear, it had just 16.3-percent progression, and so little anti-squat that it might have been pro-squat. For anyone who isn't a bicycle scientist, another way to say that might be, "This bike pedals like shit and why is it always sitting halfway into its travel?" Running a coil-sprung shock only aggravated its worst attributes, but the upside is what felt like heroic amounts of traction, which is always a good thing. The downside was a low ride height and pedals that sat dangerously close to the ground, which is always a bad thing. Not that you'd want to pedal that much anyway given its absolutely horrendous (yet amusing) performance in our faux-science climbing video.
The first Donut was another reminder that while geometry is most important, suspension is next most important.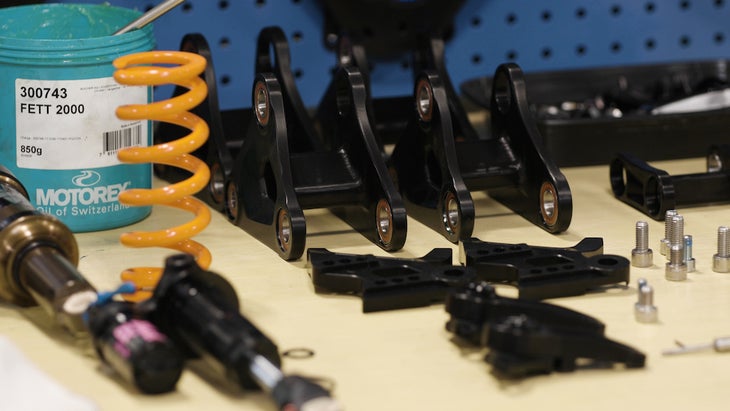 Having Pivot and Dave Weagle on board meant that the new Donut would use a bespoke DW Link suspension system, a design long renowned for its pedaling efficiency and also its overall performance on everything from cross-country rockets to full-on downhill race bikes. It uses a relatively high amount of anti-squat to keep the suspension calm while the rider is pedaling, which is the exact opposite of its predecessor. That bike had anti-squat numbers that started well under 90-percent before falling way off, while the new DW-equipped Donut stays above 100 until the last third of its travel where it needs to lower.
That means better pedaling performance, of course, but also a higher dynamic ride height that will lower the chances of a devastating high-speed pedal strike.
If you think this is all sounding dangerously respectable, we thought so as well. That's why we asked Weagle to design two suspension layouts on a single bike – there's the DW Link system, but also secondary pivot locations at both the upper and lower links and the lower shock mount. All it takes is ten minutes, a different rocker link, and a few hex keys to take the new Donut from a surprisingly efficient enduro sled to underfilled waterbed on wheels, thereby letting us see how much of a factor the first Donut's suspension was in its surprising performance. You can see the difference in this chart.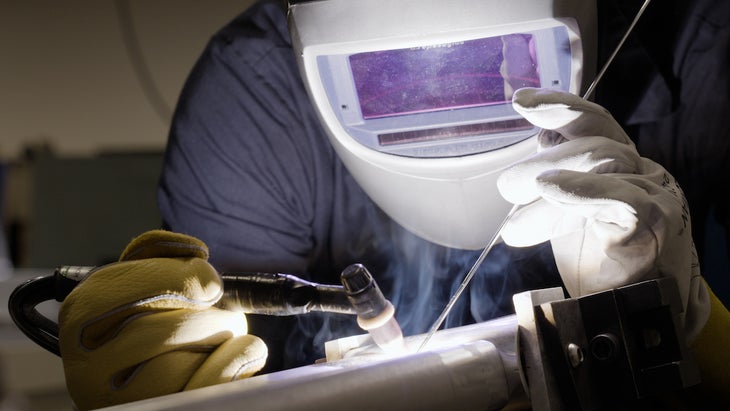 What's next for the Donut?
It took us far too long to get to this point, I know, but the result is a bike that's still miles ahead of everything else on the market. Unfortunately for us, while we spent two years arguing over which shade of black to paint the frame, other brands were debuting features that have rendered the new Donut obsolete. Sure, the fresh Donut pedals and handles better than any other enduro bike on the market, bar none, and it's probably minutes quicker over an entire race, but absolutely no one is going to buy it if it doesn't have headset cable routing. And besides, I heard a rumor that 32″ wheels are the next big thing…
So we're gonna do the only thing we can, which is to begin work on the next Grim Donut prototype. Expected release date: 2030. Probably. Maybe.
Lead Photo: Tom Richards
Trending on Outside Online