Riding into the Record Book at the Leadville 100
In an already fast and remarkable year at the Leadville 100 mountain bike race, Matt Dewitt made history as the first double amputee finisher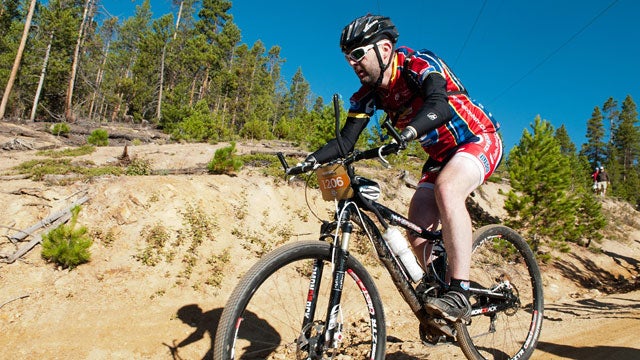 Heading out the door? Read this article on the new Outside+ app available now on iOS devices for members! Download the app.
It was a record-breaking year at the Leadville Trail 100 MTB Race. Mountain Bike World Champ Alban Lakata shattered the course record by over 12 minutes with a new fast time of six hours, four minutes, and one second. And Lakata's Topeak-Ergon Racing teammate Sally Bigham smashed the women's record by nearly the same margin.

The R2R team at the finish

Matt Dewitt crosses the finish line

Mark Dewitt's support crew
But one record that went largely overlooked was set by Matt Dewitt, a 36-year-old Iraq veteran riding for team Ride 2 Recovery. The New Hampshire native finished hours after Bigham and Lakata. But in doing so he became the first double-amputee to complete the race.
That's right, Dewitt did Leadville literally with no hands.
If you haven't ridden the Leadville 100, it's difficult to grasp the scope of that accomplishment. This 104-mile mountain bike race starts at almost two miles above sea level and goes up from there, all the way to 12,424-foot Columbine mine. And though the riding isn't especially technical, the distance and the altitude make for a brutal day on the bike.
Up until a couple of years ago, riding a bike at all was impossible for Dewitt. He lost both hands in combat in Iraq in July 2003 when a rocket propelled grenade struck him. The explosion tore off his hands, knocked out his teeth, and ripped large pieces of skin off his legs. He spent six months in the hospital and years in rehab. Though he always aspired to return to mountain biking, the catalyst for that didn't come until 2011 when he met John Wordin, founder of Ride 2 Recovery.
Wordin, an ex-pro racer and director of the renowned Mercury Cycling Team, founded Ride 2 Recovery (R2R), after a call from the Palo Alto, California, Veteran's Affairs office enquiring about starting a rehab program for veterans.
"Anyone can ride a bike, and people can ride them together," Wordin explains. "Getting back on the bike helps with physical recovery. But it also gives these guys a chance to prove to themselves that they can do much more than what think they can do." R2R organizes seven 6- to 7-day rides a year where 200 veterans come out to challenge themselves. Since its inception, he organization has worked with more than 5,000 vets.
Ride 2 Recovery brought a team to the Leadville 100 for the first time in 2012, and the response was overwhelming. "There was huge interest from our constituency. It's a high-level goal for guys to really push themselves," Wordin says. "We had some athletes out here trying to break nine hours and get the big buckle. But for many it's as a big an accomplishment to just finish."
In Dewitt's case, simply getting to the start was tough. With prosthetics from the elbow down on both arms, he can't shift or brake. Diamond Back, sister company to R2R bike sponsor Raleigh America, stepped in to design a custom Sortie Black 29er for Dewitt. It has Di2 shifting integrated into paddles on the top tube that Dewitt operates by tapping with his knees. For stopping, a bar behind the seat that Dewitt leans up against with his back is linked to a TRP Parabox that actuates both front and rear brakes in a sequence that ensures he won't go over the bars.
"I raced mountain bikes when I was younger, and it was one of the first things I tried to get back to when I first got home. But there were just too many hurdles at the time," Dewitt remembers. "But then the VA connected me with John Wordin. Ride 2 Recovery looks at each person and their limitations, and then builds a custom bike.  Within a month they had me on a DI2-equipped road bike and riding."
Even after Dewitt got a bike, the challenges kept coming. During a Ride 2 Recovery event in Alaska, thieves broke in to the organization's truck and made off with five bicycles, including Dewitt's custom Sortie. "We eventually recovered it but had to redo a lot of the one-off modifications for the shifting," says Diamond Back's James Weigand. "The thieves had started to part it out but then realized they had chosen the wrong bike. There was too much heat looking for it."
Once Dewitt was back in the saddle, the opportunity to ride Leadville was too great to resist. "It's the Leadville 100. Epic!" Dewitt says. "I don't think you can turn that down."
On race day Dewitt lined up alongside 15 Ride 2 Recovery teammates and nearly 2,000 racers. According to the R2R team plan, each athlete was paired with a teammate, and Dewitt spent the day riding with Diamond Back's Weigand. "Having James riding with me was a big help," Dewitt says. "I had been having a knee problem and was really worried about it holding up. But it was fine."
Dewitt and Weigand made good time on the first part of the race. "I thought we were going to post a pretty good time," says Dewitt. But the grueling course, especially the extended climbs, slowed the duo's progress. "Columbine and Powerline are huge time killers," he says. "But we made it under the 12-hour cutoff, and I earned the silver belt buckle."
He posted a time of 11 hours and six minutes. Likewise, 15 of the organizations 16 riders at Leadville, most of them disabled vets, finished; a major mechanical knocked the last rider out of the race. That's well above the overall finishing rate, where 20 percent of riders wracked up DNFs or missed the 12-hour cutoff.
"It was amazing to finish it with my R2R teammates," Dewitt says. "Knowing their stories, injuries, and the pain they went through to finish is awesome."
Wordin, who finished the race in a speedy eight hours and four minutes, agrees. "For me it was extremely emotional just to be part of it, to see guys who thought they might never be able to perform again come out and accomplish this," he says. "I haven't raced since 2004 and I had a good ride. But it meant way more for me to see all the guys finish than it did for me to finish the race myself."
This is part of the magic of Leadville: that everyone, from the best pros in the world down to the most average recreational riders, can take on the same challenge. "I have my own challenges, just like everyone else. After I was injured, I often thought about mountain biking but wasn't sure it was going to work," Dewitt says. "But once R2R made it possible, the rest was up to me."
As for his record, Dewitt says there are two sides to it. "I hope this motivates others to challenge themselves. If there are people out there who see how technology on the bike enables me to ride, then maybe they'll be like, 'Wow, I can do this,'" he says. Then there's the personal component. "Earning that belt buckle means a lot. But hell yeah I want to do it again! That gold buckle looks really nice—I just need to drop two hours off my time. I have a year to do it."