bike
How to Mountain Bike on a Budget in 2023
Save cash and have fun with these tips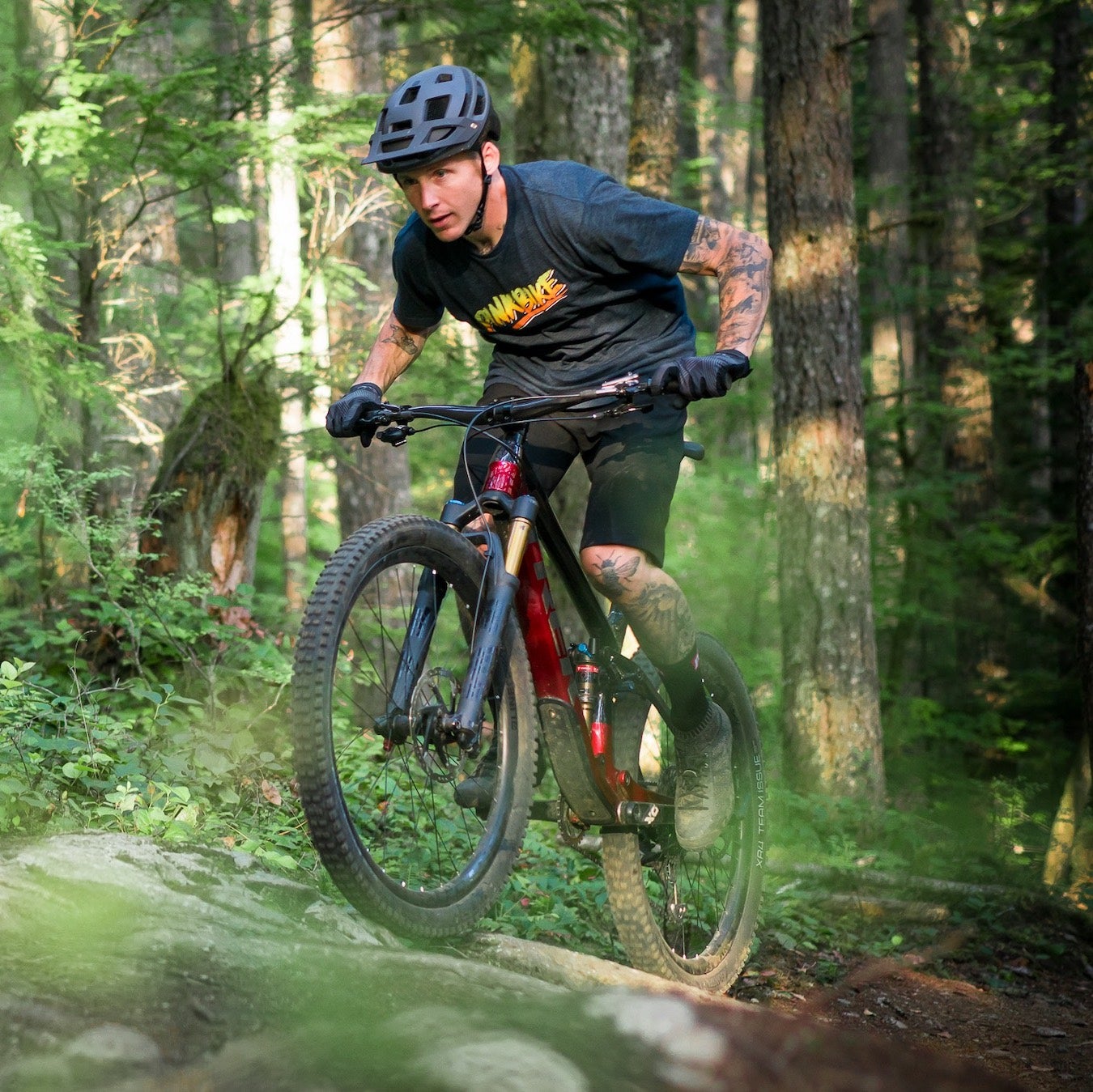 Heading out the door? Read this article on the new Outside+ app available now on iOS devices for members! Download the app.
Mountain biking can be an expensive sport, no doubt about it, but more money doesn't necessarily equal more fun. Below, we go over a handful of ways to save cash, including which parts to upgrade, how to learn repair basics, and why you don't need fancy clothing.
Suspension
You can spend more money on a fork and shock than some riders spend buying their entire bike, and that'll often get you a few more adjustments, a bit less weight, and sometimes a shiny coating on the upper tubes. But you can look a few price levels below the top-tier forks and find close to the same performance, just with fewer bells and whistles.
A good example is RockShox's Charger damper, the latest and greatest version of which is only being used inside their expensive Ultimate and Select+ level forks. But step down to the less expensive Select series and you'll get a simpler Charger damper that won't ever hold you back, despite having one fewer external adjustment that you probably don't need anyway.
Likewise, Fox's high-end dampers are impressive, but so are the Rythym dampers in their less expensive forks. Marzocchi's Z1 and Z2 should also be on your shortlist, with great performance given their price.
Bottom line: You can find high-end performance without spending high-end money by looking at forks with fewer adjustments.
Cockpit and Dropper
If you're on a budget, your bike's cockpit is a great place to save some money without impacting performance. A quality aluminum handlebar will be a bit heavier than a carbon bar that costs much more, but you'll never notice the difference on the trail. What really matters is getting the sweep, rise, and width that you feel comfy using. Expect to spend between $50 and $80 USD. The same applies to grips; there are inexpensive lock-on models, like Bontrager's $19 XR Comp grips, that cost half as much as others.
As for stems, there probably isn't a more negligible component on your bike, as long as it's the right length for you. Avoid Alibaba and stick to a recognizable name, but there's no reason to spend more than $50 USD.
Dropper posts used to be about as reliable as a rusty Yugo, but they've gotten much better in recent years. Considering that many of us view dropper posts to be nearly as essential as working brakes, that's a good thing. There's no reason to spend more than $250 USD, and most now use easily replaceable cartridges should any trouble arise. OneUp's aptly named Dropper Post is a popular and proven option in this price bracket, as is PNW Components' Loam Dropper.
Tires 
Good tires aren't cheap, so expect to spend at least $50 USD on each, bare minimum, and maybe even up to $100 if you find a model you really like. What really matters is finding the right tire for your terrain and the bike you ride, which can be pretty confusing given the near-endless acronyms, compounds, patterns, and casings to choose from. If you're not sure what to buy, look at what other locals that ride similarly to you are using and go from there, or ask your shop for their recommendation. The wrong tire can mean endless flats if it's not sturdy enough for your trails, or just that you're pedaling around far more weight than you need to. The right tire balances weight, reliability, and rolling resistance with traction.
Wheels 
Ultra-light wheels can literally make you faster, but buying speed ain't cheap—high-end carbon wheelsets can cost $3,000 USD or more. If you're on a budget, you should be looking at aluminum wheels that suit your needs.
As with any other component, you should match your wheels to your needs. These days, a 30-millimeter wide rim makes the most sense for many riders as it suits modern high-volume tires, and almost every brand's hubs use reliable sealed bearings. Pre-built aluminum wheelsets start around $500 USD, but a bit more money will get you name-brand hubs, sometimes with much lighter aluminum freehubs, and stronger rims. Good wheels make a difference, so if you can swing it, consider spending $700 or more.
Drivetrain 
Unlike in years' past, there are relatively inexpensive drivetrains out there that offer 95 percent of the performance and reliability of much pricier set-ups. Shimano rules the roost here, with their Deore system shifting incredibly well and costing just $300 USD, which is less expensive than just a high-end cassette on its own. One sneaky trick is to splurge on a $63 XT shifter as it lets you shift down two cogs rather than the single shift of the Deore or SLX shifters.
If your bike runs SRAM components, going with a GX drivetrain will give you better ergonomics and a wider range cassette than NX or SX, although it does require the use of SRAM's XD freehub body.
Brakes
Just like your suspension and tires, your brakes need to match your bike and riding style. Buy something under-powered and you're in for trouble, but you also might not need all the bite or adjustments.
The first thing to know is that more pistons equal more power, which is why even some cross-country brakes use four pistons these days. That means that unless you're specifically looking for something super light, you should be considering a four-piston setup and then deciding if you want bite point and tool-free reach adjustments to boot. If not, expect to spend around $150 USD per end, but budget a bit more money for aftermarket metallic pads or even larger rotors for additional power.
Our number one tip? Perform a quality bleed on your existing brakes, as well as check the pads and rotors for contamination (or have a mechanic do it for you). If they've been lacking power, that could be the reason.
Aluminum Frames
The easiest way to save a load of money? A new aluminum frame can be around $1,000 USD less expensive than an equivalent carbon fiber frame, and there's a good chance that you'll never notice the difference on the trail.
Geometry is what matters most, and many brands sell an aluminum frame that sports the same geometry as their carbon offerings, making it a no-brainer if you're on a budget. There's a good chance the aluminum version is more reliable as well, although you can also expect the frame alone to weigh at least a pound more.
You can save even more money if you skip the rear-suspension and choose a hardtail instead. They take more skill to ride on challenging terrain or at high speeds, but that in itself can make them more rewarding than doing the same on a pricier full-suspension bike.
Clothing and Protective Gear
Mountain biking doesn't require any special clothing, aside from a quality helmet, but keeping an eye out for the right fabrics and some practical details can mean that you're much more comfortable during a ride.
Up top, a cotton t-shirt will work but a poly/cotton blend will do a much better job of not feeling like a sweat-soaked rag after an hour's hard pedaling. You can often find inexpensive tech-t-shirts at outdoor stores for around $15 USD. Lightweight jackets from the same retailers often go for under $50 USD.
Shorts and pants are worth going bike-specific, though. They'll have functional pockets that keep your phone from swinging back and forth, be much more resistant to wear, and also be less likely to catch on the nose of your seat. Expect to shell out at least $75 for each.
When it comes to a chamois, something is usually better than nothing, no matter what your friends tell you about riding raw. A decent chamois means more comfort for longer, especially if you're a new rider or your seat isn't ideal. Expect to pay at least $35 USD. If you do decide to forgo the chamois, choosing synthetic underwear with seams that won't rub or chafe is the key to comfort.
Helmets get lighter if you spend more money, but forget about that and look for some sort of slip-plane impact system like MIPS (many brands use their own design) that, according to many studies, greatly improves the helmet's ability to protect your head. You don't need to spend more than $100 USD for this feature, but don't forget that finding a helmet that's comfortable and suits your needs is more important than saving money.
If your trails are rocky or you crash more often than you should, a decent set of kneepads are well worth the $80+ USD they might cost you. There's a wide range of options depending on what type of riding you're planning on doing, from lighter weight, pedaling friendly models that help ward off abrasion and smaller impacts, to burlier (and less breathable) options aimed at descent-focused riders.
Maintenance
While taking apart your suspension fork is most certainly a complicated job that requires special tools, most day-to-day maintenance and repairs are relatively simple and require only basic tools. Mechanic rates can be as much as $80 an hour in some places, which is more than what a starter tool kit can cost, so it makes sense to fix your own bike in many cases.
Aside from buying a tool kit, YouTube can be a great resource for almost any type of DIY work. Need to straighten your wheel? Confused about how to remove your cranks? Shifting not as good as it should be? Someone has already made a video showing you the tools and knowledge you need to sort it out.
---
Every spring there is an influx of riders keen to get into mountain biking, and at Pinkbike and Outside, we know that these newcomers are often overwhelmed with information and opinions. So, we're launching a seven-part series called MTB Explained, where we help new riders navigate some of the basics of our sport. If you're new, welcome to the best damn sport in the world, and if you're a long-time rider let's welcome these folks to the club.
Lead Photo: Dane Perras