Singletrack: Coming to a High School Near You
Two filmmakers aim to bring mountain biking to kids—and theaters—across the country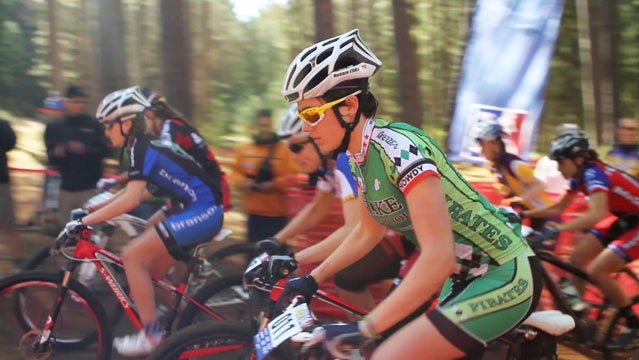 Heading out the door? Read this article on the new Outside+ app available now on iOS devices for members! Download the app.
High school sports have long revolved around football, basketball, baseball, and track and field. If it's up to the National Interscholastic Cycling Association (NICA), an organization pushing for cycling in high schools, you might soon be as likely to be clanging cowbells at the finish line of your kid's race as climbing into the football bleachers. Founded in 2009 with just the Norcal High School League, NICA has expanded to eight states with nine leagues and almost 2,000 participants, and they aim to bring their programs nationwide by 2020.

Filming 'Singletrack High'

"The program has taken off in the few years we've been around. We saw 58 percent growth in participants from 2011 to 2012," says Austin McInerny, NICA's executive director. "We plan to add two to three leagues a year in the years to come."
This Saturday at the Sea Otter Classic in Monterey, California, Singletrack High, a movie about NICA and the high school mountain biking movement will be screening to its biggest and broadest audience yet. The film, which follows six Northern California teenagers through the spring 2012 season, premiered in early February in Mill Valley and has been showing to small (mostly sold-out) high school racing audiences ever since. The Sea Otter presentation is the movie's general public coming out party. It will be touring the country this spring and summer, and screenings are easy to arrange.
I've always intellectually loved the idea of high school mountain biking, but without kids I could never get super excited about it. Singletrack High changes that. By following a few varied and poignant storylines, from three siblings who grew up in a cycling family and now train and race together to an inner city youth who didn't even know what mountain biking was before he joined the league, the film illustrates the transformative power of cycling. It also speaks to pressing current issues such as Nature Deficit Disorder and childhood obesity. And it's especially timely, too, with the firestorm in the last weeks over how UCI rules might affect amateur racers.
In advance of the movie's showing this weekend, we chatted with brothers and co-directors Jacob and Isaac Seigel-Boettner about NICA, bike culture in America, and why high school mountain biking should matter to everyone.
OUTSIDE: This is your second film about bikes. Did you set out to be cycling filmmakers?
Jacob: We were born in Santa Barbara, and we both literally came home from the hospital in a bike trailer. Our parents lead trips for junior high schoolers under the loose title of Educational Safaris, and we traveled to Ireland, Italy, France, Austria, Canada,  Rwanda, and all across the US to ride. So I guess in some ways we were groomed for this.
Isaac: We grew up mountain biking and we slowly started learning about racing. Eventually we started a bike-racing club at San Marcos High School. We like to think of ourselves as the first high school racing league. [Editor: said in jest.]
Jacob: But we never intended to be filmmakers. When I was in college at Berkeley, I knew I wanted to do a semester abroad. I wanted it to be about service and something related to bikes, and I figured out a way to go over and study Tom Ritchey's project designing cargo bikes for coffee farmers in Rwanda. To get credit, I had to write a paper about it, but I knew that nobody would read it. So I decided to make a movie, and when I screened it people really liked it.  We realized that there were all these stories about the bike out there that people never hear. So we decided to start making stories about bikes as tools for change around the world.
What drew you to film Singletrack High?
Jacob: We've traveled a lot in the developing world, and though it's not completely PC to say, people around the world look to us, to America, to know what it means to be "developed." Sadly, that means driving cars. So we wanted our next movie to be about that on some level. That was the starting point. And we realized that high school mountain biking is interesting partly because it is at this time when kids are putting their bikes away and getting their first cars. 
Several of the kids in the film talk about how uncool it is to ride a bike and how important a car is in their peer circles.
Isaac: We sort of conceived that the film could be a means to counteract that. We want it to be a tool to get more kids on bikes. When you say high school mountain biking, it doesn't really connect with how big it can be, but these events are huge. They are big festivals. And in the places that we've screened it, kids get really excited.
Jacob: At a screening in New York, where there wasn't even a league, this kid came up to one of the NICA staff and said that he was going to quit his baseball team and start mountain biking.
The gear seems like it would be a major obstacle for a lot of kids.
Jacob: It is definitely a barrier to entry. That's one of the reasons we wanted to show the team from Sacramento in the film. That team is underfunded compared to some of the other schools, but they have found ways to deal with it. In that case, some of the coaches are police officers, and they took bikes out of impound for their fleet.
Isaac: Bike companies have also done a lot to step up and donate gear. Specialized has a good program. And there are grassroots approaches, too. There are lots of old bikes sitting around in people's garages not getting used, you know when riders get a new bike. So schools are soliciting for those. NICA also has something they call the Booster Fund that allows teams and coaches and athletes to apply for grants.
Some of the gear in the movie is crazy: kids wearing Oakley Jawbones and riding Specialized Epic S-Works. Did you see any jealousy between teams with and without?
Jacob: Of course there's always going to be gear lust. But the coaches do a great job of emphasizing that it's about the experience, not the bike. The kids get so wrapped up in the excitement of being out there and being part of something that it didn't seem to matter that much. For the Sacramento kids, I felt like they were just happy to be there doing it. They'll talk about the shiny bikes that other kids are riding, but at the end of the day the performance gains are minimal and everyone is riding on the same course and everyone gets the same thrills and experience.
So much has been written about childhood obesity and our inactive youth, this, and this film seems to show a sort of antidote to that.
Jacob: We definitely wanted to address that. Cody is a great example. A kid like him, who is a bit heavier, might normally be looked down on by the jocks. He would have no real hope of being accepted by a sports team. But anybody can mountain bike. It's very open. It's a cool sport because it gets the kids active and away from those screens. But cycling is also unique because it's something you can do for the rest of your life. If you play football or baseball, you do it through high school, but for most people after that the most you'll do is maybe toss the ball around with your kids when you have them. But biking, you can ride for the rest of your life.
Isaac: Another thing that was interesting was how these kids started to learn what eating well means. We interviewed kids who had come to discover that if they were up all night or if they ate a big heavy burrito for breakfast, they wouldn't perform so well. It brings a real awareness without having to drill it into them.
It was cool to see the Sacramento team in Boggs having what was for many of the kids their first real outdoor experience.
Isaac: That was really cool. Coming into the movie we learned about Nature Deficit Disorder. I didn't even know that this was a formalized thing, but so many kids these days just don't get outside. There was a scene that didn't make it into the movie when the Sacramento team was out doing trail work and we were interviewing them. A hawk flew over and made a really shrill hawk call overhead, and the kid who was talking looked up and was like, "What was that? What was that?" He had never heard any bird sound other than maybe a pigeon or a crow. And those Sacramento kids live like 40 minutes from good trails.
Jacob: Some of the Sacramento kids went to the beach for the first time in their lives and it just blew them away. They live like two hours from the beach, but it might as well be another country.
Empowerment is a strong theme in the movie, too.
Jacob: Cody is a great example. He's not a typical high school athlete. He's bigger. When we first met him, he was sort of the outsider. There's a shot of him coming across the parking lot with his bike to hang out with the other kids. But by the end, at the pool party, he's definitely part of the team. For a lot of kids, like Cody, there's no other sport as inclusive as mountain biking.
It's surprising how positive all the kids are, slapping each other on the back and encouraging one another. Was that manufactured in the editing?
Isaac: That's just the sport and the culture around the events. They are more festivals than races. I was happy to hear that all the kids realized that, too. They're just there to have fun, not necessarily to compete. And NICA has set up the scoring so that even the slowest kids contribute points to their team, so there's a real sense of participation and solidarity.
There's also some real gender equality in the film.
Jacob: If you watch the freshman and sophomore boys, they are definitely looking up to the varsity guys. But they are also looking up to the varsity girls. Those girls can kick their asses, and you don't see that in many other high school sports.
Isaac: The way the varsity fields have shaped up in the NorCal league is interesting. The guys have faster times, of course. But the top three girls were all selected to go to Europe for a camp, and one of the girls just went down to the Pan-American games. You are seeing some of next Olympians in the making.

There's this perception that, "It's just high school racing." But some of these kids are fast, right? Did you ever ride with them?
Jacob: They kicked our butts. We weren't strong enough to be the professional GoPro riders who were following the races. We had to hire pros for that. I was watching the helmet-cam footage from the Boggs race, and Eliel, one of the kids in the movie, was totally dropping our camera guy, who is a pro racer.

What is your take on the current debate about UCI rules and how it affects participation in unsanctioned racing. That has to be an issue for some of these kids.
Jacob: NICA got a lot of questions from the top women's athletes because some of them were racing in the PanAmerican Games and they wanted to know if this was going to disqualify them from racing in their high school leagues, which it could. I think it's a shame if any rule that got handed down prevented any kid from riding their bikes. It's great to have a body that organizes and helps get athletes to the Olympics. But the question is, as a sport, is the goal to get the elite to the highest ranks, or is the goal to get more people riding? If we encourage participation, you'll inevitably get more talented racers because the pool is bigger,
What do you hope people will take away from the film?
Jacob: I will be super stoked at the end of the movie if I have a lot of people come up to me and say, " I want to go ride my bike." If they want to go start a high school mountain bike league, even better. But really we just want to get people on bikes—kids, adults, anyone. NICA and everything else, it just starts with that initial spark.
Isaac: I want to help make biking to be cool. I want everyone to think that riding is something they should do. Something they want to do. Don't keep your Spandex in the closet.