Six-Month Review: Trek Stache 8
If you're in the market for a do-it-all mountain bike, the hardtail Trek Stache is less expensive than a comparable full-suspension model and, for the most part, keeps up just fine.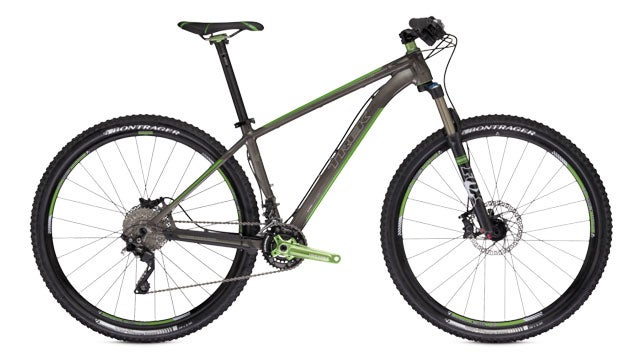 Heading out the door? Read this article on the new Outside+ app available now on iOS devices for members! Download the app.
SIX-MONTH REVIEW: TREK STACHE 8
Race bikes have dominated the hardtail category for years. And the lightest, fastest option was always a bike without rear suspension (although bikes like the new Specialized Epic, which is less than a pound heavier than the comparable hardtail, is blurring that logic), so hardtails have generally tended toward steep head tube angles and 100-millimeter forks.
All that's changing.
A longer-travel hardtail may sound like an oxymoron, but a growing number of manufacturers have rolled out bicycles with 120-, even 140-milimeter forks, no suspension in back—based on the premise that rear suspension is just overkill.
Even in locales with rougher terrain, a hardtail's lack of creaking pivots and other moving parts, plus its relatively low cost, may outweigh the performance positives of full-suspension. In some places, the big-bike, jump-oriented crowd has thrown dropper seatposts on these hardtails and torn up five-foot drops, doing stunts on this slacker variety—because under such rigorous riding, full-suspension durability can inhibit performance.
Trek released the Stache in 2013 against that backdrop, and the bike has become something of a cult hit. It's an aluminum hardtail with a 120-millimeter fork that, thanks to the snappy, green, color-matched parts, became affectionately known as The Hulk Bike (versus the Captain America GT Zaskar 9r Pro LE). We heard so many people raving about it that we felt compelled to test it. And after more than six months of beating it up, we're glad we did.
FRAME
The Stache comes only in Trek's hydroformed Alpha Platinum aluminum, which is the highest-caliber grade the company produces. It's a compact but comfortable cockpit, with a press-fit bottom bracket and, happily, 142-by-12-inch rear axle configuration. The latter not only adds strength out back for rougher riding, but ensures wheel compatibility with other bikes in your stable, as these dimensions are all but standard on bikes these days.
As with most Trek 29ers, the Stache features G2 geometry, which may sound like just a hot-button marketing phrase, but actually really works. Without completely geeking out, G2 geometry means the crown of the fork is set forward 51 millimeters from the head tube of the bike, which makes the fork angle more steeply (without totally messing up the seating position) and puts your hands farther forward than they otherwise would be to enable quick steering and agility. Whereas many 29ers, especially those with a 68-degree head tube, may steer sluggishly, the Stache is snappy and playful.
Overall, it's a simply designed frame that is responsive to acceleration, although several testers felt that it wasn't as quick and flickable as they'd expected. Then again, that means the Stache is more balanced than similar bikes in its category, making it a great all-around ride. And, yes, we love the Incredible Hulk styling, with swathes of paint to match the anodized lime hubs and crank, because it also has plenty of smoky gray to cover the rest of the frame, tempering any obnoxious, hipster-like tendencies. It's cool, but not too cool.
COMPONENTS
When we ride Shimano SLX parts—third tier in the line—we sometimes wonder why anyone would spend double and quadruple for the higher-grade stuff. (Answer: weight.) Heft aside, these components work amazingly well. Shifting is whipped cream-smooth, and we've experienced neither brake fade nor the need to bleed in nearly nine months of use. As noted, we love the color scheme, so the Race Face crank, while hardly feathery, is a perfect choice. The rest of the bits and pieces are alloy versions of Trek's Bontrager parts (exactly what you'd expect at this price), and they work just fine.
The one area where the Stache screeches to a proverbial halt is the wheels, house-made Bontrager Duster series hoops. Look, for this kind of money we're not expecting Enves, but we continue to be disappointed with even the higher-grade models of Bontrager wheels. These low-end ones are hefty and plodding and hold back the bike. We swapped in a pair of mid-grade Easton EC70s for comparison and were amazed by how much livelier the bike felt. Because Trek will never spec an outside brand, insofar as Trek is affiliated with Bontrager, the company needs to sink some money into wheel design. A brand this big shouldn't have inferior hoops.
Trek has invested a lot in tires recently, and it shows. The 29-3s stocked on the Stache are appropriately wide, at 2.3 inches (although don't measure that full-width), and the tread pattern manages to find a nice balance between fast-rolling and super-grip. These have become some of our favorite desert tires, but we've had a few sidewall tears (not on the Stache, but on the new Fuel EX 29er). Even so, we'd almost prefer to see the awesomely chunkier 29-4 on front, which would add weight to the showroom floor but make an absolute standout front tire, for under an incredible variety of conditions.
With the exception of the ho-hum wheels, this is a smart, solid parts spec—including its custom Fox Evolution Series 32 Fork. We don't love Fox's 2013 Climb-Trail-Descend design, which is dumbed down from previous generations, but that's more a gripe with Fox than with Trek. You can mostly overcome this problem by leaving the bike in trail mode.
BOTTOM LINE
For the most part, we were impressed with the Stache—and notably so, since too often a bike with this amount of hype has a tough time living up to expectation. This is a simple, hard-working mountain bike that we've loved in nearly every setting, from the smoothie-fast trails of Santa Fe to the utterly thrashing, big-step, red-rock riding in Sedona. And yes, a few of our testers lobbed some pretty big features, and the Stache came out no worse for wear.
The two biggest drawbacks of the Stache are its seatpost and price. Although its frame is plumbed for a stealth dropper, which means Trek realizes it's ripe for one, it doesn't come equipped, which is a shame. In spite of the hardtail, it would be much easier for this bike to keep up with a full-suspension model if its seat were down (especially for $2,419, which is considered cheap these days but from our perspective seems sort of pricey for a hardtail). The Diamond Back Mason gives more travel up front plus a dropper for about the same money, and GT's Captain America, although not in the same category, delivers full suspension for almost 25 percent less. At 25.9 pounds for our size medium, it's not a light ride, either.
Trek has expanded the Stache line from two bikes to three for 2014, with an even less expensive model at $1,429. That's a lot of bike for that price, especially if you're just getting into the sport and want something you won't quickly outgrow. But this is also a bike that could easily handle the trail-riding needs of at least 80 percent of mountain bikers. Whether or not 80 percent are willing to ride a hardtail, which demands more skill than full suspension, is another question. But we're happy to see great bikes like this one at the lower end of the price range, especially when it's not a budget model but something so deft and fun to ride.