The Six-Month Test: Salsa Vaya Travel
For travelers and adventurers, this cross between a road bike and an ATV might just be the perfect all-in-one solution.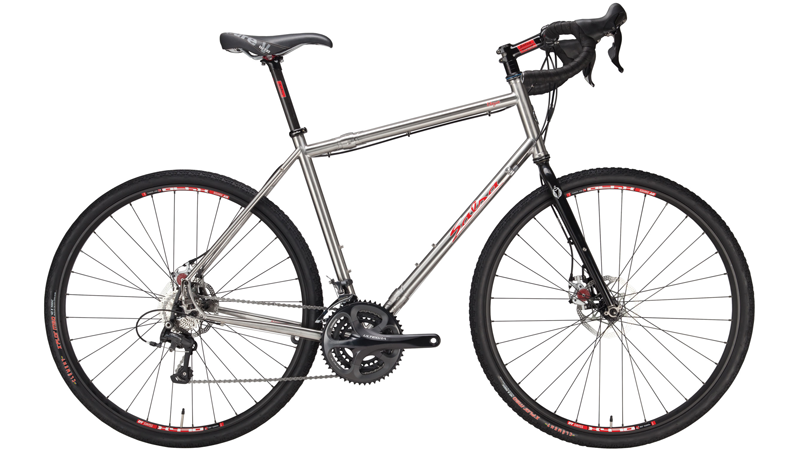 Heading out the door? Read this article on the new Outside+ app available now on iOS devices for members! Download the app.
The "gravel bike" is the hot category for 2014, with dozens of manufacturers jumping on the trend of road bikes modified for all-terrain riding. Think: slightly slacker geometries and longer wheel bases for stability, fully enclosed cable routings to resist the grime of dirt-road riding, and clearance for meatier tires, sometimes as large as 50mm.
Well before the gravel trend, Salsa had its Vaya. The Minneapolis-based manufacturer doesn't bill it as a gravel grinder. In fact, they recently launched the gravel-specific Warbird aimed at the off-road racing set. But with its sturdy steel frame, stock 40mm tires, and totally steady road manners, the Vaya proved as easygoing on fire roads and mixed terrain as it did on asphalt. And the range got bigger than ever in 2013 with the launch of the Vaya Travel, which adds S&S couplings to the tried-and-true frame for a bike you can take anywhere—easily.
Salsa lives and sells by the motto "adventure by bike," and the Vaya seems perfectly suited to that go-everywhere-ride-everything ethos. But the big question heading into the test was whether a niche touring bike like this, especially one so costly, could appeal to a broad enough audience to merit its $3,950 price tag.
FRAME
If you haven't tried one in a while, it might be time to revisit a steel frame. A handful of our testers, many of whom have ridden nothing but carbon for years, exclaimed at the sturdy but smooth feel of the Vaya. A couple said they'd even consider going back to metal after riding this frame.
This is no ordinary steel either, it's stainless, which partly accounts for the expense. Apart from just looking great, however, the material, according to Salsa, resists the scuffing and scraping that's inevitable when shipping a bike. And even if it does get scratched, stainless steel can easily be buffed out to look like new. We unfortunately had to test this functionality as the bike was marred in transit, and we're happy to report that with some steel wool, super fine sandpaper, and a bit of elbow grease, we dispensed with the ugly gash. That's one thing we love about Salsa: Function comes first and foremost, and if the price tag is high—as it is here—you can pretty much count on the fact that it's for a reason.
The other feature that ups the cost on the Vaya Travel are the S&S couplings, locking joints in the middle of the top tube and down tube that allow the bike to be split in half. Broken down, the Vaya Travel fits into an airlines-approved suitcase (sold separately), which can save you all sorts of exorbitant fees. Just don't mention that there's a bike inside or some airlines—criminally, in our opinion—will try and charge you excess baggage costs anyway. Salsa has also included their ingenious Alternator dropouts in the rear, which means you can run the bike geared, as a single speed, or with an internal hub like the Rohloff. But the best utility of the design here is that it allows the brakes, derailleur, and dropouts to all be easily screwed off the bike for quick, safe packing.
The Vaya Travel's sloping top tube and laidback geometry make for a neutral, comfort-oriented ride. Compared to the stacks of other racy roadies in our group of testers—and even relative to many of the endurance bikes—the Vaya feels like the Harley of road bikes, with an upright position and hands high. It took some getting used to, but frankly, once we settled in, it felt like a posture we could hold all day long, a good thing for a touring bike.
The steel also muted the choppy desert roads so common to us in New Mexico and Arizona. The 50mm of offset on the fork helped to ensure that the steering, while hardly lightning speed, was at least reasonably responsive. All in all, it's cushy, chilled-out ride that was adequate for group rides but really came to life on adventure days through mixed terrain.
COMPONENTS
Salsa rarely chooses flash parts, but there are a couple of zingers here. Most surprising (and welcome) is the Brooks B17. If you haven't ridden a Brooks saddle, you should. They look wonky and old school and aren't the lightest or sleekest thing around. But damn are they comfortable, which is exactly what matters on a touring bike. Our other favorite pick is the Salsa Cowbell handlebar. The drop position is extra long for plenty of choices in hand positions, and the wide sweep of the bar not only feels natural on this bike, but it helped keep our back and shoulders from locking up on long days. And finally, the Clement USH tires add a bit of unexpected sex factor.
Otherwise, it's classic sensible Salsa component choices. The drivetrain is a mix of Shimano Ultegra and 105, including a triple chain ring with lots of gearing (30-40-52). Brakes are practical Avid BB7s, wheels are hard-wearing DT Swiss, and the rest of the bits and pieces including stem and seat post are house-branded alloy from Salsa. All said, it's gear that's likely to keep working for years and years and never leave you stranded out on the road.
BOTTOM LINE
So is the Vaya Travel worth all the money? It's a pretty easy calculation. If you don't plan to travel often with the bike, save the coin and get one of the lower Vaya models, without couplings. But if you're on the road a lot with your bike, it's well worth the extra money, which you'll get back very quickly in all the $200 per bike per flight charges you'll no longer have to pay.
The Vaya Travel is an incredible bike that will probably never get the credit that it deserves because of its narrow focus and old school sensibilities. And yet, it's a fully modern touring rig that will keep up just fine with most gravel grinders hitting the market. And thanks to the S&S couplings, it's well more than that because you can readily take it wherever you like. The couplings do raise our biggest criticism: At 24 pounds for a size 55, this is one stout rig. And yet it won us over as the ultimate cycling ATV. It's not for everyone—with its massive tall head tube and comfort position and retro look—but the few who understand the Vaya's intent will cherish this bike.