South Africa by Bike
No matter how strange or far-off your destination, a bicycle can connect you in strange and inspiring ways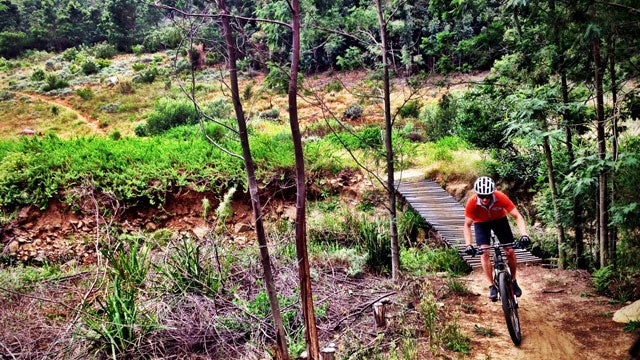 Heading out the door? Read this article on the new Outside+ app available now on iOS devices for members! Download the app.
It's amazing where a bicycle can take you. A few weeks ago, a mountain bike netted me some of my favorite memories of Namibia. And in South Africa this week, it's the road bike that's given me passage to the country.
I flew to Cape Town a week ago with a loose plan for a bike tour through the Cape Winelands, northeast of the city. Between assignment and departure, through a series of convoluted phone calls and emails, I met Steve Thomas, whose company, Day Trippers, plans all manner of cycling tours.
I didn't want a tour guide, but Steve was happy to help me to whatever level of assistance I needed and made itinerary suggestions and handcrafted GPS files to help keep me moving. And though I didn't meet Steve at the beginning of the trip, he offered his son, Bennett, to chauffeur my gear and shepherd me around.
Without dwelling on places and itineraries, the general arc of the trip has involved shuttling to the semi-desert Karoo that starts some 100 miles west of the city, crossing a couple of mountain ranges, wending through vineyard country, and ending up, finally, back in Cape Town. I've pedaled up solitary roads that slice through desiccated scrub-filled valleys, coasted through vineyards and cranked around the blustery Cape Peninsula, tasted Cape chardonnays and shirazes at every stop, and generally been overwhelmed by the landscape.
Along the way, bikes have continued to open doors for me. When it looked like I was going to have nowhere to stay on night two, the co-owner of Grand Dédale, one of the finest farmhouse inns in all of South Africa, invited me in. He's a mountain biker, I later found out, and he spent a couple of hours showing me around the fast, buff, local Welvenpas trails.
Meanwhile, Rupert, a suspension tech at Specialized in Stellenbosch, drove an hour out of his way to set me up with road bikes for the pavement portion of the trip. And in Wellington, I poked my head into the local shop, Universal Cycles, to make a quick purchase and didn't leave for an hour because the staff and crew were as friendly and familial as my LBS back home.
The strangest connection of all, however, came last night when I finally met Steve at dinner. Part of my fascination with South African riding stems from the Cape Epic, which is one of those races that every mountain biker must daydream about a little bit. I've been seriously considering it for a while now, though over the past year I've continued to hear talk of a wilder endeavor called the Freedom Challenge. This self-support, 1,430-mile odyssey across the country's length makes the Cape Epic look like a warm-up—and is said to be even better.
Over dinner, I discovered that Steve isn't just a grand old friend with the founder of the race, but he also has done it twice (and his wife and oldest son have each ridden it once) and is instrumental in supervising it each year.
Given my endurance predilections, Steve and I spent the better part of dinner trading tales of getting lost in the woods—or bush, in Steve's case—and scheming for how I can get back over here to try it, maybe even in 2014. Bike racing is like travel in that sense: The more you do and see, the bigger the list of goals and dreams grows.
Before I came to Cape Town, I didn't know a single person in the country. When I leave in a few days, I'll head back home having met and ridden with a handful of new friends and certain in the knowledge that I'll share a road or trail with some of them again. As much as the thrill of shredding dirt or knocking out a fast time on a hill climb or even just spinning wide-eyed through new terrain, the shared passion of cyclists is what excites me most about our sport.
The promise of wild adventure rates pretty high, too, and over dinner I told Steve I'd figure out a way to come back and try the Freedom Challenge soon. Before I'd even finished my sentence, however, he was telling me about the Spine of the Dragon trail that he and a friend pioneered. And just like that, 2015 starts to fill up.