Tested: Nemo's New Bikepacking Camping Gear
A 3-day bike hunt in the Sangre de Cristo Mountains was the perfect trip to put the company's new lightweight sleep system through its paces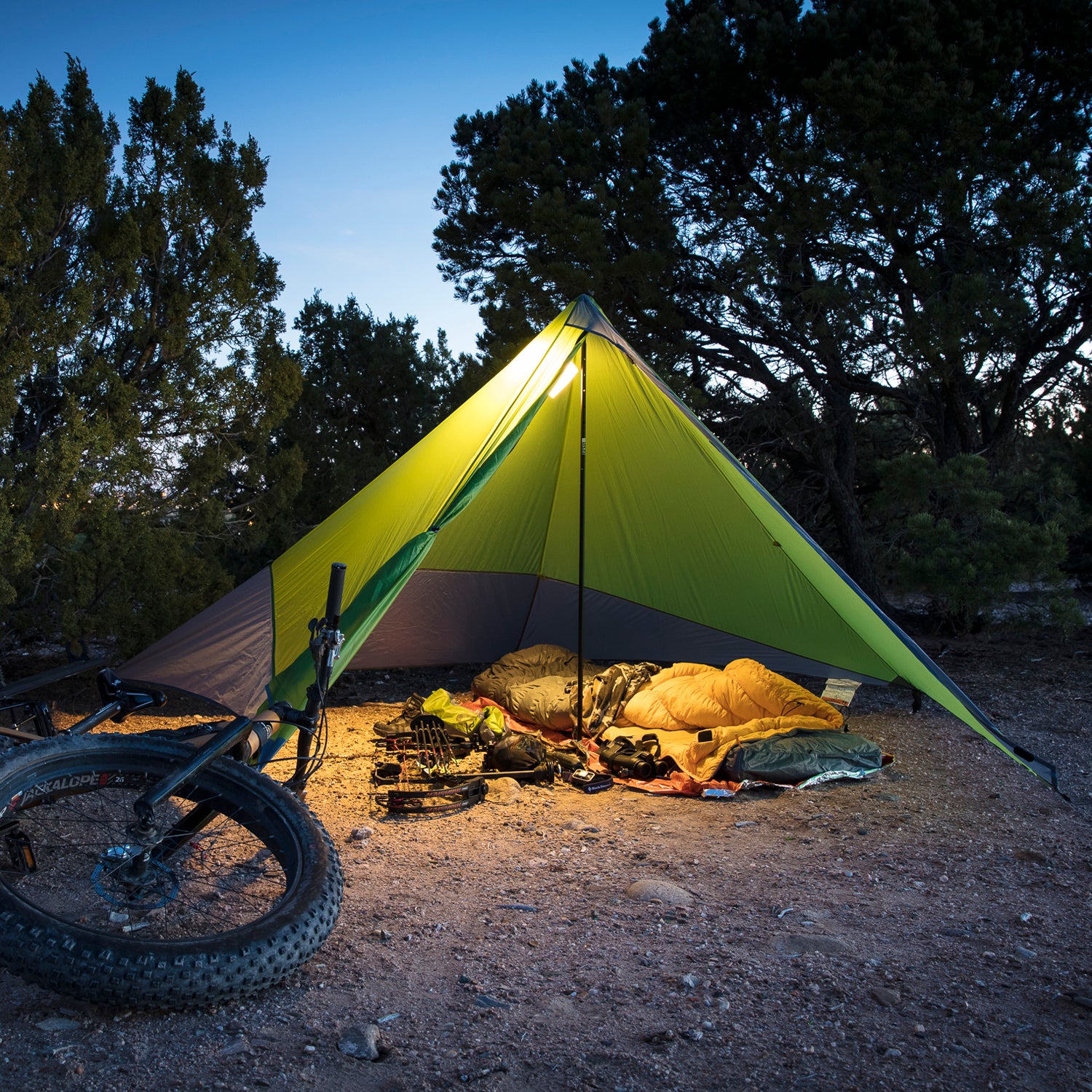 Heading out the door? Read this article on the new Outside+ app available now on iOS devices for members! Download the app.
When I began bikepacking almost a decade ago, it was for long-distance races such as the AZT. There weren't many commercial gear options around. Fast-forward ten years, and bikepacking has stepped up from a low-budget niche into a broader collective market with dozens of companies making all ranges of equipment for adventuring by bike. From the recently relaunched Topeak Bikamper to the full range of bikepacking packs from big brands like Specialized, it's easier than ever to gear up and get out.
In recent years, I've taken to using my bikepacking gear on hunting expeditions. I've written extensively about why bikes are excellent tools for backcountry hunting—they're quiet, they let you go deep, and they can carry a lot of weight. And lightweight, packable bikepacking gear has many of the same advantages: it allows you to go deep and set up a high-altitude spike camp without all the bulk and hassle of the typical horse and wall-tent base camp setup that many hunters favor.
This year, on my bow elk hunt in the Sangre de Cristo Mountains of Colorado, I decided to try out Nemo's new bikepacking line. This includes a sleeping bag and pad combo, a one-person bug bivy that fits over the top half of the sleeping bag, and a teepee-style tarp tent that's said to accommodate up to three people. The plan was to pedal up a gated Forest Service road to the top of Archuleta Canyon, a seven-mile climb that would put us at 10,000 feet of elevation. My wife, Jen, and I would camp for two nights and hopefully return with a BOB trailer full of meat. If nothing else, the experience would give us a couple of crisp nights under the stars.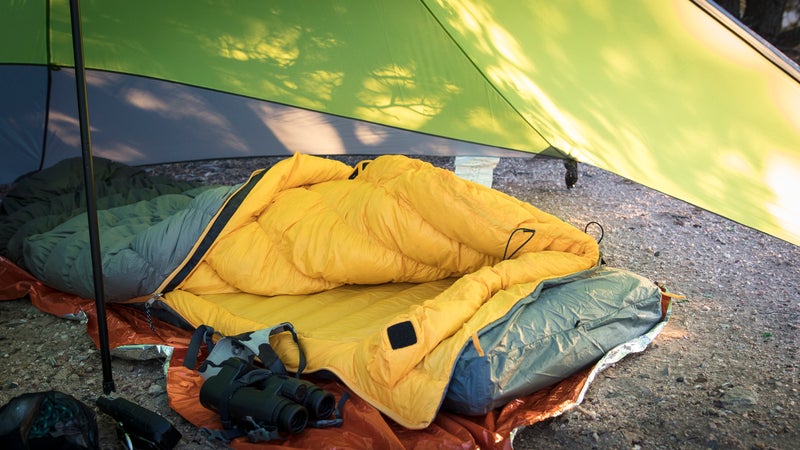 Nemo has taken a somewhat unconventional approach with its gear. For instance, the Moonwalk Down Sleeping Bag ($280), with insulation only on top, like a duvet, attains its temperature rating (30 degrees in this case) when combined with Nemo's insulated pads, which slip neatly into the bag's rear pocket and keep your back warm. I chose the Astro Insulated Lite 25L Sleeping Pad ($150), which has cushy four-inch baffles lined with PrimaLoft Synergy for R-factor. In tandem, the system works great, and I loved the large baffle at the pad's head, which acted like a built-in pillow.
The tent system takes a similarly modular approach, combining a three-person, hexagonal teepee tarp shelter called the Apollo 3P Bikepacking Tent ($250) with an Escape Pod 1P Bivy ($120) to provide individual bug protection for each camper. The Apollo is pretty basic and effective. Its design entails staking the five corners, and then erecting the tent from the center with the single telescoping pole. The Escape Pods are more convoluted. They fit over just the top half of your sleeping bag and set up with four stakes and an inflatable rib, staying in place with a quick-clip elastic drawstring.
Though I was initially ambivalent about all the bulk and weight of the multiple pieces, the truth is everything fit neatly onto the bikes: tent and bivy in the frame bag and sleep kit on the bars, which is my preference. It was a slow roll up the climb thanks to frequent stops to spot for animals, plus the three days worth of food and water we were carrying. We found a camp in a corner of the road not long before dark. Thankfully, the tent went up in just a minute. Though the edges don't come all the way down to the ground, the tent still warmed up nicely inside once we fired up the stove. The large footprint—almost three feet on each facet and 70 inches across—made it easy for me and Jen to store all our gear and still have plenty of room for maneuvering. Depending on how much gear you carry, it could be tight for three people, though not impossible.
Overnight temperatures dipped down to the low 20s—a bit colder than the sleep system is rated for, but it proved adequate if a bit underpowered. The pad was superplush and comfy, and the top-coat design of the bag kept the insulation where I needed it. Because it's a complete system, however, I wasn't able to put the bag/pad combo into my personal bivy sack, which I always carry as a backup for adding ten or so degrees of warmth. I tried but was so smooshed inside that I just got colder. Additionally, I found the Escape Pod bug net fiddly and more of a nuisance than it was worth. It bound up around my waist every time I rolled over, and when I had to get up to pee, I could barely get out and back in. Bugs weren't an issue at our altitude, so I ditched the Escape Pod on the second night.
Overall, the Apollo Tent was my favorite piece of the bunch. It's a great, ultralight setup with lots of room in a lightweight package: one pound, eight ounces for three people is about as minimalist as you can get. Of course, that doesn't include any netting for bugs, nor is there a floor in case it rains, which means this is probably best for dry, insect-free climates. If Nemo could design a snap-off bathtub bottom to go with the Apollo, it would be the ultimate minimalist structure. But even as is, I can see using it frequently.
The Moonwalk and Astro bag-and-pad combo were comfy and well-designed, and I've been using them steadily on other trips throughout the fall. It's true that you could probably use a warmer model for mountain camping. But that's the trick about sleeping bags—it's hard to have just one if you favor a range of climates and seasons. The nice thing is that you could easily stack a warmer bag on top of the Astro and get additional warmth and, thanks to the Primaloft in the Astro, end up with a more insulating setup than with comparable pads.
As for the Escape Pod Bivy, while I like the concept, I just don't think it's versatile enough. For one, it adds quite a lot of weight: if three people each bring one, at 11 ounces apiece, plus the weight of the Apollo (one pound, eight ounces), you are looking at three pounds, ten ounces total, which is more than a comparable good backcountry tent and a lot more complicated. (Though in its favor, the Apollo is roomier than most tents.) Since the Escape Pod only protects against bugs, not weather, you'd be unlikely to ever carry it alone. And then there's the fussiness of getting in and out of it at night. If I were planning another trip with the Nemo gear, I'd definitely bring the tent and sleep kit and leave the Escape Pod at home.
Though we spent two nights and three days high in Archuleta Canyon, we never saw a single elk. There wasn't even any sign of them. Apparently, the animals hadn't yet moved into the valley, instead lingering in the alpine high country due to the unseasonably warm temps. We didn't complain, though. The camp spot was isolated, the Milky Way so visible that it looked like a dim strip of light in the moonless sky, and, when we left, the ride back down through golden aspens was like a trip through Midas country. We returned, as I always do from bikepacking trips, feeling refreshed and grateful for some blessed wilderness isolation. And anyway, our elk would come later in the season.