The Cero One E-Bike Hits the Sweet Spot for Daily Duty
This little electric cycle truck has great carrying capacity and plenty of zip around town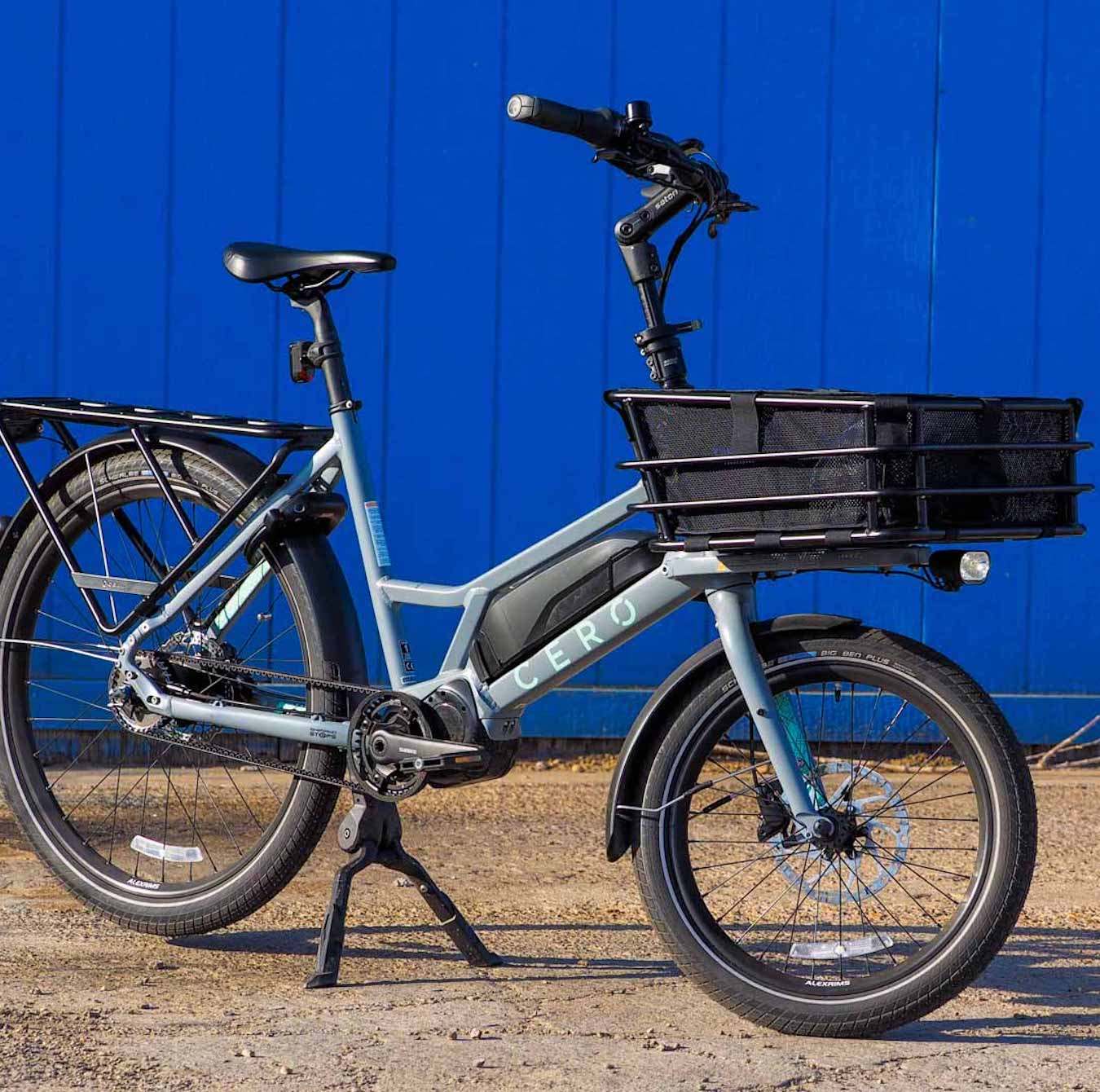 Heading out the door? Read this article on the new Outside+ app available now on iOS devices for members! Download the app.
This story originally appeared on CyclingTips.com
When it comes to cargo bikes, you've probably seen or heard of the major types. Longtails are perhaps the most popular, with their extended rear ends and enormous rear racks (helped along in no small part by Rad Power's budget-friendly RadWagon series). There are the bakfiets, or box bikes, with their voluminous load boxes or open platforms up front, and epitomized by Dutch brands like Urban Arrow. Then you've got mini-longtails like the small-wheeled Tern GSD, and you may have even come across a cargo trike or rickshaw, with its dual front wheels.
But have you heard about cycle trucks? They have a normal-sized footprint like the Tern GSD, and use a smaller-than-usual front wheel. However, that's paired with a more standard-diameter rear wheel, and most of the cargo duties are intended to be handled by a big platform or basket attached to the head tube.
The Cero One ($3,800) is just such a beast, and it's worthy of a closer look.
Meet the Cero One
If you haven't heard of cycle trucks, then the chance of you having heard of Cero is even lower. The brand was founded in 2015 by husband-and-wife team Kyoshi and Sawako Iwai, and its two engineers boast some impressive history. Zach Krapfl spent time at Schwinn, GT, Cannondale, Felt, Bosch, and Gates—focused primarily on e-bikes for the past decade or so—while Forrest Yelverton is a bit of an industry engineering legend of sorts, with his hands quietly involved in all sorts of projects over the years (he was head of engineering at GT during the Superbike days, for example).
Designed by Yelverton and Krapfl—and now in its second generation—the Cero One follows the classic cycle truck format with its 20-inch front wheel, 26-inch rear wheel, and a cargo carrier attached directly to the head tube to go along with the oversized rear rack. Both platforms are modular, and Cero offers three different bolt-on options: a small basket, a large basket (that's roughly double the size of the small), and an open-sided platform intended for larger parcels, all made of sturdy tubular aluminum. The rear rack is natively compatible with EasyFit-style kid seats (such as from Thule Yepp), and there are also a dozen threaded holes at your disposal up top if you want to get more creative.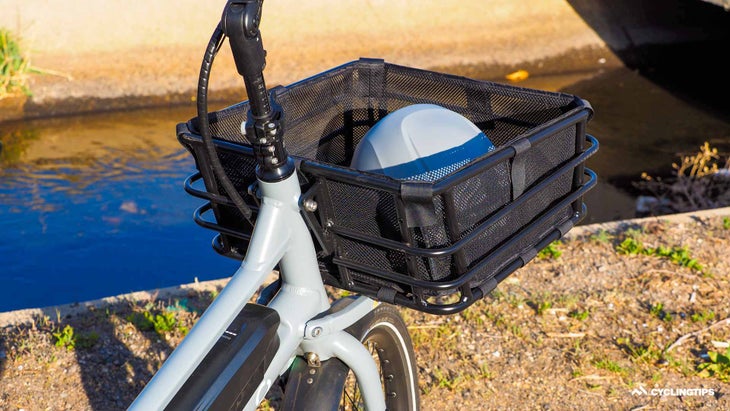 Cero rates each rack for 25 kg (55 lb) of cargo individually, or 25 kg out back and 10 kg (22 lb) up front combined.
Helping to move all of that weight around is a Shimano STEPS e6100 mid-drive motor with a 250-watt nominal power rating (or roughly double that for peak power) and 50 Nm of maximum torque, all fed by a 504-Wh rechargeable Li-ion battery mounted on the down tube. Going along with those bits is a centrally mounted computer head with a high-resolution LCD panel. Several information screens are available, all controlled either directly on the unit with pleasantly clicky buttons or via the handlebar-mounted remote.
Not surprisingly given how big the battery is (and how comparatively small the bike is), claimed range is massive. There are three preset assist modes—Eco, Normal, and High—with up to 169 kilometers (105 miles) claimed range on tap in the Eco setting. No matter which one you choose, though, there's a mandated motor cutoff at 32 kilometers per hour (20 MPH).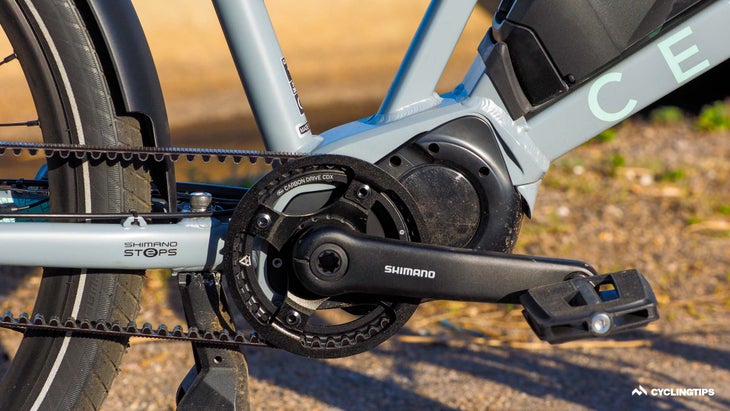 Moving away from the electronics, Cero pairs that STEPS e6100 setup with a Shimano Nexus five-speed internally geared rear hub, matching twist shifter, and a low-maintenance Gates belt drive. Braking duties are also handled by Shimano, courtesy of non-series dual-piston hydraulic calipers (with a 180 millimeter-diameter rotor up front), and Shimano even provides the Deore front hub with serviceable cup-and-cone bearings.
The wheels are built with 32-hole Alex double-walled aluminum cargo bike rims front and rear, and 14-gauge stainless steel spokes with brass nipples. Finishing kit is pretty straightforward, with the exception of the angle-and-height adjustable Satori stem (the Cero One is sold as one-size-fits-most).
All of that is mounted to a cleverly designed TIG-welded 6061 aluminum frame. The top tube and down tube are situated close together to create a step-through configuration, but they boast a fairly large diameter and are still far enough apart to impart good torsional stiffness (a commonly under-appreciated trait for cargo bikes). The rear triangle features a small removable section on the driveside for belt installation and removal, and the integrated sliders for tensioning the belt pairs the caliper mount with the axle slot so you don't have to constantly re-center the brake.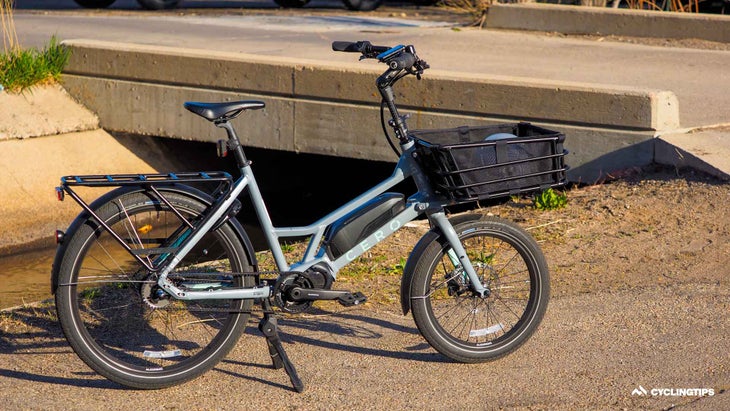 I regret to admit I didn't remember to weigh my test bike before I sent it back, but Cero claims a complete bike with the rear rack and large front basket tips the scales at 26.40 kilograms (58.20 pounds).
Retail price for the Cero One is US $3,800. Unfortunately, it's not currently sold outside of the United States.
Cycle Trucks Are Fun
I requested my Cero One test sample with the big front basket as I envisioned using it as my daily driver: more for typical errands, grocery shopping, and general getting-around than hauling anything seriously substantial.
First and foremost, the Cero One is awfully fun to just ride around town. Even in the lowest-power setting, the Shimano STEPS e6100 motor provides enough grunt to feel quick, and the Cero One is legitimately punchy in the high setting. It's actually not terrible to pedal around with the motor turned off, either, but realistically speaking, almost no one is going to do that unless the battery is dead.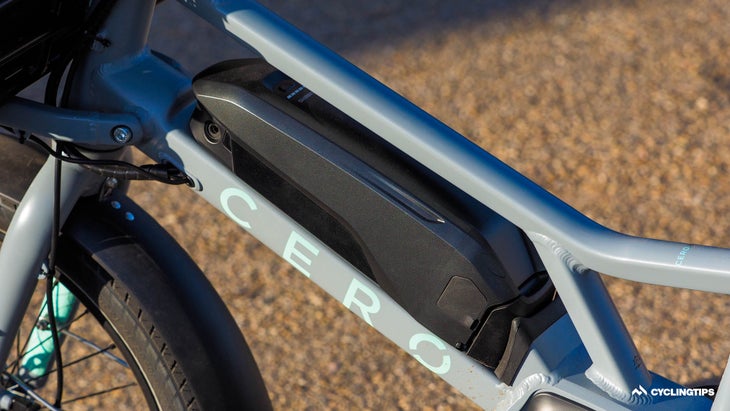 Being surprised with a dead battery isn't terribly likely, though, as the calculated range figures on the computer display are not only very generous, but impressively close to reality (and, oddly enough, even better than Cero's claims). With a full charge, and on the highest setting, the e6100 motor will lend a hand for up to 90 kilometers (56 miles). And on eco mode? It's a whopping 182 kilometers (113 miles!). I spent most of my time in the middle position, which provides 127 kilometers (79 miles) of assistance. For my modest commuting and errand needs, that usually resulted in me only needing to plug the Cero One into the charge about once every two weeks.
Motor assist aside, the bike itself is quite pleasant.
The upright positioning is appropriate for the genre, encouraging more of a look-around-and-smell-the-roses attitude (or, at the very least, a look-around-for-traffic attitude). The small front wheel and short front center combine for pretty twitchy handling that takes some getting used to, but the quick steering and compact dimensions are admittedly convenient in tighter urban situations. It's pretty clear the Cero One is designed more for lower-speed maneuverability than high-speed stability, and given the intended use, that's just fine. Refreshingly, the Cero One is free of any sort of high-speed shimmy that you can sometimes get with small-wheeled bikes.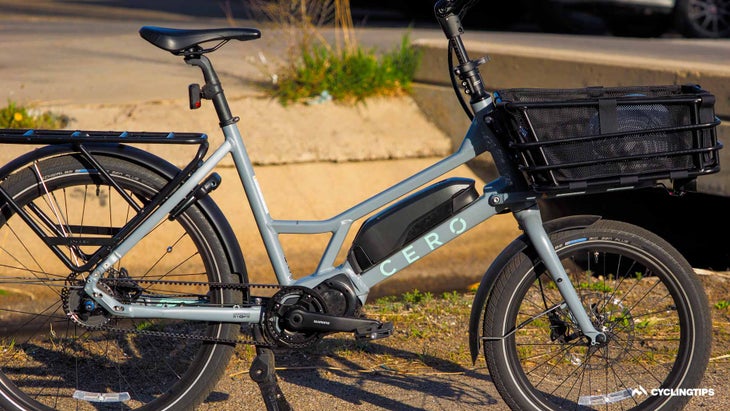 The frame seems designed more for stiffness and durability than ride quality as it's quite unyielding, especially with that little front wheel–although, again, that's fine for general urban use and to be expected given the purpose. The tires do have enough volume that you can get away with running them a little soft, although that needs to be balanced with maintaining enough support if you're carrying something heavy (like your kid).
Regardless, kudos to Cero for producing a frame that resistant to bending and twisting while still managing a step-through format. Some might wonder why the step-through format is even necessary, but it only takes one ride with a heavy load (or, again, your kid on the back) to appreciate not needing to swing your leg over the saddle.
Not surprisingly, it's when carrying a lot of stuff that the Cero One comes into its own. I most often used the capacious front basket, as the footprint is perfectly sized for two grocery bags, and the sides are tall enough to keep the bags from falling out while riding home. Backpacks can be carelessly tossed in without a second thought, and thanks to the fabric liner, you can even place smaller items in there without having to worry about them falling between widely-spaced metal slats.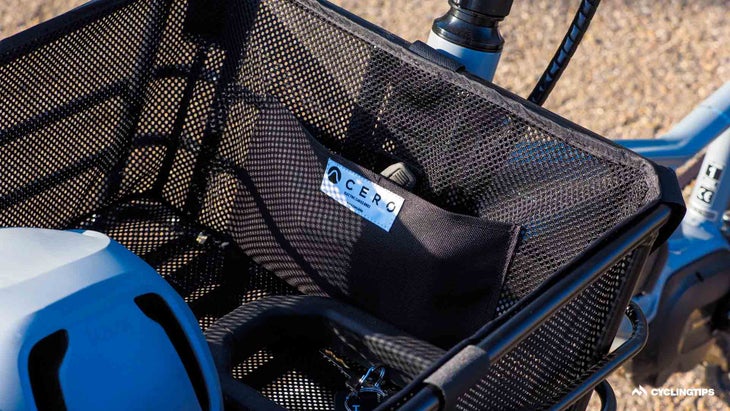 I'll admit that I didn't push the upper bounds of that 25 kilogram weight limit, but at least with more modest loads, the Cero One continues to handle confidently. One aspect of cycle trucks that often goes unnoticed to casual onlookers is how front loads are more stable because they're attached directly to the frame instead of rotating with the fork. As such, heavier and/or bigger loads don't move around very much as you're riding along, and there's a handling benefit from the reduced weight transfer. Further helping in that department is the stout frame, which keeps heavier loads from wagging about as you're riding.
The massive rear rack is well designed, securely fixed to the back of the frame and offering plenty of options for carrying more stuff. Parents with younger kids will be thrilled that popular Yepp child seats attach directly with no adapters required, and although the rack isn't long enough to accommodate a child carrier and panniers at the same time, the large front basket still has plenty of space to stash your usual sundries (So. Many. Snacks).
Speaking of panniers, I do wish Cero offered large-capacity ones to match the oversized rack dimensions of the One (or, alternatively, smaller-than-usual panniers to fill the typically wasted space behind a child carrier). My standard Ortlieb large-capacity waterproof panniers fit just fine, but there's room for something bigger, and this is one area where Cero's newcomer status reveals itself. More established cargo brands like Xtracycle, Tern, and Yuba have deep catalogs of accessories to help owners tailor their carrying needs. However, Cero only has a tiny handful of third-party offerings.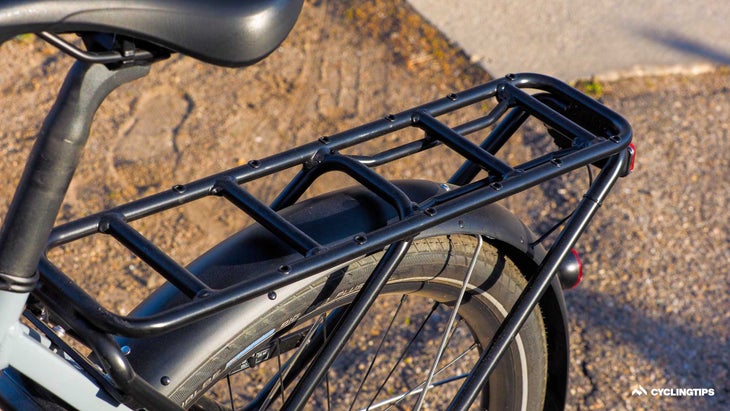 In fairness to Cero—and hindsight being 20/20—I should have requested a second narrow basket to attach to the top of the rear rack to boost the bike's utility. With standard panniers, such a combo would allow you to easily bring five bags of groceries home without breaking a sweat (or getting in the car).
One final thing to consider with the frame: the one-size-fits-all philosophy will likely be fine if you're in the middle of the bell curve (I'm five-foot, eight-inches tall), but anyone substantially taller than me will likely feel a little cramped.
Spec Notes
Minor cargo quirks aside, Cero has mostly done a good job with the build kit.
Wheels and tires are arguably even more important than usual on a cargo setup, and Cero has done its homework here. The Alex rims are wide and burly, and both wheels seem to be built well. Prior experience with the Schwalbe Big Ben Plus tires has proven them very tough and long-lasting (while still offering very good grip).
I unfortunately don't have much time on Shimano's Nexus rear hubs to comment on long-term durability, but the Deore front hub is a winner in my book. It's a lower-cost option, but the cup-and-cone bearings will last an eternity with proper initial adjustment and maintenance. But given the heavy-duty intentions, it would've been nice to see a thru-axle setup instead of a quick-release one, not so much for stiffness (which really doesn't matter with a 20-inch rigid fork) but rather for security.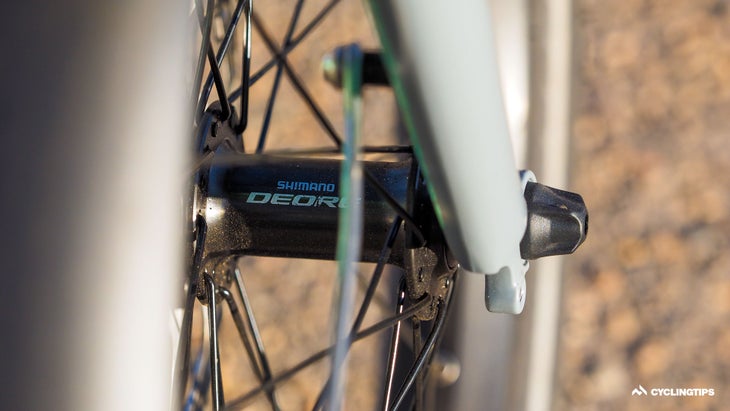 As for that Nexus rear hub otherwise, it works very well and shifts reliably, even under heavy pedaling loads. It doesn't always sound very happy doing so, however, and although there's a generous amount of gearing range, there are big jumps in between with only five ratios to play with. Then again, the motor assist goes a long way toward filling in those gaps, so I doubt most users will care.
Likewise, the brakes certainly aren't the most powerful Shimano offers, but they get the job done and offer very positive lever feel. And the 180 millimeter-diameter front rotor is just smart since a loaded Cero One will be a lot of weight to slow down.
My biggest complaint is the god-awful abomination of a stem from Satori. I appreciate Cero wanting to provide a lot of adjustability in order to accommodate a wide range of riders, but it's horribly convoluted in doing so, and the small-diameter shaft is disconcertingly flexy, noticeable even in everyday riding without any loads. Besides the fact that I found it visually off-putting, the flex was constantly distracting and took away from what otherwise seemed like a very solid and competent chassis.
Some of this is inherent to the small front wheel since the upper headset bearing is so far away from the bar, but Tern has the same problem with its small-wheeled cargo bikes, and yet its Andros stem is vastly more confident-feeling. I'm not sure what options there are for the stock Satori contraption, but it's got to go. Seriously, it's awful.
Other complaints are more minor.
The two-legged kickstand is great for keeping the bike stable when loading (especially squirmy little humans), but using it when the bike is loaded isn't as smooth an operation as it could be. And riders in wetter climates should plan on adding a sizable extension to the front fender unless they really like their feet getting soaked.
Is the Cero One the One for You?
Among the array of cargo bikes available worldwide, cycle trucks are quite popular, and bikes like the Cero One make it easy to see why. The small size makes it very maneuverable in urban situations and easy to store, it's very practical for modest tasks, and since it's lighter than full-sized cargo bikes, the mid-drive motor system provides heaps of range.
The One isn't perfect (ugh, that stem …), but it's otherwise well thought out overall with a nicely designed frame, a solid price point—all things considered—and a build kit that's clearly put together by someone with a lot of long-term experience.
My personal needs dictate something with more carrying capacity than what the Cero One provides, but I suspect this will be the sweet spot for most people who are considering some sort of e-cargo bike for daily duties. If Cero can figure out the stem issue, this is one bike I wouldn't hesitate to recommend to friends.
Lead Photo: James Huang